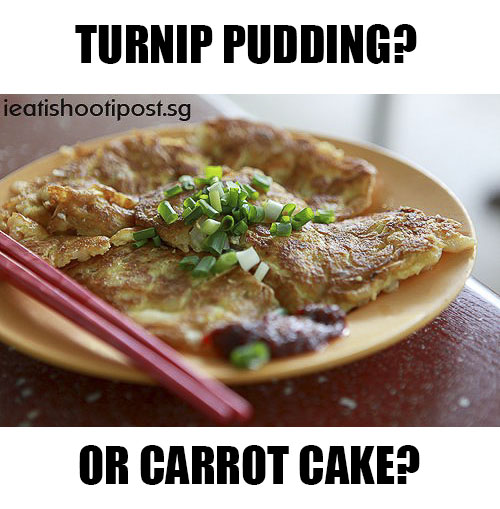 The internet has been abuzz with news of 17 hawkers making it to the Bib Gourmand list of the Michelin Guide this week. As usual, Singaporeans have been quick to decry the selection of stalls and pointing out some glaring errors in the list. One of them was about the Guide calling the "carrot cake" a "turnip pudding".
What do these foreign Michelin Inspectors know about Singapore food, anyway?
I must admit that I also had the same reaction when I saw that they called our carrot cake a "turnip pudding". But I had a sudden realisation that carrot cake itself is a misnomer. We all know that the main ingredient in carrot cake is radish right? So, we have been calling it wrong ourselves all the while!
I think that the term carrot cake was a direct translation from the chinese 萝卜糕 (luo bo gao) which does not make the distinction between radish 白萝卜, (white) and carrot 红萝卜 (red), both being a 萝卜. Someone in the past must have mis-translated it as carrot cake and the name has stuck ever since.
Well, the Michelin Inspectors had the chance to make things right, but unfortunately, this time round the radish was wrongly called a turnip instead. But before we become too harsh with the inspectors, we must realise that the daikon radish is not common in Europe and to them a radish is short and red in colour while the turnip is similar in shape but white in colour. So turnip may be a better way of describing the radish to a European audience. In order to avoid any misconceptions, the most accurate term to use for the winter radish (Raphanus sativus) would be daikon radish since it is now most recognisable in Japanese cuisine.
Then there is "pudding". Why the heck did the inspectors call carrot cake a pudding? Don't they know that a pudding is a creamy sweet dessert as in a custard pudding? Well, wait a minute, isn't a "cake" supposed to be soft, buttery and fluffy as in a butter cake?
The term pudding is actually very versatile. Here in Singapore, we are most familiar with the custard pudding, but according to Wikipaedia:
"The original pudding was formed by mixing various ingredients with a grain product or other binder such as butter, flour, cereal, eggs, and/or suet, resulting in a solid mass. These puddings are baked, steamed or boiled. Depending on its ingredients, such a pudding may be served as a part of the main course or as a dessert."
If you think of "Christmas Pudding" and then calling our carrot cake a "turnip pudding" might not sound too far fetched. After all, "carrot cake" isn't exactly the most accurate description in the first place and for an international audience, "carrot cake" would conjure up an image of a cake with cream cheese frosting!
Before I conclude, I would like to add that I personally feel very proud of our hawkers and our Singapore hawker cuisine. The Michelin Inspectors are people who have eaten all around the world and exposed to a wide variety of cuisines and their decision to include our hawker food into the Michelin Guide says to me that our hawker food ranks right up there with the best food around the world! If the stalls that some regard as only average have been able to be included into the guide, can you imagine how many more stalls would be included once they get round to reviewing your personal favourite hawker?
But wait, lest we forget, the Michelin Stars will be awarded next week! I am hoping that some of our hawkers might be able to get a Michelin Star! It might be a long shot, BUT if that were to happen, then Singapore cuisine will really hit the world stage and we will become the cheapest place in the world where you can eat a Michelin star meal! Now, won't that be something?
Congrats to all our hawkers and restaurants who have made it into the Michelin guide and in particular to Chey Sua Carrot Cake http://bit.ly/ieatCheySua for making a "turnip pudding" that ranks right up there with the best foods from around the world!
Long live carrot cake, or should I say "Daikon Radish Steamed Pudding/Cake Frittata" instead?