With smart, iwatch_ueat, liverpool and Damien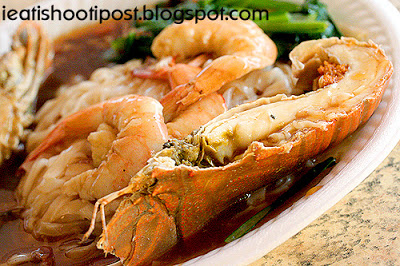 My father came from a small fishing village in Malaysia and used to tell me that in the old days, they used to consider the lobster and crayfish a second class substitute for prawns. The flesh of the lobster and crayfish were tougher (Teochew: "Char" meaning wooden) and less sweet compared to a nice succulent prawn. Nowadays, lobsters and crayfish come at a premium price. But really, is the flesh that much nicer then a good sized Sea Prawn? My view is that you really pay for the shell more than anything else. I don't think anyone would pay $50 for a dish with just lobster meat sans shell.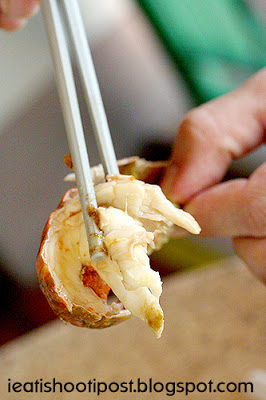 Same thing with the Crayfish Hor Fun. Hor Kua Boh Hor Chia (Good to look at, not good to eat). I find crayfish meet less succulent and sweet than prawn. But hey, its impressive and when you say you sell Crayfish Hor Fun, it is bound to get some attention, especially when you get 2 half crayfish and some big prawns for $4 a plate.
The Hor Fun came as one matted mass which was a little dissappointing cos Hor Fun should be nice, soft and silky smooth. Maybe it was because we waiting too long to mix it with the sauce as we took pictures. The sauce was quite ordinary and nothing to rave about. 3.5/5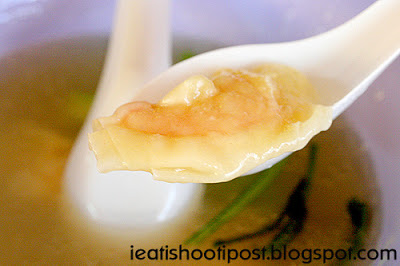 One thing that was good was the Sui Gao. You can see that they are quite generous with the prawns. $3 for about 8 dumplings. 4/5
Conclusion
It's going to upset some people, (especially those readers who actually love the hor fun enough to queue for it) but I found that apart from the visual excitement elicited by the Crayfish, there is really nothing to draw me back to it again.