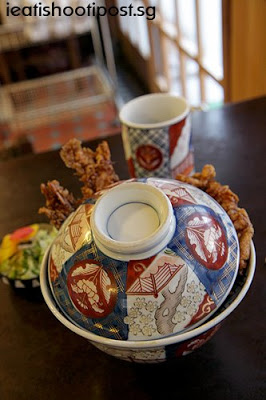 Tendon 1600 yen
Many kakis have requested to the pics of what I ate in my recent trip to Tokyo, so I have decided to post some of the highlights over the next few weeks. The reason that I have been resistant in posting my Tokyo pictures was because I thought that it might be a little frustrating to look at something delicious and not be able to easily just go down to that stall and eat it.
However, I know that Japanese food is currently very popular in Singapore and that a lot of our readers actually travel so this series of posts may be useful for everyone to reminesce about their own experiences in Tokyo as well as to recommend other great eats there.

This is my first ever trip to Japan so the itinerary had to be carefully planned so that I can get to experience the best of the different types of Japanese cuisine. I wasn't after the fine dining, michelin star stuff, but as with the other food in this blog, it was about finding the really shiok everyday stuff that the locals enjoy.
One of the frustrating things about Japan is that even if you have the address of the restaurant, you will not be able to find the place. In the end, I had to rely on asking for directions once you know you are around the area. So I am going to pen down the directions to the restaurant while it is still fresh in my mind so it would be easy for anyone to locate.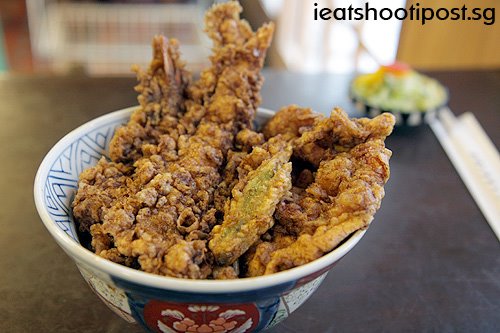 We start with the Asakusa which is famous for the Sensoji Shrine which I am sure most tourists would make a point of visiting. One of the most popular restaurants there is this Tempura place which is reputed to have a long queue everyday for lunch. Being the Kiasu Singaporean, I got there at 11am and promptly got showed a seat just next to the main door.
I ordered the Tendon as it was the cheapest item there and everyone seemed to be eating the same thing. The prices can go up to 3000 to 4000 yen if you wanted to order the works.
The Tempura here is a little different from what I normally get. First of all it was black because they dip it in a kind of black sauce before serving it. Secondly the batter was a little different from the usual tempura. Instead of crispy all the way through, it was crisp on the outside but soft and moist on the inside and reminds me of the kind of prawn fritters mom used to make at home. Not quite what I expected, but quite tasty nonetheless. 1600 yen gets you 2 large prawns, a piece of vegetable and a rather tasty prawn cake made from a handful of little prawns.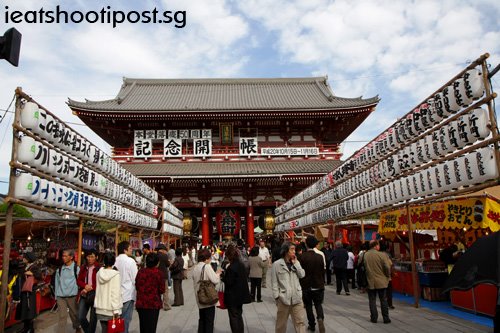 Sensoji Shrine
To get there, you get off at Asakusa station and walk towards the Sensoji Shrine. At around the point of the photo above turn left and walk for about 3 minutes and you should be able to spot a quaint little house with the words Da4 Hei1 Jia1. (Big Black Home)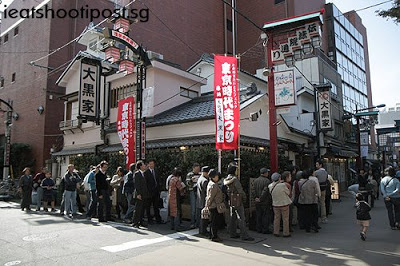 By the time I finished my lunch at around 12.30pm (had to wait 45min for my food), there was already a long queue outside the restaurant. It was reported that you sometimes you have to wait an hour just to get in so it pays to be Kiasu sometimes!
Conclusion
Quite different from the usual tempura. I just wonder why not many other restaurants serve it this style since they are so popular? If you have been there too, let us know what you think!
More info and map here