Photos by Ijeff and Cactuskit
A big thank you to everyone who were involved in the ieat AGM!
Ieatishootipost is 3 years old and we celebrated our anniversary with a night of food, carolling, magic shows, music and lots of fun!
2009 is a great year for the blog. This year we were officially crowned Best Food Blog in the Nuffnang Asia Pacific Blog awards and was also featured in the pilot episode of the Channel U series "food specialists". This is also the year that I posted my 1000th post and the blog exceeded 8 million hits.

All of that is very exciting for me as a blogger but these milestones will very quickly be forgotten. What will remain however is the friendships that have been forged through the blog. This event would not have been possible without the makan kakis who have volunteered to organize and support the blog and I am thankful for all the friends that I have met through my blogging.
A big thank you to Holydrummer for organizing the event and being our MC for the night. Good job! Of course he has the support of his Holybunny and Holybro who was the most logical choice to play the role of Santa that night. No pillows were required for the job. Thanks also to Cactuskit and Cactuskitty who were instrumental for coordinating the events for the night. The finance was handled by Derrick and Paulette as well as Rockett Girl who also happens to be the CFO for the ieatfamily. Thanks also to Champagne and the usher team for getting everyone to their seats and ijeff for being the official photographer.
This event was made possible by the generous donations from our sponsors and I would like to acknowledge them now.

For sponsoring two tables


For donating $1000 to the prisons ministry


For donating the Selphy printer and Ixus camera


For donating the crystal wine glasses and stainless steel pots.


For donating the dining vouchers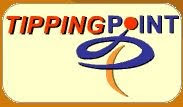 For donating the door gifts
Our very own makan kaki Liverpool has also offered to host the families of the prison ministry to a makan at Good Morning Nanyang Cafe over at Chinatown point. Way to go Liverpool!
There are going to be more makan sessions next year, workshops on photography and cooking and even overseas makan trips. So if you love to eat, come join the fun! More importantly, get involved by joining our forum or facebook!
Have a Blessed Christmas and a very Happy New Year!