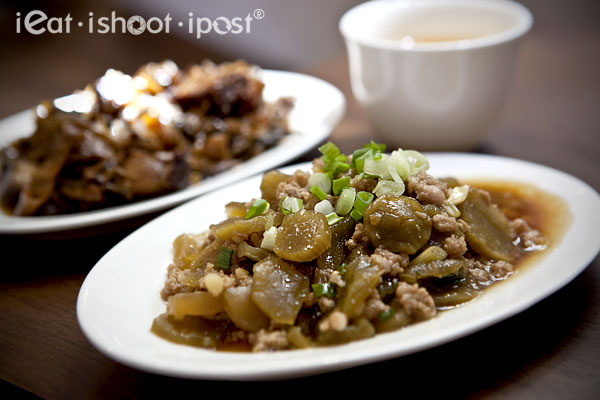 This restaurant is closed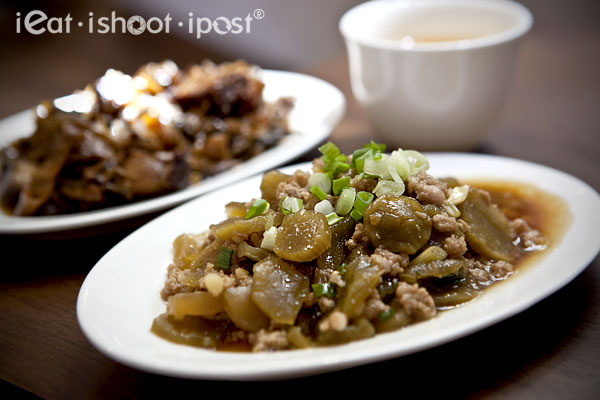 Minced meat with Pickled Radish – Lunch Buffet $9.90 nett
The time has come at last to tell you about Teochew Muay. This restaurant is opened by my good friend SCS Butter who is one of the few makan kakis I knew before I started blogging. SCS Butter is a foodie (I think you can tell from his photo) and has been the source of many great recommendations on this blog. The reason I have not told you about his restaurant earlier is because we needed some time to iron out some details of the restaurant. I have been grappling with the dilemma of wanting to help a friend but at the same time needing the food to be of a certain standard before recommending it, so I am happy now that it is ready to be blogged.
After four months of operations, I think SCS Butter has finally settled on a compelling proposition. The initial idea was to have a Teochew Muay restaurant where you can enjoy Teochew Muay in air-con comfort. At the beginning, they were charging ala-carte prices. But after a while, he decided that a buffet style eatery was the way to go. So now, we have a $9.90 nett All-you-can-eat Teochew Porridge Lunch Buffet and a $13.80 nett Dinner Buffet with Bak Kut Teh which really is value for money and would satisfy (a lot of) Singaporeans who want to eat Teochew Porridge in comfort.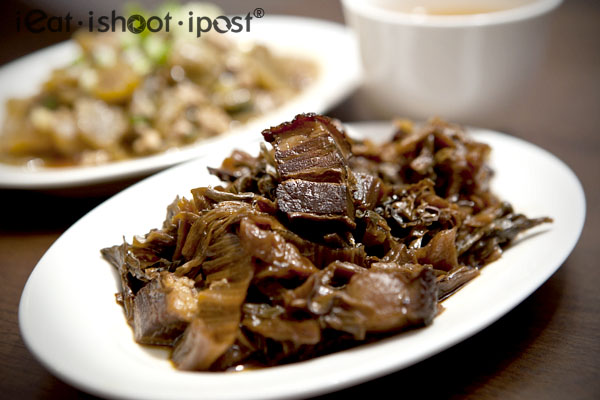 Mei Chai Kou Rou – Lunch Buffet $9.90 nett
But just being value for money is not enough. We needed a few dishes which are crying out to be eaten. I would say that in general, most of the dishes are competent but I want to highlight a few which I really enjoy. One of the dishes I really like is the minced meat with pickled radish which is part of the lunch buffet. The tangy, savoury and sweet dish goes really well with the hot porridge and I finished a whole portion by myself in addition to the other dishes. 4.25/5
The buffet spread will have your usual Teochew Porridge favourites like Chai Buay (preserved veg), braised Duck, Braised Pork Belly and Tawkwa, Chai Poh Omelette, Steamed Sotong etc. There are of course some hits and others which need a bit more tweaking. The Mei Chai Kou Rou 3/5 is one of those that desperately needs a makeover. But hey, it's a buffet, so you can try them all and ask for a 2nd helping of those dishes you like. One thing about the restaurant which will appeal to health conscious diners is that the food here is not overly oily, so you will go back to the office after lunch without having to take some Eno.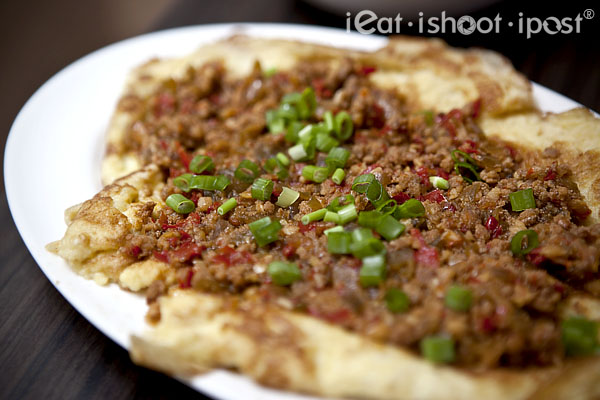 ieat Omelette $12 ($6 for ieatishootipost readers)
My personal favourite is the minced meat chye poh omelette which is an off the menu item. What is on the menu is a very shiok minced meat, chai poh and chilli sauce that is served with homemade tofu. But one day I asked SCS to put that same topping over a freshly fried omelette and it has been the one dish that I always look forward to eating when I am there. This is a special order and normally costs $12. However, if you are there for the buffet, you can order it for an extra $6 if you simply tell him that you want the "ieat omelette". It goes really well with the hot porridge and I guarantee that you won't be able to stop nibbling on it! 4.5/5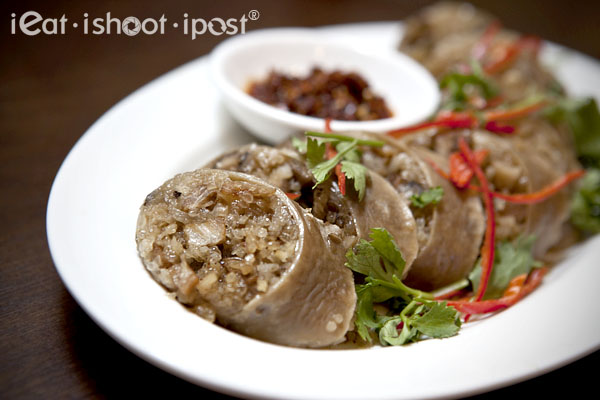 Da Chang Luo Mi (Glutinous Rice Sausage) $12 ala carte menu
Da Chang Luo Mi (Glutinous Rice Sausage) is a Teochew classic that is not easily found nowadays. SCS Butter is not Teochew (a point which I keep poking him with but my finger just sinks into his thick skin) but his partner happens to be the owner of a well-established Teochew restaurant which is why this item is on their menu. The glutinous rice is very flavorful and is packed with dried shrimps, mushrooms and peanuts. The peanuts are a dead giveaway for it being a Teochew dish!. 4.25/5 Aside from this, they also have steamed fish on the ala-carte menu which you can order with prices starting from $12.90.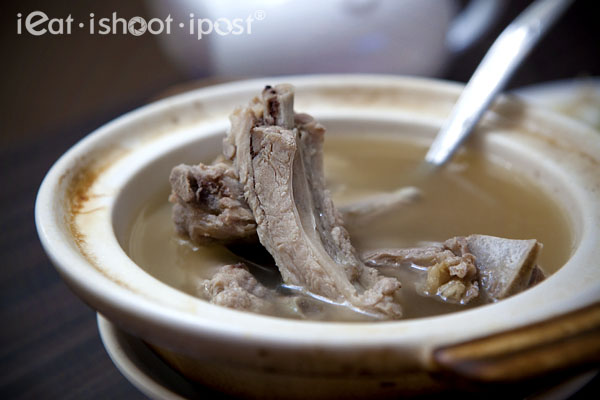 Bak Kut Teh: Part of $13.80 nett Dinner Buffet
They have recently introduced their Dinner Buffet at $13.80 which includes free flow Bak Kut Teh. I have tried the Bak Kut Teh and it was not bad. The stock is sweet and doesn't have the porky smell. It just needed a dash more of white pepper powder to give it some kick. According to SCS Butter, they try to cater for kids, so they did not want to make it overly spicy. However, if you want it peppery, just asked them to spike it with pepper before they serve it to you. 4/5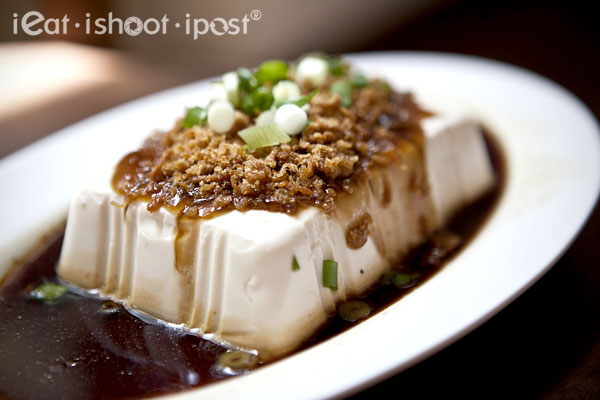 Steamed Tofu with Pork Floss: Part of $13.80 Dinner Buffet
Tofu with Pork Floss is one of my wife's must order dish whenever we eat Teochew Porridge. It is just one of those dishes that marry so well with hot porridge. They usually serve this dish cold but SCS Butter has decided to steam the tofu before topping it with the soy sauce and pork floss. It is also very good and only available during the Dinner Buffet. 4.25/5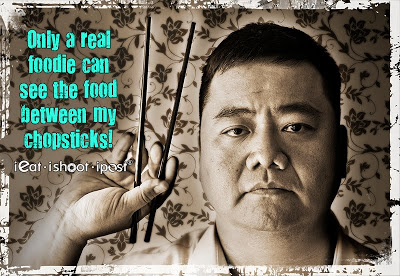 SCS Butter – He really is very affable — as long as you don't get him angry
Don't let the photo of SCS Butter fool you. I know it looks as if he might poke you with his chopsticks if you complain about his food, but Joe (SCS) and his wife Tracy are lovely people and you will be well looked after at the restaurant. When you get there, just let them know you are an ieatishootipost reader and enjoy their hospitality! If he doesn't look after you, just email me and I will post his other more compromising photos all over the internet.
Conclusion
I still remember the good old days when as teenagers we used to eat Teochew Porridge at Orchard Hotel for something like $15++. I wonder why there aren't more restaurants like Teochew Muay around because all-you-can-eat Teochew Porridge in a nice air con environment is something I know a lot of Singaporeans would really enjoy!
Parking along Mohd Sultan Road has just been reinstated by the URA!
Lunch Buffet $9.90, Dinner Buffet $13.80
Kids under 3 eat for free!