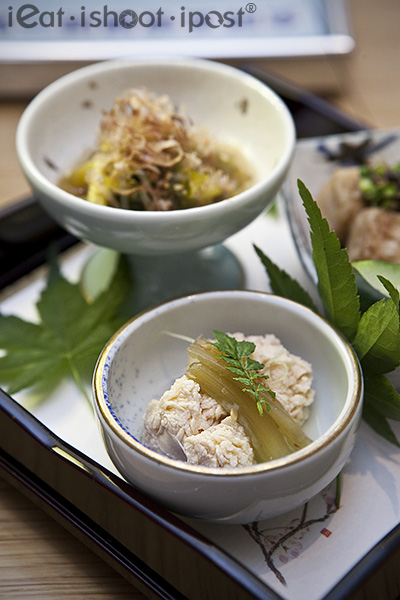 Appetizer Course: Sea Bream Roe shown
Ask any serious Sushi enthusiast where you can find the most exquisite Sushi in Singapore and invariably, the name Tatsuya will prop up. It took me too long to visit Tatsuya, and when I eventually did, it had to happen during a time when the Japanese restaurants are experiencing the aftermath of the Tsunami.
Some Japanese restaurants have completely removed all Japanese sourced produce from their menu in a bid to lure customers back into the restaurants. But not Chef Ronnie Chia, the two time World Gourmet Summit Asian Ethic chef of the year. To Chef Ronnie, removing Japanese ingredients from the menu will essentially rob the cuisine of its true character. And he would rather close the restaurant then to sell something to his customers that he knows in his heart to be less than perfect.
This blog post is a continuation of my primer on Food and Radiation Safety issues following the Japanese Tsunami. Chef Ronnie will going to take us on a culinary tour of Japan as he walks us through where his sources his produce from in the wake of the Tsunami.
So here's the map and let's start our journey!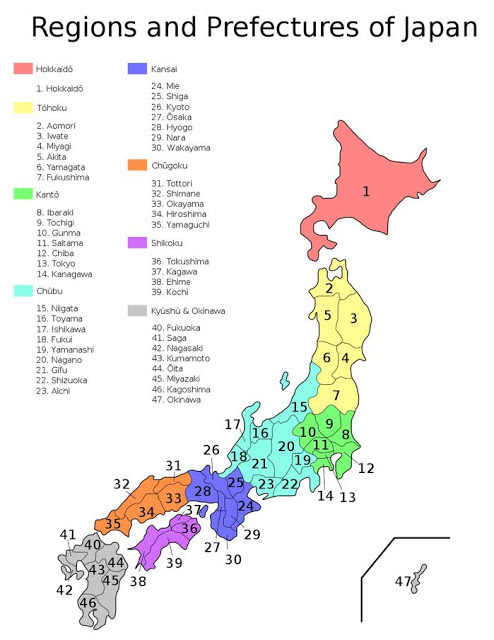 Here is a useful map to view the different regions of Japan
As you have read in my last post, the areas of Japan that have been affected by radiation are the regions around Fukushima (7). Subsequently, some radioactive contamination has been found in the Kanto region (green) which comprise of several prefectures including Tokyo (13). AVA has found some radioactive contamination in some prefectures outside of the Kanto region, viz Shizuoka (22), Ehime (38) and Hyogo (28), but the source of the contamination is not clear since they are so far from the nuclear reactors. However AVA has also banned foods from these prefectures as well, just to be safe.
Those who are familiar with Tatsuya's cuisine will know that what sets Chef Ronnie's restaurant apart is his in-depth knowledge of Japanese produce. Having spent 8 years working in Japan under the most exacting Japanese chefs, Chef Ronnie has accured a vast knowledge of Japanese produce and a network of suppliers enabling him to bring in exotic seafood with such exquisite flavours that are fit for the who's who in Singapore. Even Ferran Adria paid him a special visit when he came to Singapore to taste his creations.
The Tsunami and the subsequent ban on produce from certain prefectures has meant that Chef Ronnie has to scramble to import produce from alternative producers and sometimes this means involving a few middlemen just to get the produce to Tokyo where it is then airflown to Singapore.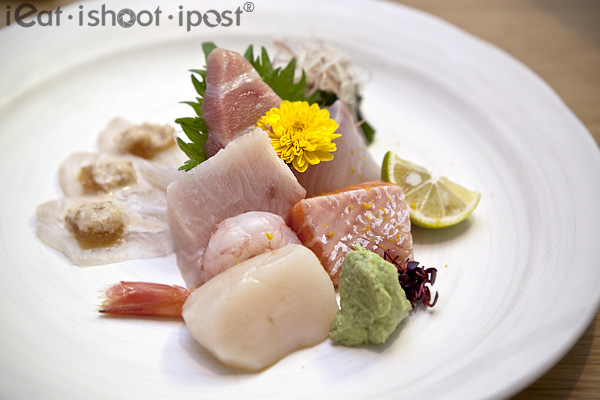 Sashimi platter
Let's start our tour around Japan with the Sashimi platter. Here at Tatsuya, freshness of the seafood is a given and you should expect nothing less than the best. But it is more challenging now and obviously some of the fish he used to import may not be available. We starting from the northernmost part of Japan, viz Hokkaido (1) where his wonderfully sweet Hokkaido scallops come from and then transverse the length of Japan to the southernmost tip of Kagoshima (46) to harvest Kanpachi from the may fish farms located there. For the Otoro, Chef Ronnie usually serves up Northern Pacific Bluefin Tuna belly (Honmaguro) which is caught off the waters of Japan. This is regarded by many Japanese as the best of the Bluefin Tuna. But now he has to source his fresh Tuna from Russia instead. A lot of the otoro we eat at the sushi bar come from frozen saku (pre-cut blocks) and they are not bad when they are blast frozen and thawed properly. But a chunk of fresh bluefin tuna belly has got that exquisite sweetness that hits the middle of your tongue as it melts which just brings it to the next level. For the rest of the seafood items, we shall have to take a detour to Norway where we find Salmon and the Amaebi (spot prawns), then to Korea for the Hirame (flounder) which he serves with a delightful goma (sesame) sauce and then out to the US for the Mekajiki (Swordfish). 4.5/5
But our journey around the world brings us back to Japan again when we start looking at the garnishes. Unlike seafood where alternative sources are available, Japanese garnishes and vegetables are often only found in Japan. For those of you who are familiar with Japanese produce, you know that no one grows melons, grapes, apples and strawberries quite like the Japanese. So for the Kogiko (small chrysanthemum) and Perilla leaf (those big green leaves that a lot of people don't eat), we first head to Aichi (23), then over to Iwate (3) for the freshly grated Wasabi and finally to Fukuoka (40) for Purple sprouts (Akame).
I hope everyone is starting to get familiar with the geography of Japan. It is actually quite important to know a bit of the geography if you really want to understand the heart of Japanese cuisine. So I hope the little tour will give you some confidence in the safety of the food.
One of the joys of eating at Tatsuya is the fact that you get to eat produce that you might only get to eat when you visit a certain area in Japan. The next dish of simmered grilled Iwana (arctic char) with Japanese eggplant is an excellent example. This is the first time I am eating Iwana and it is one of the most exquisite fish I have tried. The fish is sourced from the rivers of Miyagi (4) prefecture. Since it is a river fish, it is quite safe from radiation contamination. With the radiation scare, there is a temptation to switch to local eggplants, but one taste of the Japanese eggplant and I understood why Chef Ronnie insists on taking the trouble to use only Japanese eggplant. In this case, his eggplant comes from Fukuoka (40) and they are absolutely delicious. The Iwana and eggplant matches perfectly with the sauce which is made from an excellent dashi. I wasn't at all surprise that Chef Ronnie still shaves his own Katsuobushi (Bonito flakes) to make his dashi. Most restaurants who bother to make dashi would usually used ready shaved Bonito flakes while others simply mix it from powdered stock. The dashi is wonderfully savoury as he has managed to fully extract the umami from the Konbu and Bonito Flakes. 4.75/5

Aburi Set: Otoro, Kanpachi with Caviar, Salmon with Mentaiko, Scallop with Foie Gras and Anago
One of the signature dishes at Tatsuya is the Aburi Sushi. I seldom use this word to describe the dishes that I review but here it is. The Aburi Sushi here is awesome! I have been eating quite a bit of sushi lately but this one really stood out for me. To be honest, maybe I just like the aroma that a bit of searing does to the fish and perhaps a purist might frown upon adding anything to a perfect piece of fish aside from Wasabi and shoyu, but heck, this Aburi sushi is bitesized heaven. Underneath all that wonderful tane (topping) is one of the best shari (sushi rice) I have tasted. Chef Ronnie has been sourcing his rice from Iwate (3) which is still, thankfully, free from radiation contamination. He tells me that he has been importing this rice for so long that it would be a huge headache to find an alternate source. The rice has a perfect bite and just the right amount of stickiness that it comes apart in your mouth with the slightest pressure and has a wonderful balance of tartness, savoury saltiness and a distinct sweetness that holds its presence on your tongue while you are enjoying the savoury tane. 4.8/5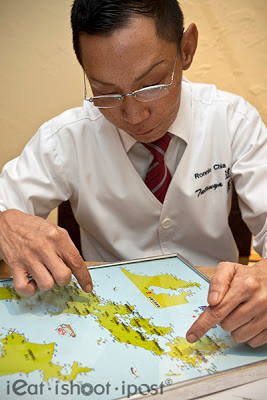 Chef Ronnie showing me where his produce are coming from
I had a rather interesting chat with Chef Ronnie who is truly one of Singapore's favourite sons. He started out working in the kitchens at the age of 13 before going off to Japan to hone his culinary skills. He described himself as learning through the University of hard knocks and had to constantly battle the stereotype that a non-Japanese can't create a truly great Japanese dish. However, despite all that, he pressed on to show that just as the Japanese can master French cuisine, a Singaporean can also master Japanese cuisine.
As he described to me the different regions of Japan that he is now getting his produce from, I sense a feeling of frustration that his efforts at securing safe produce is being overlooked by many Singaporeans who have decided to avoid Japanese food altogether for fear of radiation contamination. I hope the two posts that I have written will convince you that Japanese food is still safe to eat. If you love Japanese food, this is the time to support your favourite Japanese restaurant and in so doing, support the Japanese people as they rebuild Japan.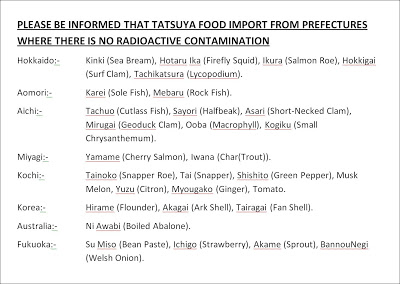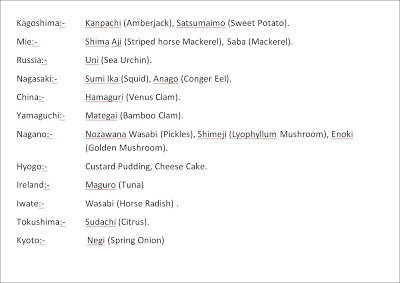 Charts showing where Tatsuya is sourcing its produce
Conclusion
Tatsuya certainly lives up to its reputation as one of the top Japanese restaurants in Singapore and a must visit for anyone who loves Japanese food. Chef Ronnie's ability to create dishes that make your eyes grow wide with amazement is what transforms the great into the awesome. Granted that an Omakase set here isn't something you can afford to eat regularly, but it really is something that you'd want to keep in mind the next time you need something to re-ignite your gastronomic lethargy.
Special for ieatishootipost readers
Mention ieatishootipost when you make your reservations and Chef Ronnie will give you his very special Japanese Cheese Cake! Valid till end April.
Menu prices (Approx)
Lunch sets from $20-$30
5 piece Aburi set (photo above) $75-$85
Kaiseiki Course $165
Sushi course 16-18 pieces ($180-$200)
Omakase around $200
Click here to read the primer on Radiation and Food Safety, Is food from Japan safe to eat?