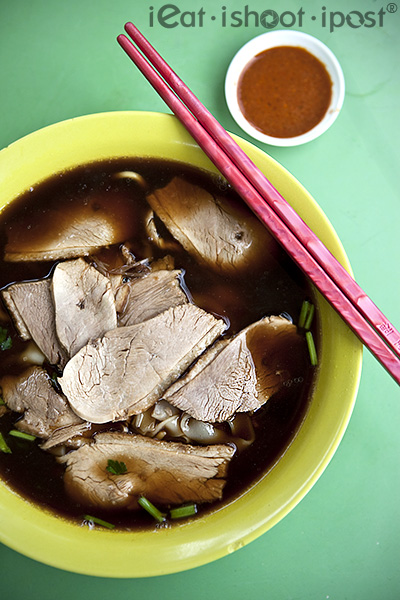 Ah Tanglin Halt. The name conjures up memories of dark alleyways, bare concrete and the 1 room flat where my maternal Ah Gong and Ah Mah used to live. Actually, it was quite scary. I did not have fond memories of visiting Ah Gong. But I was very young then, maybe 5 years old so I don't remember the details. But they used to live in one of those ten storey flats which were one of the first HDB flats built.
It took me almost five years of blogging before I decided to explore Tanglin Halt. I am sure that is a mistake. This old estate must surely harbour some hawker gems just waiting to be discovered! One of them would be this Duck Noodle stall which has a history stretching back to 1969 when Tanglin Halt was Duxton Hill of the day. For people who lived in kampungs, living in flats that have lifts must have been quite something.
Back in 1972 when the photo was taken, the stall was situated by the roadside and it was one of the very first "Hawker Centre" that had been set up. But in those days, the hawker centre was quite different. Check out the stall itself and how they constructed it out of those iron brackets! Even I don't remember seeing those! Those were the days when Aunties loved to wear sleeveless, floral dresses and tuck their handkerchiefs under their armpits!
It's amazing but I have to tell you that this is the first time I am actually eating Duck noodles in Singapore! I have always thought of Duck Kway Teow as more of a Thai dish and Rockett girl used to have a craving for her Kway Teow Phet Sen Yai (Duck Kway Teow Soup). But of course the real origin of the dish is from Swatow (Southern part of China where the Teochews come from) which explains why the dish is quite similar in both Singapore and Thailand.
The Aunty here was very enthusiastic about telling me all about her Duck Noodles. The key to this dish is of course the braising sauce. So she led me to the back of the stall, lifted the lid off her cauldron of simmering shiokness and asked me to take a good long whiff. It was indeed very fragrant and I could make out the very familiar cinnamon and dried orange peel.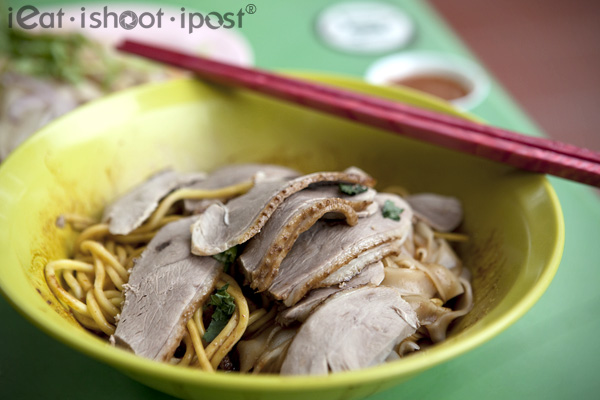 I prefer the dry version to the soup version as it has a really nice super concentrated braising sauce and chilli combo that gives the noodles quite a kick. With the soup version, the soup can get a little dilute with the noodles soaking inside. The duck is prepared beforehand and and chilled by the time I got there at lunch. They might have been warm and fresh earlier in the day. The meat was nicely done, tender and not too gamey. It was a tad dry, but again that could be because I ate there just before they closed. I would give the soup version a 4/5 and the dry version a 4.25/5.
Conclusion
Ok, time to start exploring Singapore for the best duck noodles. So aside from this stall, where do you all go for your Duck Noodles?