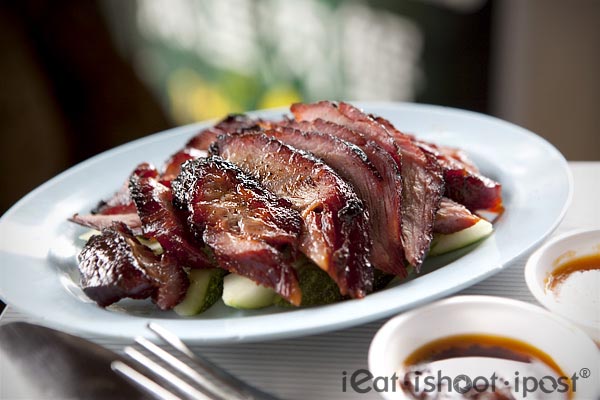 So which is better? Hong Kong Style Char Siew or Singapore Style Char Siew?
What's the difference? I hear you ask.
Well, compare a chunk of Char Siew from Fatty Cheong with one from Crystal Jade and you will understand what the difference is. Our local Char Siew tends to be much sweeter than the Hong Kong style ones and I personally prefer the local style Char Siew. Honestly, I don't remember ever eating a Hong Kong Char Siew which I can remember. I have eaten Char Siew in Hong Kong as well as in Sydney where there is a large number of Hong Kong Roasts. But I don't have a Char Siew that has as endearing qualities as the ones at Fatty Cheong, Foong Kee, Lee Kheong and Fu Shi. I have to admit that the best ever Char Siew experience I had was when Wahcow brought back some super fatty Charsiew from Ming Kee in KL. But that was just that once. I subsequently visited Ming Kee in KL twice and was disappointed both times. But Hong Kong style Char Siew — I don't know. Perhaps I just haven't come across a good one or maybe it is just that I like my Char Siew with a layer of translucent and slightly charred, caramelized fat.

Anyway, in case you are a fan of Hong Kong Style Char Siew and don't want to have to fork out the extra money to pay for towels, peanuts and service charge, then this Kopi Tiam Hong Kong Roast may be just what you are looking for.
Ok I know you are thinking, "No big deal what, so many stalls selling Hong Kong Roasts around!"
Hold on yeah? Just because the Stall calls itself a Hong Kong Roast stall doesn't necessarily make it a Hong Kong Roast ok? Just as every man you see on TV donning a white coat and carrying a toothbrush may not necessarily be a real dentist.
So what then qualifies a stall to call itself a genuine Hong Kong Roast?
Well, you need to have one of these guys: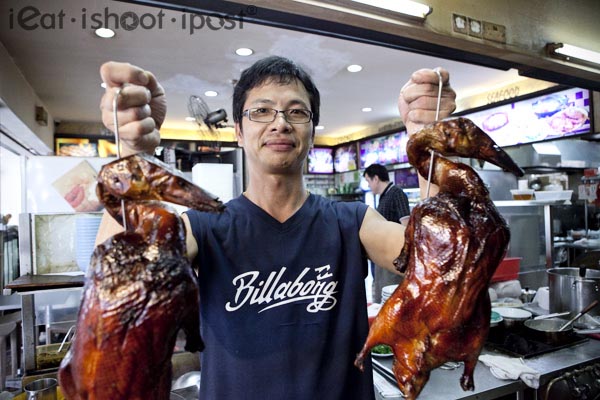 Yep, a real Hong Kong born Hong Kong Chef. AND a Hong Kong Chef who specializes in Roast Meats, I might add.
Chef Cheng is one of the reasons why we should not complain too much about our Hawker stalls being overrun by foreign hawkers. He arrived in Singapore 18 years ago as a hotel chef and worked in several hotels before his last posting at Crystal Jade as a Chef specializing in BBQ Roasts. Then he married a local and decided to share his expertise with the rest of his new found compatriots.
Now, since I have already said that my preference is for the local style Char Siew, it would not be a big surprise to you that I did not think much of the Char Siew at Tao Xiang Kitchen. I found it a tad dry and lacking that nice caramelized layer of malty goodness that our local Char Siew has. Having said that, if you do like Hong Kong Style Char Siew, than this is still a good place to get your fix in a coffeeshop setting. 3.75/5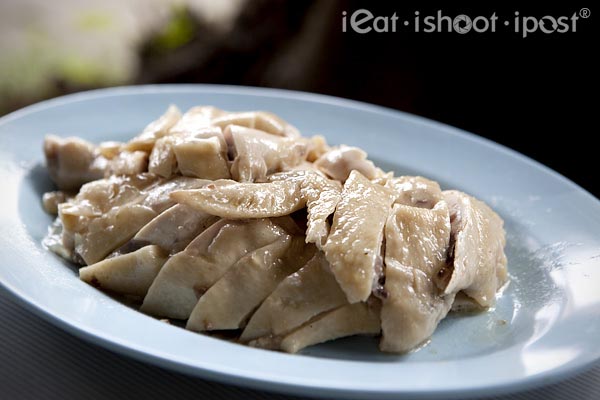 The dish that I was more impressed with was the white poached chicken which was served without any soy sauce. This chicken is quite unique in that unlike the local version where the chicken in poached in water and then the flavouring is added later in the form of a soy based sauce, this chicken in cooked in a salty broth that has been flavoured by stuff like dried scallops. So the chicken would have absorbed all the salty umami as it cooks and can be served neat. Quite a refreshing difference from your normal chicken rice and well worth the trip to try it. 4.25/5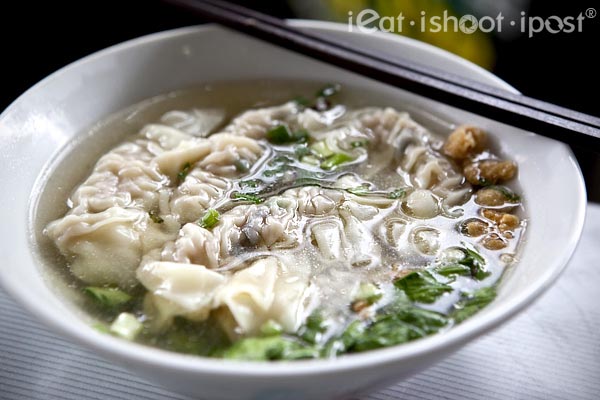 The Sui Gao soup here is also very good and the Sui Gao here is one of the best I have eaten in recent memory. Hong Kong style clear soup is quite distinct from our local version. They use the bones of dried fish to cook the stock instead of the more familiar ikan bilis which are more common in the local version. 4.5/5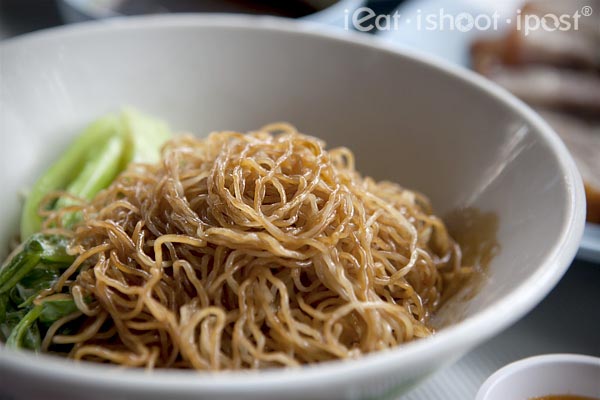 Being a very proud Hong Konger, Chef Chang sources for the eggy Hong Kong style noodles which are very firm to the bite. I personally prefer our local wonton mee which tends to be a little more tender, but if you are looking for Hong Kong style wonton mee, then this is it!
Conclusion
Many places might call themselves "Hong Kong" roast, but serve local style roasted meats. This one, however, is more authentic although some of the flavours have also been adjusted slightly to suit the local taste. The poached chicken and sui gao soup are excellent and I would definitely order those two plus some of the other roast items to accompany them.