This stall has relocated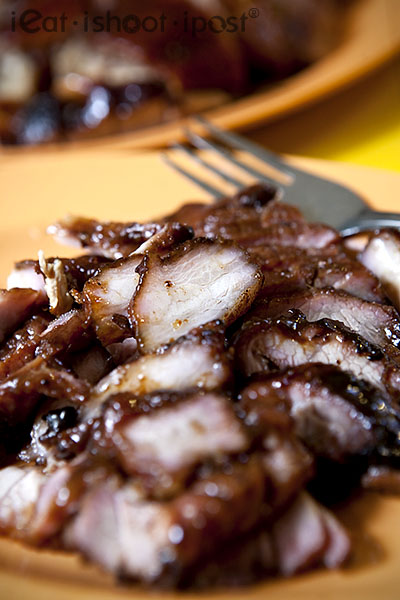 We are always lamenting the dismal state of our hawker food as more and more stalls have come to serve generic hawker fare at clinical food courts that only provide sustenance without soul. But once in a while, I see a glimmer of hope. For as long as there are hawker stalls owned and operated by passionate hawkers, there is opportunity for a hawker food revival.
This glimmer of hope is evident on the 2nd floor of the Shunfu market, in a stall that looks like every other hawker stall. This one boasts a perpetual queue even though it is still unadorned with the usual media endorsement. This is no heritage hawker and there is no secret recipe that has been passed down through three generations. Behind the gravy spattered glass is just this ex-taxi driver who loves food and decided give up his taxi three years ago to open up a Char Siew and Sio Bak stall because he loves to eat Char Siew and Sio Bak, and sometimes, Roast Duck.
The kakis have been discussing about this particular stall in our forum which has garnered as much attention as a shoal of Koi fighting over a handful of chicken pellets. So naturally, I had to find out what the fuss is all about, especially when they are discussing Char Siew and Sio Bak, dishes which rank quite high on my oomphometer.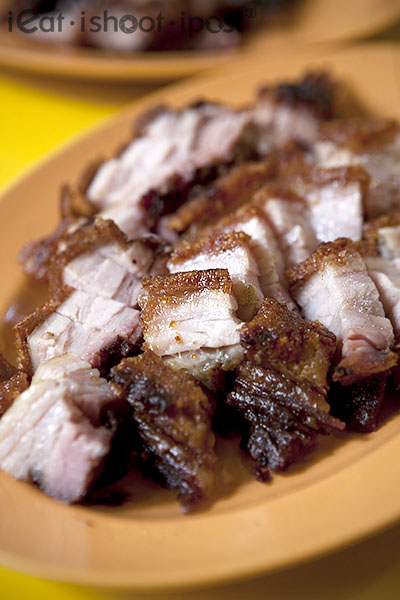 A lot of Sio Bak nowadays lack soul, but this one makes you feel like you are in a Gospel Choir in America's deep South. Have we got crispy rind Sister? Amen! Have we got juicy, tender, melt in your mouth meat, Bruther? Amen! Have we got fats that have been rendered soft and marinade that has penetrated right through the meat, people? Ooohhhh Hallelujah!
Jokes aside, the Sio Bak here will satisfy. It can't really compete against the cubed Sio Bak you find at a fine Cantonese restaurant, but you get more pig for your ten bucks. I you need to do is to bring along your own bottle of special reserve cognac mustard! There are two things that sets this Sio Bak apart from a lot of others. Firstly, as I mentioned before, the fats here have been rendered. What happens is that the pork is roasted slowly first to allow the fats to melt, then rested before a second roast to turn the skin into the crackling we are familiar with. The other thing is that they use fermented bean curd (Nam Yu) in the marinade which is what is traditionally done. (and a lot of other stalls omit) This adds an extra dimension to the flavour. Some might find the meat a little to salty, but when eaten with rice, it is just nice. 4.25/5
The Char Siew here will also make you shout "Hallelujah!" This is not your usual reddish brown coloured, piece of dead meat. No, it's alive! And it dances and teases you from behind the glass panel by looking like its been dipped into a bottle of honey several times during the roasting process. They have done it so well that even the lean version is juicy and tender. But it is not just tender, it has bounce which is the characteristic of collar meat that has not been overcooked. But of course, you know me, when it comes to Char Siew, it's pig's armpit (Bu Jian Tian) all the way. Nothing like having a bit of caramelized fat to chew on! When you really have that need for meat, this will hit the spot! (But get there early when it is just out of the oven) 4.6/5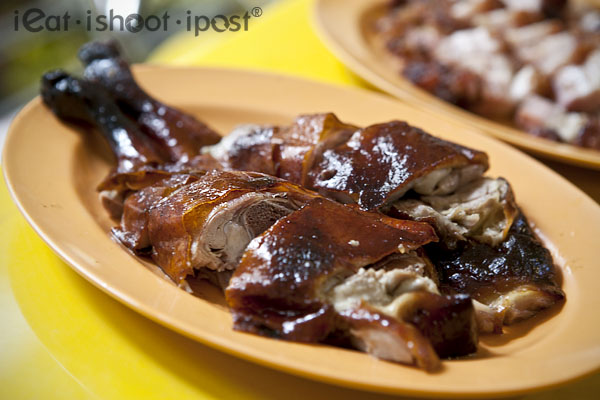 Our makan kaki Damien loves the Roast Duck here. I thought that it was cooked really well, the meat was tender, but I found the flavour still a little too gamey and would have preferred more of that five spice flavour in the meat. My favourite plum sauce was also missing. But at $38 per duck, it is really good value and one of the better roast ducks I have eaten. 4.25/5
Conclusion
It is really good to see that there is a new generation of hawkers who are rising up to the challenge of serving up hawker food with passion! I think the critical thing is to make sure they remain stall owners rather than being employed by a Food Court to serve up generic dishes prepared in a central kitchen. We need to keep hawkerpreneurship alive and well, and when that happens, we will continue to enjoy great food at affordable prices.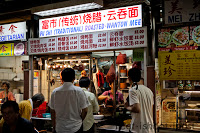 Previous location
Blk 320 Shunfu Road Hawker Centre #02-25