Photos by Cliff and Ieat
It seems that Food Photography is getting rather popular. When we started the Food Photography workshops a few years ago, we were hard pressed to get 30 participants. Nowadays, our workshops are filled up in just over a day or so. It is indeed a worldwide phenomenon as more and more people take photos of the food they eat as a way of chronicling their lives. But a photo is not good enough, it must be a photo that will cause stomachs to rumble, saliva to drool and friends to start cursing you for messing with their physiology in the middle of the night.
So, without further ado, here then are the latest winners of our food photography competition! View their facebook pages at your own peril!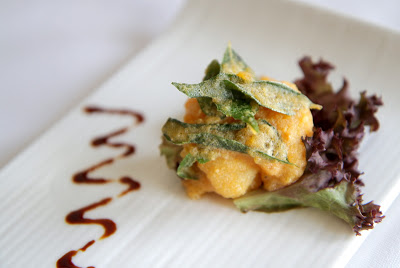 First Prize: Goh Pei Hao
Pei Hao managed to capture the texture of the fried batter on the leaves very well and used the sqiggle on the left to give balance to the whole photo.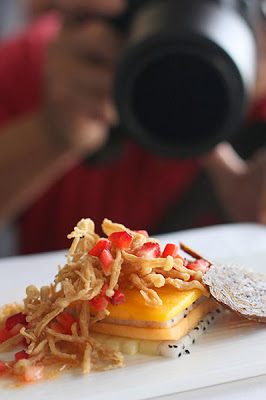 2nd Prize: Ang Mei Zhen
Mei Zhen utilized another photographer as background interest to add the human element to her photo.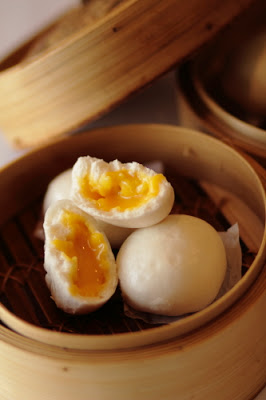 3rd Prize: Yee Kai Mun
Kai Mun made use of the bamboo steamers to add and interesting background to his photo. He also managed to capture the custard oozing from the Pau.
Many thanks to Canon for sponsoring the Food Photography workshop! If you would like to attend the next workshop, please write to cliff_lim@canon.com.sg to get yourself on the emailing list.
Winners will be receive an email on details of collecting their prizes.Well done guys!
This workshop was made possible through the assistance of the friendly staff of Peach Garden Restaurant. The dim sum here is exquisite and the views are great, plus there's easy parking on the weekends. Good place to consider for a family brunch!