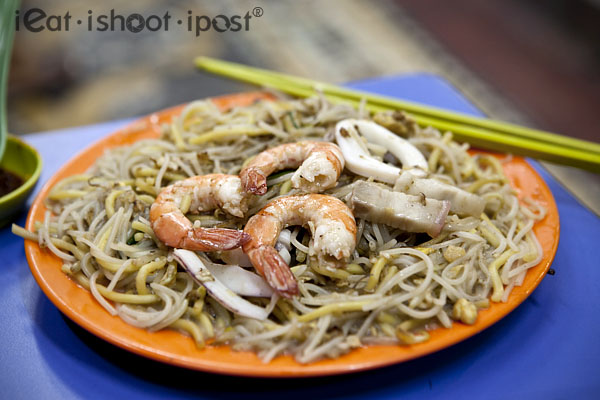 How does a Hawker achieve legendary status? Well, firstly your food must be good and secondly it helps when you have a distinguishing feature. In the case of Serangoon Hokkien Mee, the the fact that the man frying the noodles is also crippled has made him a legend in local Hawker lore.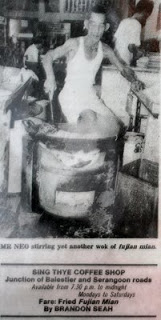 Most Singaporeans of the baby boomer generation would recall Serangoon Hokkien Mee. And if they don't, it might just be a ploy to hide their age! The crippled man, Mr Neo, used to fry his Hokkien Mee while seated over a charcoal fire. According to a lot of people I spoke to, his Hokkien Mee was probably the best around at the time and people from all round Singapore would drive to Serangoon to eat or tar pau his Hokkien Mee back in the iconic Opeh leaves.
Unfortunately, Mr Neo has passed on and so has the charcoal fired wok. So I can only imagine what his legendary Hokkien Mee would taste like. However, his legacy lives on in Serangoon at this particular stall which is located across the road from where he was originally frying his Hokkien Mee. Mr Neo had passed on his recipe to his son, Francis Neo, as well as another of his friend before leaving and for a brief time, Francis was continuing his father's legacy at a stall located in Bedok. I managed to blog about him back in 2006. Since then, the stall has closed and he has disappeared from the hawker scene.
His friend, however, has continued the Serangoon Hokkien Mee legacy, calling it the Original Serangoon Hokkien Mee. According to him, the Hokkien Mee served here is from the very same recipe that has been passed down from the old man himself.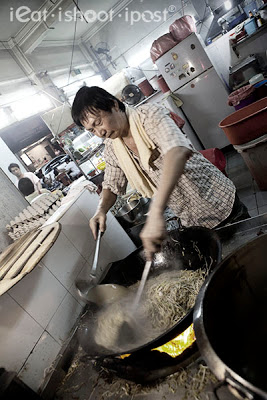 There is just something about eating Hokkien Mee at night in an old corner coffeeshop that gives it that special something when compared to eating Hokkien Mee in an aircon food court. It's also another something when you can tarpau the Hokkien Mee back in the Opeh leaves. These extra somethings really add to the overall enjoyment of this dish.
This Hokkien Mee is very well fried and the most significant thing is the wok charred flavour in the noodles. The soup stock is also excellent as are the fresh sea prawns and sotong AND the pork belly, which is a real bonus nowadays. I remember that as a kid I would always order my Hokkien Mee with just the pork belly and picking them out in the noodles was like finding the piece of chicken in a curry puff. So far so good….. until we get to the bee hoon. They use the thick dried bee hoon here, but I think he soaks the bee hoon first before adding it to the wok, so by the time the Hokkien Mee is ready, it had lost its chewy texture which is what I enjoy about bee hoon. Overall though, it is still a plate worth eating, if not just for the ambiance and the feeling that you are eating a piece of history. 4.25/5
Conclusion
It really feels like a plate of Hokkien Mee that you would eat thirty years ago. If only the bee hoon had more texture!