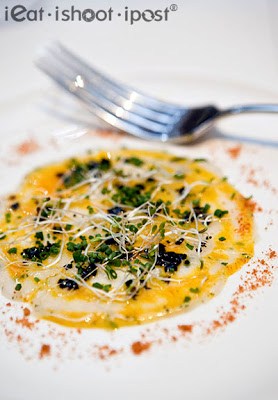 Hokkaido scallop carpaccio with saffron vinaigrette and black Taggia olives powder $28
My last Italian meal at another well known Italian restaurant was quite a disaster. Well, to be fair, it wasn't bad, it just wasn't great. To me the key to any great restaurant is the chef, no matter if he comes from Italy, France or China, if they are passionate about their food, it will show. If they can't cook a risotto to the right creaminess (more accurately starchiness) and the lava cake does not erupt when you cut into it, then it is not even worth mentioning.
So I came to OTTO with a sense of trepidation but I am glad to report that OTTO has lived up to its reputation of serving really great pastas and I found Chef Michele Pavanello to be someone who really loves food in general and passionate about Italian food in particular. He is yet another European who has succumb to the lure of our Singaporean women and chicken rice and settled down to make Singapore his home. Well done girls! (And Chicken Rice hawkers)
Chef Michele understands that we Singaporeans like bold flavours. After all, his own favourite Singapore dish is Laksa, so he knows that our threshold for reaching the "Oooommmph" is rather high. That Oommphh showed up in many of the dishes we had that night, but we have to start with something a little light before we get there.
The first dish was an Hokkaido scallop carpaccio which he had drizzled with a saffron vinaigrette. At first glace I thought that the black granules were caviar, but they turned out to be a powder made from ground dehydrated olives. The scallops were fresh and went well with the vinaigrette but I had a problem with the Alfafa sprouts whose flavour dominated the palate. The black olive powder was interesting but the flavour was too subtle. Would have been great if it were really caviar! 3.5/5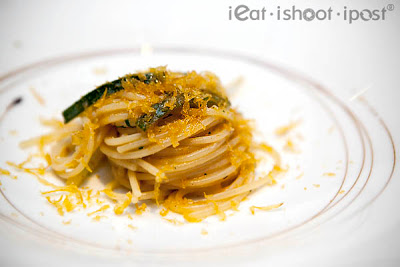 Spaghetti with sea urchin and grey mullet bottarga $30
Most people tell me that the pastas here are great and they are right. We tried two pasta dishes and they were both excellent. The texture of the pastas were perfect and they were sauced perfectly.
The first was a spaghetti with sea urchin and grey mullet bottarga. If you like strong flavours like foie gras, crab roe and salted eggs, you will definitely like this. Chef Michele uses uni which have been shipped from Tsukiji market. The Uni lends a nice creamy sauce with a hint of fishiness which was not overpowering. Bottarga, which is dried mullet roe gives the dish another umami punch, very much like a sprinkling of parmesan cheese, except with a accent of the sea. 4.25/5
Tagliatelle with truffle scented lamb ragout
I would highly recommend the Tagliatelle with lamb ragout if you are looking for a hearty, robust dish which is so tasty that you would probably end up eating too much and feel uncomfortably full. The lamb ragout was done in such a way that it wasn't too gamey and it could probably have been passed off as beef or oxtail. The homemade tagliatelle is velvety tender and works wonderfully with this sauce. 4.5/5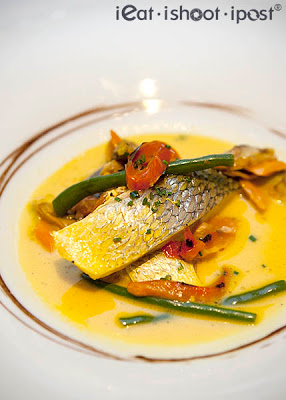 Baked European royal sea bream with saffron sauteed clam $38
A real fish foodie will be able to tell you exactly what type of fish you are eating and where it comes from just by its taste profile. I am, unfortunately, not at that level. But in general, if the fish is fatty, you can guess that it comes from the cold waters of the more temperate regions. So it is with this Sea Bream. We have the local variety and the Mediterranean variety and the reason their dish of Baked European Royal Sea Bream is priced at $38 is precisely because the fish is airflown from the Mediterranean. The fish was nice, slightly oily and full of flavour, which you would love if you like that fishy flavour of fish. I am not a big fan of fish like spanish mackeral so this isn't a dish I would order again. The clam sauce was very nice though and went well with the fish. 3.5/5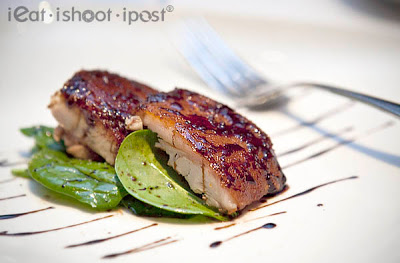 Crispy Suckling Pig lacquered with "black locust" tree honey and aged balsamic vinegar $48
The Crispy Suckling Pig is the one meat dish that everyone associates OTTO with and it is one dish which I would highly recommend for anyone who has a few calories to spare. The texture of the suckling pig is near perfect. The skin is really crispy and when you bite into it, the flavours of the rendered fat would coat your palate with porcine perfection. In my books, this the best way to appreciate the natural taste of pork.
In order to achieve this, Chef Michele slow cooks the suckling pig first before finishing it in a hot oven to crisp the rind. The meat is great, but I would have preferred something a little more citrussy instead of baby spinach leaves to add a zing to balance out the the heaviness of the pork. Nevertheless, the pork was heavenly. 4.5/5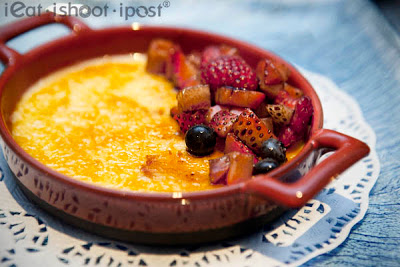 Haitian vanilla creme brulee served with Vincotto marinated berries $14
There are some recipes that never go out of fashion and Creme Brulee is one of them. It is one of those classic desserts that is so perfect that you really don't need to go modifying it. I am sure there must be lots of fans like me who love it, so much so that you can even write a whole book on it!
Creme Brulee literally means "burnt cream" in French and is basically an egg custard flavoured with vanilla and topped with caramelized sugar. It might sound simple, but to make a cream brulee that is smooth, flavourful and have a glassy layer of caramelized sugar that shatters when you tuck into it requires some skill. I would have been happy with just the Creme Brulee sans berries as I felt it was a little too tart for me. However, the Creme Brulee was expertly done and it was something I savoured slowly to prolong the enjoyment. 4.25/5
Conclusion
Ask around about OTTO and many people will tell you that their pastas are excellent, and I find myself joining the ranks of the "many people". The prices are a little on the high side, but you do get what you pay for. If you are going for a meat dish, the suckling pig would be the one I recommend.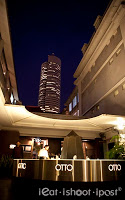 This review was done as part of a media tasting event