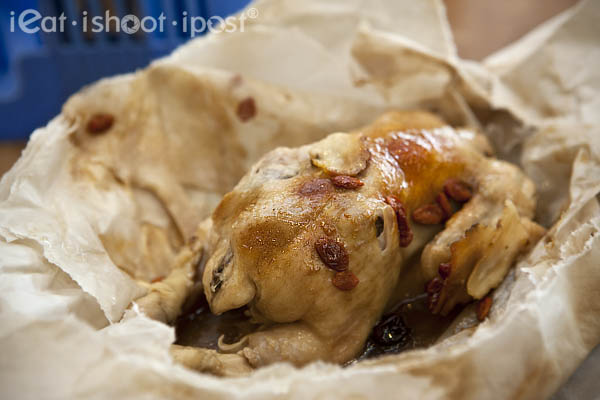 If you want to be an expert in JB food, you need more than just a good palate and a sense of adventure. You need to have guts as well as a sense that you are so tough that no one would want to mess around with you type attitude. My friend, SCS Butter is just such a man and when I go into JB with him, I feel safe.
As such, I have started blogging about some of his favourite JB foods. He has been raving about this particular restaurant which sells Paper Wrapped Chicken which according to him is the tastiest thing under heaven after his own Braised Duck at Teochew Muay.
Now, when I mention "Paper Wrapped Chicken", what do you think of? The type where pieces of chicken are wrapped in paper and deep fried right? That was what I thought too until they brought in this dish which was a whole juvenile Kampung Chicken which has been steaming in its own juices and various chinese herbs. Aiyah, it is known as Yao Chai Ji in Singapore lah, and instead of paper, we use aluminium foil over here, that's all.
No, but that is not all. The chicken is indeed very tasty and has that extra special something that we are lacking here in Singapore. Maybe it is the chicken itself as we don't commonly see such small sized kampung chicken here. Or maybe it is the herbs that they have across the causeway which also makes their Herbal Bak Kut Teh tastier than ours. Whatever it may be, it is the best Yao Chai Ji that I have tasted. Not quite the best thing under heaven, but pretty good. 4.25/5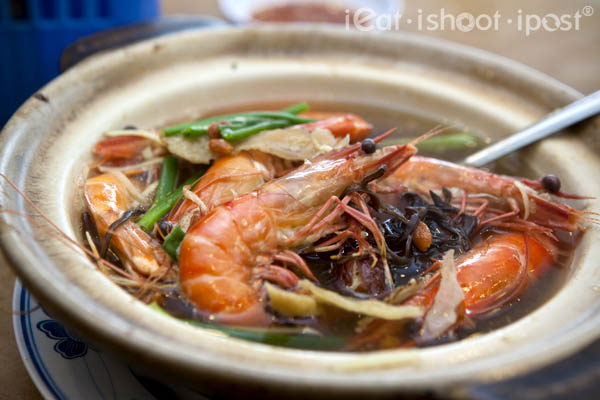 The other signature dish they have here is the drunken herbal prawns. For me, this will not be a dish which I will travel to JB for, since we have pretty much the same dish here in Singapore. However, as an accompanying dish, RM 15 for a claypot of prawns is rather good value. Prawns were fresh and there was enough herbs, but as I said, not quite as special as the Paper Baked Chicken. 4/5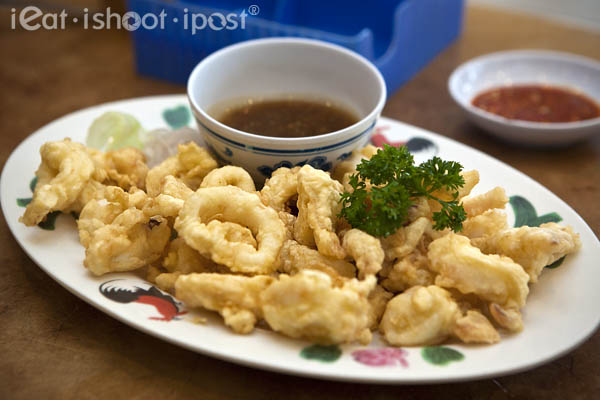 I know that Calamari Rings might be quite generic, but if the chef can do it right and the calamari comes out tender while the batter is crispy, then this is still one of those dishes that you can just nibble on non-stop. The special thing about this place is the tangy and sweet Thai style chilli sauce which they serve with the calamari rings. Yes, it is a straightforward dish, but it was very well executed and we ended up ordering another plate of it. 4.25/5
Conclusion
So, are you a fan of this restaurant too? It is quite popular amongst Singaporeans and Channel U has even featured it before. The Paper Baked Chicken is very good. Does anyone know if there are any restaurants in Singapore that does something similar?