This restaurant has closed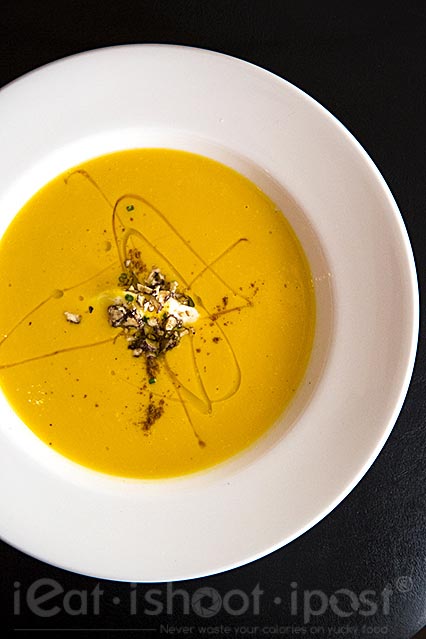 Seng Kee Bak Chor Mee uncle is taking a break at the moment while Serangoon Gardens Food Centre is undergoing renovation. In his spare time, he has been sampling some Western Cuisine courtesy of his son, Richard Lee who has just returned from Southern USA where he had been working as a Chef. He is now the head chef at a casual little eatery in Chinatown called Table 24 that has just opened recently.
Mr Lee invited me over for a meal to test his son's cooking skills. He seemed very proud of his son's skills even though he had chosen to go the Western route. He told me that as a kid, his son has never been very interested to learn traditional cooking techniques even though he did enjoy eating dad's food. One thing he did inherit from his father is that passion for preparing good food and that need to have everything done from scratch.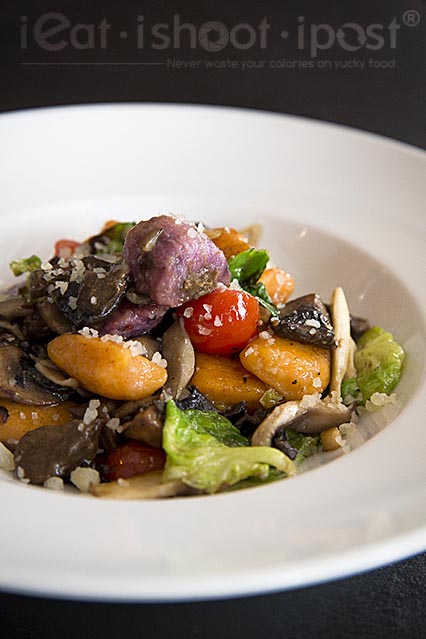 I like writing about small restaurants like these where the Chef still does most of the cooking rather than just coming up with the recipe and letting his minions prepare it for the guests. I guess that is why I am so passionate about hawker food. At the hawker stall, the uncle or aunty is the one who goes to the market to handpick the fresh produce and than does the preparation of the dish. Thus the dish that is served is really a reflection of that hawker's personality. I am glad that Richard has that same mentality and tries to do everything himself, even to the extent of smoking his own bacon in the tiny kitchen of his!
I had two meals there. Once with Mr Lee senior and a second round with the kakis during a special lunch session where we tasted almost all the items on the menu. There were hits and misses and what I will highlight today are the dishes which we liked.
The two dishes which brought me back to the restaurant for a photo-shoot were the butternut squash soup and the sweet potato gnocchi. Interestingly both are vegetarian dishes! Pumpkin soup is one of my favourite dishes and I especially love the one my mom makes. But I have to admit that I liked Richard's just that little bit better. (Sorry mom!) The secret, I was told, was a little dose of maple syrup which really brought the pumpkin soup to the next level. 4.25/5
The duo of gnocchi was an unexpected delight. Instead of the traditional potato, he used both a purple and an orange sweet potato. The result is a gnocci with a natural sweetness which was balanced with umami from nicely sauteed mushrooms and accentuated with parmesan cheese. The loved the chewy texture of the gnocchi and if you are the type like likes things like Orh Nee (Yam paste) you will like this dish! 4.5/5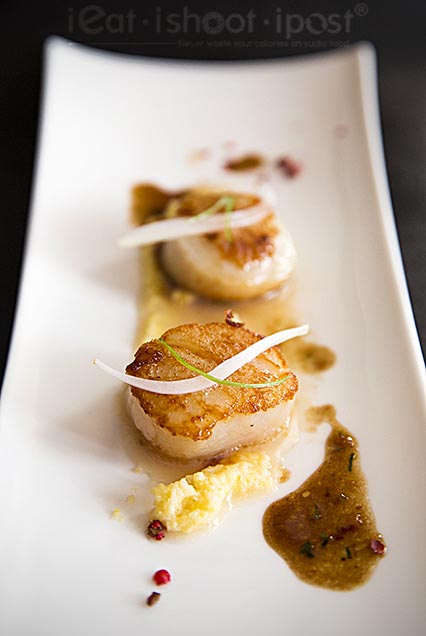 A nice starter to order is the Hokkaido scallops. The scallops were very nicely done with a nice crust on the outside while the middle is still sashimi raw. It went particularly well with polenta and the burnt butter dressing. 4.25/5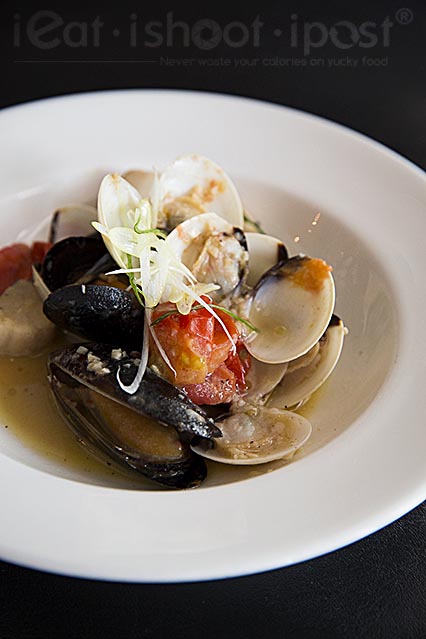 If you like intense crustacean flavour then the seafood stew is for you. My only complaint is that the sauce was too little and wished it could be more of a soup! But this isn't possible as Richard explained to us that he doesn't add any water to the stew and that all the liquid came from the mussles themselves! It is the kind of dish you want to dish your bread in and mop the plate clean. 4.25/5
I have heard of deep fried green tomatoes for the longest time but never got to try it till now. I must say it is a little bit of an anticlimax. I could taste mostly the crunchy batter and the tomatoes added a bit of zing but I wasn't overly impressed with the dish. 3.5/5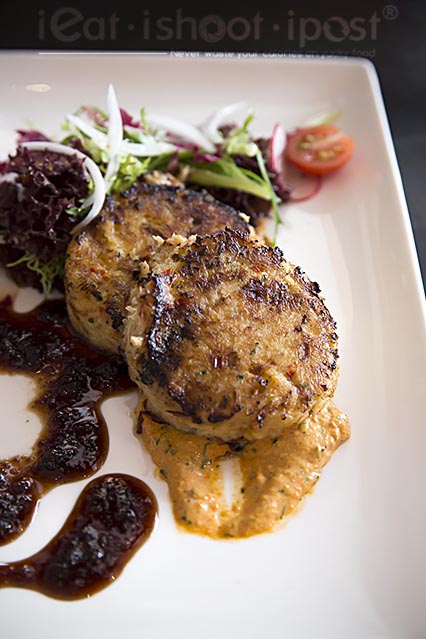 Most of our kakis loved the Crab Cakes. Chef Richard's version is quite different from a lot of crab cakes that I have had in the past in that it is very loosely packed such that it is quite light and airy inside. However, it still came with a nice crust outside which I guess is where his skills like. The crab was nicely seasoned and went very well with the creamy remoulade and sweet fig balsalmic reduction. 4.25/5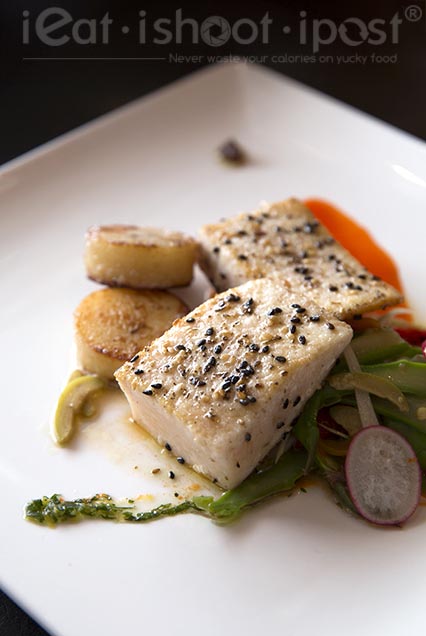 Our kakis were equivocal about the swordfish belly. Some really liked it while others like myself did not think much of it. Personally, I felt that Chef failed to bring out the savoury, meaty flavour which one expects from swordfish. Other kakis liked it because of its juicy, melt it your mouth texture. I guess it is something you can order if you love swordfish. 4/5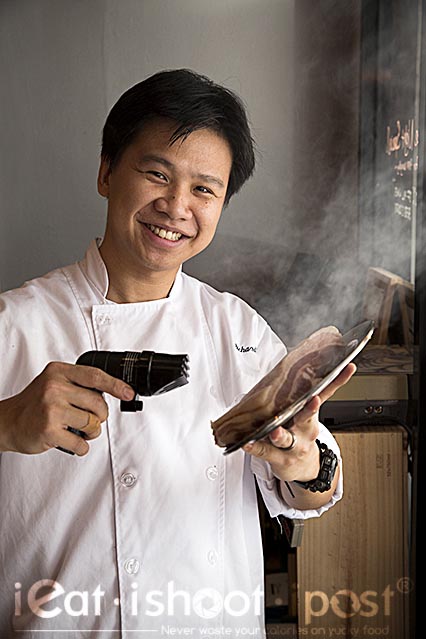 Conclusion
I have been to the restaurant twice. The first occasion was with Mr Lee who wanted to buy me dinner. I was so impressed with the pumpkin soup and the gnocchi that I organized another mid-week makan session with the kakis the try the other items in the menu. There are misses of course, but what impressed me about this young chef is his passion for his craft. It is a shame that he hasn't chosen to follow in his father's footsteps. But who knows, one day he might whip up a Western version of his father's Bak Chor Fettuccine that would make his father proud. I would like to see that, won't you?