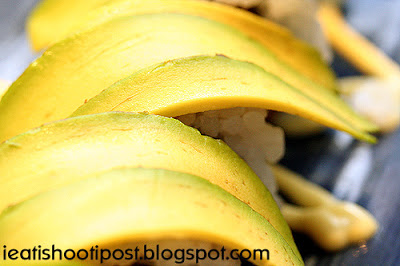 I think I have just found a Japanese Restaurant that has the right balance of quality and price for the family!! It's been a while since I visited Sushi Tei, but my friend AC Towkay insisted that our family will like this Sushi Tei outlet over at Raffles City, so since people recommend, might as well go and try.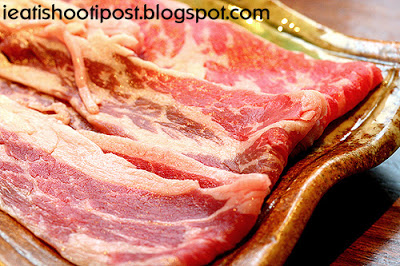 I was very plesantly surprised by the quality of the Beef here! I have been searching high and low for this since they changed the supplier of beef over at another Japanese Restaurant chain that I frequent. Now, you can of course get this quality of beef at any good Japanese Restaurant, but not at $12 for a Sukiyaki Set! For an extra $8, you can order another plate of beef. Now I find that very good value indeed.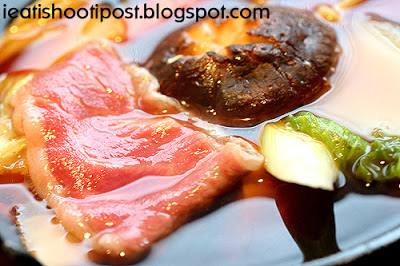 Nice streaky beef like this should be just lightly blanched in the savoury sukiyaki soup and left to melt in the mouth! Just take your time to enjoy each slice cos there's quite a bit of cholesterol yah?
The Sukiyaki stock here is very good although it is a tad on the salty side. It is easily fixed by adding some hot water. The good thing is that they will refill the soup for you so that you get enough soup to get your Umami high. (Umami (Japanese for savoury) is the fifth taste sensation after sweet, salty, bitter and sour) 4.5/5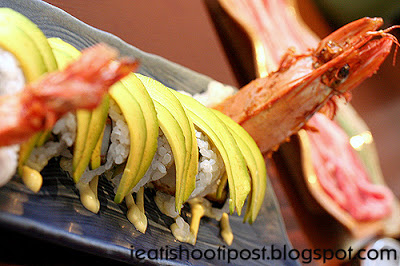 We were very happy with the price of the normal sushi here. My kids love tamago sushi and they are only $1.60 per plate (2 pieces). I simply had to order the Dragon Roll for the sake of taking a nice picture. (it was worth ten bucks just to admire the beauty of the presentation and to take a few pics)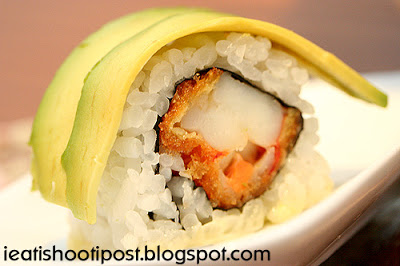 The Dragon Roll is one whole Deep Fried King Prawn wrapped with Seaweed and Sushi Rice and topped with slices of Avacado with Japanese Mayonnaise dressing. The Sushi Rice at Sushi Tei is very well seasoned and has that nice aftertaste. 4/5
Now if you have a party of 4 to 6 (especially if you have kids) make sure that you ask for these special rooms. The kids can move around and make all the mischief they want but nobody on the next table will look at you with that (You should really control your children, look!) Besides, it's a real novelty the first time you get to eat there.
Conclusion
This has now become my usual Japanese Food place. Great environment, child friendly, very good quality food and the price is not exorbitant. Even if it lacked all the above, I would have been happy simply to find my yummy beef sukiyaki for $12!
8.5/10 (T3+V2.5+S2+E1)