With mien, liverpool1965, smart, iwatch_ueat and tamago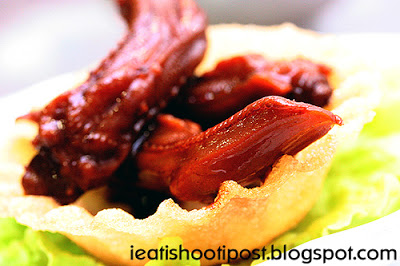 Zi Yean has been one of my favourite Cze Char/Restaurants since the days when they were still at Stirling Road. Since moving to their new premises at Lengkok Bahru, they have been offering a really good value Dim Sum and La Mian Menu which I have already blogged about earlier.
If you are a true Canard Connoisseur, you will immediately recognise that the weird looking thing in the picture above is Braised Duck Tongue. Duck tongue is one of those things that you put in the same basket as Chicken Feet. It's stuff that Westerners throw away that we Chinese have elevated to a delicacy. I have to be honest and say that I really don't know what the fuss is all about. Its just a bit of savoury salty morsel with a bone in the middle that caught me by surprise. How can one talk with a stiff tongue? Guess that's why they only go Quack Quack! $12 per plate 3.75/5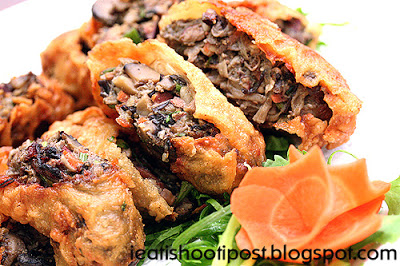 Those around the table who love innards really loved this dish which is Chicken liver, mushrooms and chopped vegetables wrapped in a crispy skin. So far, the only liver I really enjoy is foie gras. This one was alright but I would not say that I love it. 3.5/5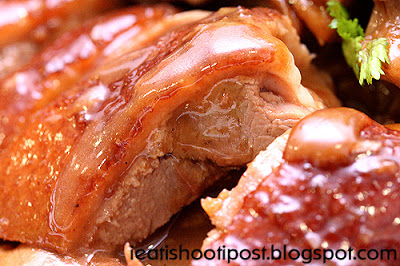 Now let's get down to the stuff I like. This Dog Stew Duck was was something that got all of our tails wagging. Man it was shiok. Dog Stew is traditionally eaten in China to provide "Heat" during the cold winter months. Here in Singapore, we don't eat dogs (legally), so the Chef replaced Goofy with Donald and wella! The Duck was superbly braised till its tender and it did not have the "fowl" smell. The gravy was so awesome that we literally ordered extra noodles and licked the plate clean. This gravy is very similar to the one used for Beef at Guangdong Wanton Mee which we are beginning to recognize as Dog Stew Gravy. $12 per portion 4.5/5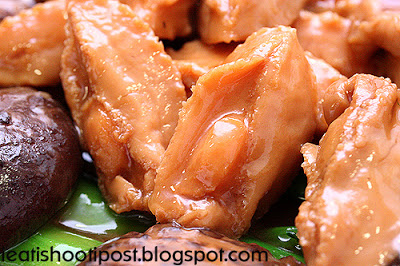 The classic Abalone and Mushroom dish was done very well. The Abalone was braised for more than 10 hours so that it has absorbed all the stock and become tender to the bite. The mushrooms were also very good quality and cooked to perfection. $25 4.25/5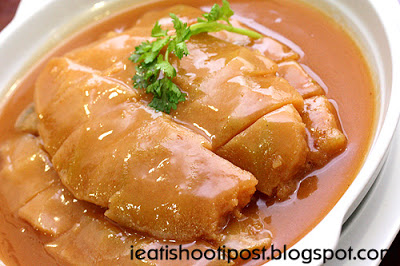 This dish has been popular in Hong Kong for quite awhile but this is the first time I got to taste it in Singapore. Braised Pomelo Skin is healthy, high in fibre, low in fat and good for the skin. I found the texture powdery and quite bland. Trying to find a frame of reference for it is difficult and we thought that pumpkin would come closest. I don't know how to appreciate this, but I am sure Hong Kongers will love it. $10 3/5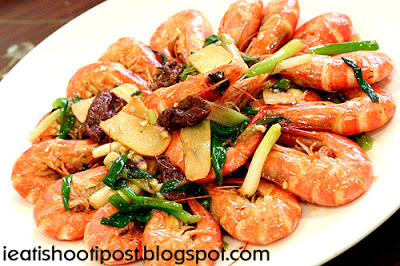 Another "Happening" culinary trend is the use of Sour Plums in dishes. Those who want to try something new might like to order the Sour Plums Drunken Prawn. Live Prawns are first soaked in wine infused with dried plums then quickly deep fried and then tossed in a ginger, spring onion and dried plum sauce. I found the taste and sweetness of the plums a bit overpowering to the extent that I could not appreciate the natural sweetness of the live prawns. But it was a very novel experience. $5 per 100gm 3.5/5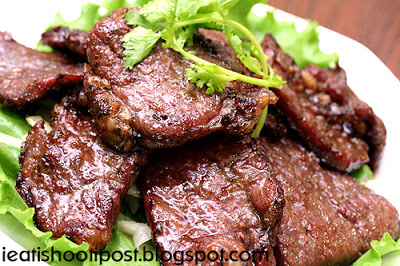 This is my favourite "Must Order" dish at Zi Yean. The Stir Fried Ribeye is done very well and everytime I eat this I still shake my head at how nicely marinated and tender the beef is. If you are fortunate, you might get more of the tender marbled part of the ribeye which is simply marvellous. $12 4.5/5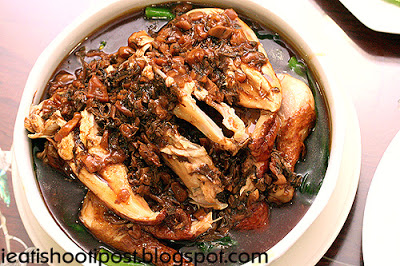 The Emperor Chicken is another of their signature dishes. I could just eat plain rice topped with the Mei Chai/Chai Poh stuffing and be happy. $16 per whole chicken. 4/5
Conclusion
The Duck, you must try the Duck!! Everyone around the table are bringing their families back just for the Duck. Prices are still quite reasonable and if you choose to dine in Air Con comfort, the difference is only the 5% GST.
8.25/10 (T3+V2.25+S2+E1)
You may also like to see tamago's review by clicking here
Disclosure:
This was a prearranged tasting session organized to provide feedback on some of the new dishes that the restaurant is offering.
Postscript:
Some useful information has been provided by tiantianchi from the makansutra forum:
Dog Stew Duck can also be found at the tze char stall at the junction of Sims Avenue and Aljunied Road. Ping Duo Yuan or something like that for the stall name. This is a popular dish in Malaysia. The style of cooking ( ie the ingredients used – basically the 5 spices and fu yu) is similar to stewing dog meat which was banned ( in the 80's if I do not remember wrongly) and the brilliant chef was trying to replicate the taste of dog stew and he found the gamey taste of duck came rather close ( and also catering to more people whom do not eat game meat such as wild boar), thus became his choice. Duck tongue ( in various form of cooking – stewed, braised, plain boiled, ma la, salt and pepper) is not that difficult to find. Places like Crystal Jade and Lei Garden have them on their menu..also here http://umami.typepad.com/umami/2006/03/tiong_bahru_lun.html#comments
Using pomelo skin in dishes has been around in HK for donkey years. Done well, it is similar to winter gourd.