With mien, iwatch_ueat and introducing our latest makanbro, Liverpool1965!

After a 2 year hiatus, the burger which had attracted a cult following is back! Our dear Wendy who had left the Jiang Hu (Pugulistic World) to pursue her other passion has recently (yesterday) resurrected her Wham!burger, much to the joy of her fans, I'm sure.
Sweaty Burger Aunty by day, Sultry Bar Top Singer by night, Wendy leads a fascinating double life. She shut her Wham!Burger joint which used to be at Turf Club 2 years ago to pursue her singing at the Acidbar (Peranakan Place). Think sexy lady with a low cut dress sliding across a Grand Piano (ala Michelle Pfieffer) and she'll give you a slap on the face! No, no, No Wham Bam Thank you M'am for this Prim and Proper lady Please!
Anyway I digress. Let's get down to the burgers.
There is no doubt that the patties on her burgers are one of the best in Singapore. We all loved her chicken fillet burger which is a whole chicken thigh fillet marinated in a mild Satay marinade. The meat was awesome. It was juicy and the flavours of the lemongrass, cumin and tumeric really reminded me of why we all love Satay so much! The only letdown was the quality of the bun, which was bit cold and flaky 4/5 (Wendy is working on the buns, her burger would easily rate a 4.5 with a change in the bun)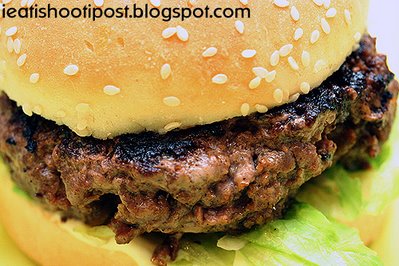 This is the one everyone talks about! I have not tasted a pattie as good as this for a pretty long time. Perfectly season and really juicy. You don't really need anything else on this burger though she does offer saute onions, fried egg and cheese. $4.80 (w/0 extras) 4/5 (The bun… again, but easily fixed)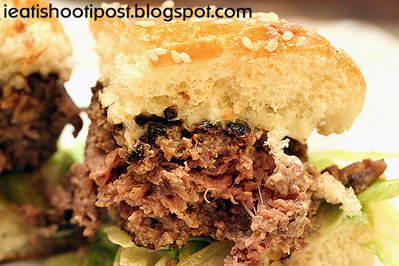 Conclusion
A very very warm welcome back Wham!Burger!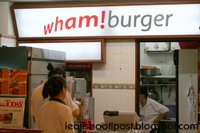 Acknowledgements:
Thanks to bobafett from the makansutra forum for the tip off and also to mien who discovered it yesterday.