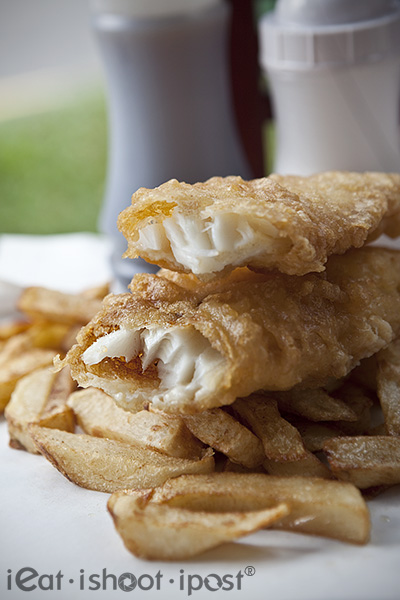 Do you remember where you first learnt about Fish and Chips?
I do.
I remember very distinctly how my mouth used to water when Enid Blyton described Fish and Chips in her Famous Five series of books. The fish names Cod, Haddock, Halibut and Plaice have always been what Fish and Chips were suppose to be. But as you and I know, most of the Fish and Chips sold in Singapore are made from a cheaper white fish called Dory or as it is more accurately called, Basa or Tra which are farmed Vietnamese Catfish. I am not saying they are necessarily bad. In fact, the main characteristic of white fish, especially Cod, is the fact that they have hardly any smell or taste. So a white fish is a white fish is a white fish. They all taste quite similar especially when it has been deep fried.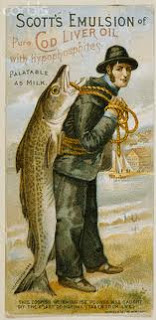 So why would you pay three times the price for Cod or Haddock? Well, aside from the fact you have been an avid reader of Famous Five and want to taste the real deal, the thing with Cod is more the texture than the taste. What the British like about Cod is its flaky texture. It is just a wonderful feeling to break open a hot battered fish to be caressed by the steam rising from moist, chunky white flakes on a cold winter's day. Somehow a Dory doesn't quite give you the same experience.
Aside from the fact that the Dory is a fish bred in either a river (Basa) or pond (Tra) and that it was called Dory rather than catfish because the John Dory is a much sexier (and more expensive) fish, these fish are nowhere near the size of a Cod. Do you remember what a Cod looks like? I am sure that if you had grown up in the 70's you would have seen a Cod. No?
Remember Scotts Emulsion? Yes, Cod liver oil. The logo featured a man with a man sized Cod slung behind his back. That is how big these North Atlantic bottom dwelling fish got, and big Cod means larger flakes, much larger than the smaller catfish.
The reason why Cod is used for Fish and Chips is because Cod used to be so plentiful that they thought that there was no way the stocks would ever run out. Thus, it became the ubiquitous white fish that was used in everything from Fish Sticks to Fish and Chips. In fact, Cod was so common that the British often just call it fish rather than Cod. But of course, just like a lot of other things that humankind has exploited, Cod was overfished and as a result, what was once thought has an inexhaustible supply became somewhat a luxury item. So much so that other substitutes for Cod has to be found. Most of your processed food fish nowadays is made from Alaskan Pollock which is a smaller cousin of Cod. These are still caught in the wild. But they are also looking to aquaculture which is where Basa and Tra comes in. So popular is Cod that many other fish which are not Cod end up being called Cod. Fish like Sablefish, which is used for Gindara in Japanese restaurants are called Black or Silver Cod.
So, when it comes to REAL Fish and Chips, what we want is the find a shop that gives us the real deal, which is the Gadus morhua or Atlantic Cod. This is what really sets one Fish and Chips shop apart from the other.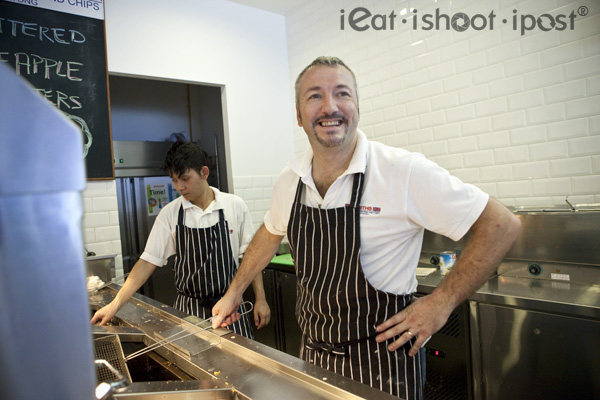 Sean, the Chief fryer from Liverpool
I think the first time I ever tasted Fish and Chips made from real Cod was when Harry Ramsden was still in town in the 90's. Since then, there has been no really authentic British Fish and Chips shops in Singapore. There have been places which have advertised that they sell "Cod" Fish and Chips but they turned out to be precooked, frozen fish (Prob Alaskan Pollock) that have just needs to be re-fried. So when I met this very excitable Englishman (his upper lip was quite supple) who told me about this "Chippy" that has just opened in Tanjong Katong which is serving the kind of Fish and Chips that he grew up eating, I felt I just needed to check them out.
So just how authentic is Smith's? Well, I would say that the two homesick Englishmen who set up the shop probably did it in order to re-live their childhood memories of walking a mile to the "Chippy" to bring home a warm pack of fried fish wrapped in newspaper, holding it close to their chest to keep themselves (and the fish) warm from the awful English weather. They managed to replicate everything except for the newspaper and the awful English weather.
From the fact that their their Cod, Haddock and Halibut are airflown four times a week to the fact that they actually went to great lengths to find the right potato for the chips, to the fryer which was imported from the UK, these guys have really gone to some lengths to try to provide an authentic English Fish and Chips experience. Even to the extent of having Sean, (he's from Liverpool) to actually fry the Fish and Chips. Now, I think it is important to have an Briton (Sean's half Scottish and Irish but born in Liverpool) fry your Fish and Chips because only someone who has grown up eating Fish and Chips in Britain would know what real Fish and Chips is supposed to taste like. It's the same when you have mainland Chinese instead of locals frying Char Kway Teow right?
Sean tells me that they actually traveled to Chiang Mai to try the potatoes grown there before deciding that the only way to get the kind of chips they want is to import the potatoes from the UK and Australia. The thing with potatoes is that the same potato breed can come out differently when planted in different places. For the type of chips they are after, they need potatoes that have been planted just after the frost and that means having to import potatoes from countries with a temperate climate. They end up importing Maris Piper or King Edward potatoes from the UK when they are in season and Sebagos from Australia during the winter months.
After all that trouble of getting hold of the potatoes, I have to moderate your expectations when you visit Smith's, because if you come here looking for crispy MacDonald's like french fries, then you will be sorely disappointed. The chips are great, but not in the way you might expect. They are fried once only at 185 degees C for 8 minutes, so they don't have the crispiness of American style french fries which are usually blanched once at 130 degrees C and then refried at 190 degrees C to achieve that crisp exterior and fluffy interior. The chips here are more limp, less fluffy but the taste of the potatoes are excellent and they are no less satisfying.
I found this nice video on the BBC which shows several trainee chefs learning the art of cooking Fish and Chips. Basically, you can see that the fryer, chips and fish are all similar to what they are serving at Smiths.
The other fish that is popular here is the Haddock. Haddock is very similar to Cod. They are both from the same family and are known as Gadiforms. Haddocks are smaller fish and are not bottom feeders like Cod. Tastewise, both are similar (not much taste really) but we preferred the texture of the Haddock as we found the Cod to be a little more fibrous. More importantly, the fish is moist and fresh and the batter crispy and when you break it open you get a nice facial steam bath. Don't forget to sprinkle salt and vinegar over the fish because they don't season it and it will taste bland without some salt. 4.5/5
So since you have some batter and a deep fryer and you are hankering for something sweet, what do you do? Well, the Scots came up with the idea of the fried Mars bar. Yes, I saw you cringe. But I missed ordering these when I was in Scotland, so this was my opportunity to taste this great culinary invention. Much as we all hate to admit it, it actually tastes quite good!
The other quirky item that you might want to check out are the pickled eggs. These are hard boiled eggs pickled in vinegar and taste like eggs that have been soaked in vinegar. Worth a try but no repeats for me.
The owner of the restaurant is a real International Man of Mystery. Apart from the fact that he wishes only to be known as "Frenchie", nothing else is known about him except that he seems to have quite an intimate knowledge of the quality of food at Changi Prison and he is not a Liverpool fan. But you can easily recognize him when you are at the shop cos he is the only Ang Moh crazy enough to serve fish and chips wearing cuff links. It is important for you to recognize the cuff links and the reddish brown chest hair in order be able to get the ieatishootipost special.
Conclusion
Hip Hip Hurrah, real British Fish and Chips is back in town again!
Special for ieatishootipost readers
Introduce yourself to "Frenchie" and he'll give you a cup of either Curry, Gravy or Mushy Peas to go with your order of Fish and Chips!