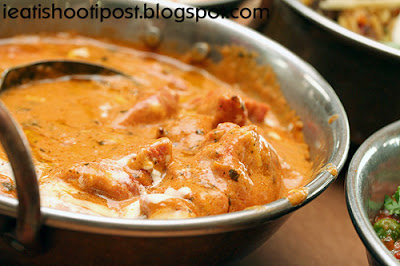 With damien, liverpool, iwatch_ueat and introducing our travelling Aussie foodie: Blindate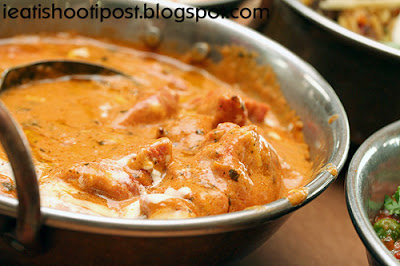 Butter Chicken $12.50
This restaurant was recommended by one of the many "Anonymous" readers of the blog in the Tandoori Restaurant blog. He mentioned that the food here was similar to Tandoori, but the prices were slightly lower. Now that sounds good to me!
When we got to the restaurant, we discovered that both restaurants were actually under the same ownership! A quick glance at the prices confirmed that the prices in general are around 20% less. The butter chicken costs $12.50 here compared to $15 at Tandoori. Could it be that I could get the same standard food at Tandoori at a 20-30% discount?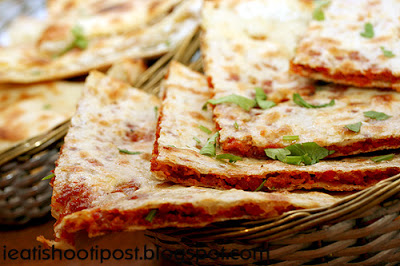 Keema Kulcha $4.50
The Keema Kulcha (Naan with minced mutton) was the first to arrive and the sight of the Naan gave us a very good first impression. The Naan bread was soft and chewy, the way it should be.
The flavour of the mutton keema was good, though it was quite mild and did not have a strong spicy mutton flavour. You'd be disappointed if you were expecting it to be like a murtabak. 4/5 However, it was great when dipped in the mild, creamy butter chicken gravy. The butter chicken was very good. Mild, creamy and very tasty, it was different from the one at Tandoori, but just as good with the Naan bread. Hard pressed to say which one I prefer. 4.5/5
The plain Naan was a big disappointment, instead of being soft and chewy like the Keema Kulcha, they were stretched too thin and so were hard and un-pliable. Not good, not good. 3/5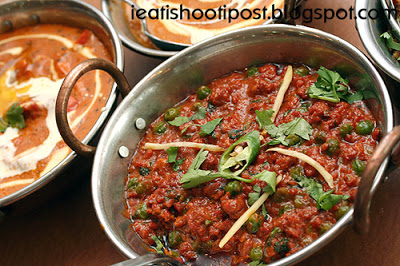 Keema Mattar $11
The Keema Mattar here is quite good though again it was a bit on the mild side. Not for those who like their fiery, but for me it was quite good. 4/5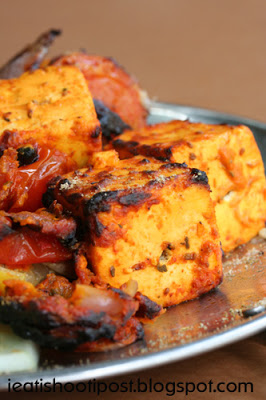 Paneer Tikka $8
At last we come to the Paneer Tikka which is currently my favourite Tandoori dish. I got hooked on this after my visit to Tandoori Restaurant and have been trying to find a cheaper version which is equally shiok. Unfortunately this wasn't it. I was expecting the Paneer to have the same creamy quality as the other side, but it was flat and the tikka seasoning did not have that ooomph. 3/5
Conclusion
Overall, a mixed review. Some stuff were really good, some bombed out. If I were craving for really good Naan, I think I will stick to Tandoori. But if budget is a factor, then this place does serve pretty decent North Indian food at reasonable prices.