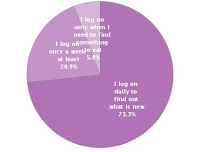 The results of the first polls are in!!
A total of 359 people have cast their votes.
As shown in the pie chart:
73.3%
of readers polled said they log in daily
20.9%
said they log in at least once per week
5.8%
said they only log in when they need to look for something to eat
It was interesting as most of the daily readers casted their votes on the first and second day so it was over 90% early on. Then as the less frequent readers logged in, that number started to decrease.
A big thank you to all who took part in the first poll.
The next poll will be on how you eat a Xiao Long Bao. I hope you all will have a bit of fun with it.