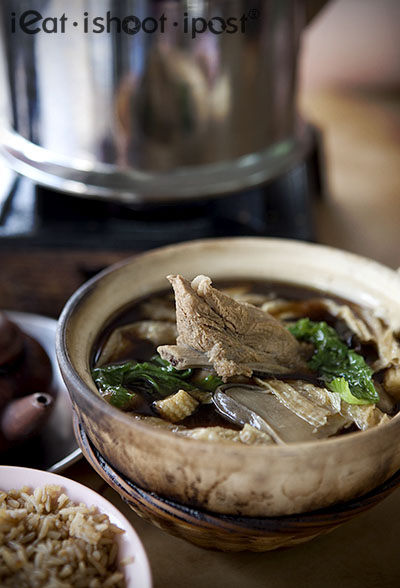 Herbal Bak Kut Teh
Even though the Teochew style peppery Bak Kut Teh is more popular in Singapore, the response from our
Facebook Fanpage
showed that there are a significant number of foodies who are looking for the Hokkien Herbal version. So our kakis set off to look for one and ended up in Joo Chiat next to Tian Tian Chicken Rice. Not only does this restaurant serve the Hokkien version, they also serve the Teochew version, so you can have the best of both provinces. What's more, they are opened 24 hours a day!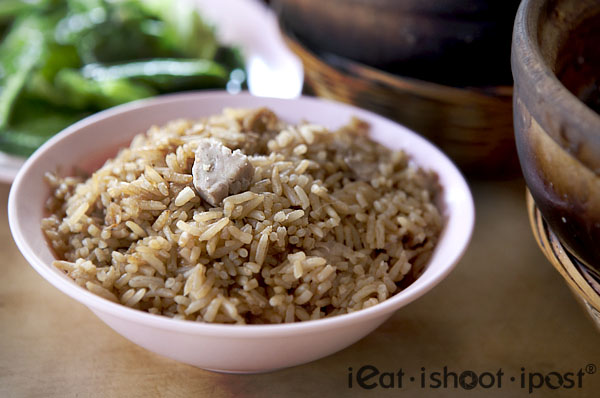 Another thing that sets this stall apart from the rest is that they serve yam rice to go with their Bak Kut Teh. The rice is flavoured with dried shrimps as well as yam and is really nice even if you ate it by itself.
Between the Teochew and the Hokkien version, I must say that I still prefer the Teochew version. Their soup is sweet and peppery and a tad darker than many Bak Kut Teh being served nowadays. According to the aunty here the darker Bak Kut Teh is more traditional and it only became the lighter version more recently.
4.25/5
. The Hokkien version is reminiscent of the Bak Kut Teh that we get in Malaysia, but I found that the taste of the herbs was a bit too mild such that there was not enough kick.
4/5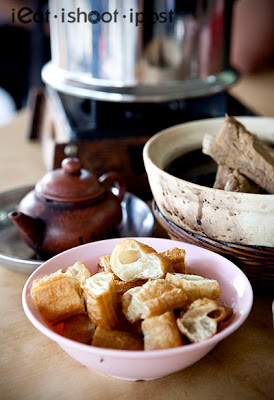 One of the good things about eating at Sin Heng is that they can still serve you your pot of Kung Fu Tea. They are now using portable stoves instead of the gas cylinders for the kettles. So I can still order my tea, You Tiao and a claypot of boiling Bak Kut Teh! Ahhhh….. another great breakfast idea.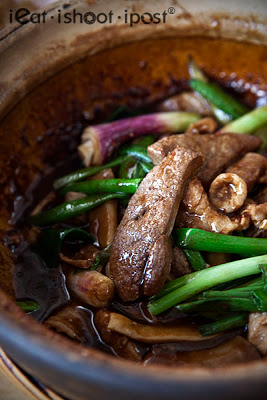 The side dishes at Sin Heng are very good. We tried their pork spare parts with ginger and shallots and they were excellent. 4.25/5 The sauce was thick and flavourful and excellent with rice. Besides the usual Bak Kut Teh side dishes, they also serve a menu of Cze Char dishes which you can order if you are after something a bit more substantial for lunch.
Conclusion
Herbal or Pepper Bak Kut Teh? You can have both at Sin Heng, 24 hours a day. We had a great Bak Kut Teh meal here and if you are still not full, you can hop over to Tian Tian Chicken Rice 2 stalls down for some Chicken which was exactly what we did.