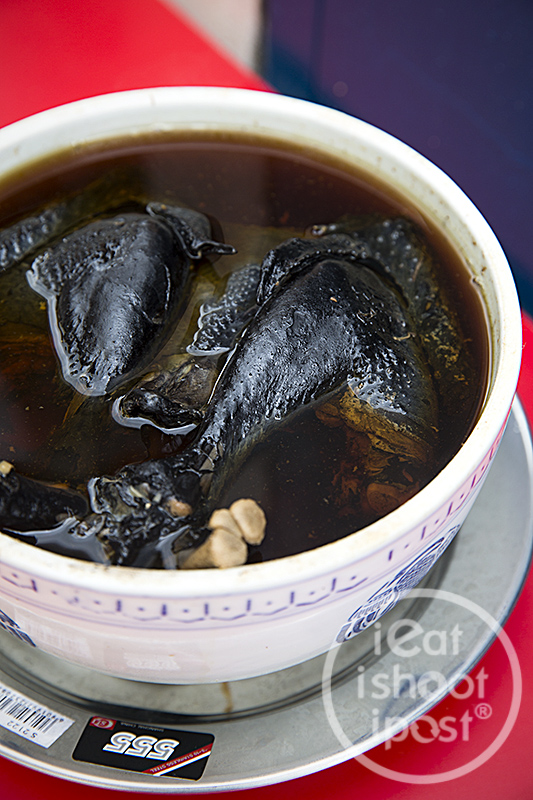 Congratulations to Sik Bao Sin (Desmond's Creation) for making the 2018 Michelin Bib Gourmand selection list!
If you have been to Sik Wai Sin recently and felt the the food tasted a little different, there is a good reason for it. Desmond, one of the two brothers who used o helm the wok over at Sik Wai Sin has left to opened his own place up the road!
Those of you who are familiar with the dishes at Sik Wai Sin would know that they serve a very limited menu which can be divided into either steamed or wok fried dishes. Desmond used to cook the wok dishes whiles Steve was in charge of the steamer. Desmond tells me that he had always wanted to open his own place and this new place has the full support of his family.
I had eaten here when the restaurant was just opened earlier in the year. But at that time, Desmond was still breaking in his new kitchen and had tried to make his dishes more healthy by using less salt and oil. The dishes at the time were a shadow of what he used to serve up in Sik Wai Sin. A few months down the road and Desmond is now very much in command of his new wok. His gas burners are now pushing out twice the amount of heat compared to his old place which means that he can really up the wok hei (smoky wok aroma) of his dishes. Because all the old customers have commented that they wanted the dishes he used to serve at Sik Wai Sin, he has decided to forgo the healthier option and give his old customers what they want. That's not good if you are health conscious but great if you want to eat something shiok!
There are a few dishes which I specifically go for whenever I come here and the Tofu prawns is one of them. This dish is a must have and is guaranteed to make you eat an extra bowl of rice. Yes, it is salty and oily but it's just so good! 4/5/5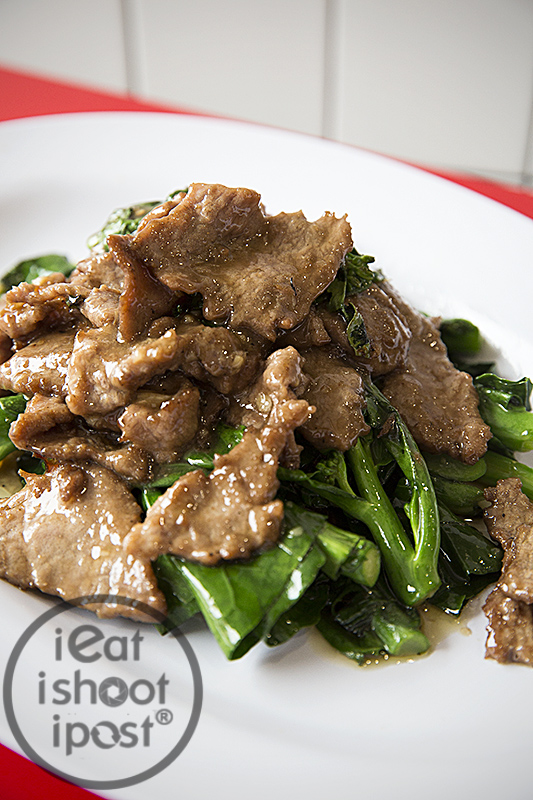 There are only 13 dishes on the menu and they are all meant to be eaten with rice. The limited items mean that they can really focus on getting good produce and cut down on wastage. This is one of the factors that sets Sik Bao Sin apart from a lot of other Cze Char out there. You will notice that the dishes here are a little pricier than your garden variety Cze Char but with good reason. The kai lan they use here are the cream of the crop and they are tender, crunchy and sweet. The other factor that sets it apart is that it is one of the very few Cze Char where the dishes are prepared by a Singaporean chef owner. As you probably realize by now, most Cze Char places hire Malaysian Chefs to cook, so finding a real Singaporean Wok Star is a rarity. All this means that each dish is personally prepared with care using the best ingredients which is why it would be unfair to compare their prices with your normal Cze Char.
The kai lan with beef is the "must order" dish there, if only to get a good whiff of the wok hei which registers a 9 out of 10 on the Wok Hei scale. The alluring scent of this increasingly rare quality in wok fried dishes is worth every dollar and minute spent! The aroma is so thick that you can smell it from where you are are seated! 4.25
The only thing that really bugs me about the dish is the quality of the beef which can be inconsistent. They are still using beef knuckle and cutting it by hand and they don't use any bicarbonate to tenderize it. So, on some occasions, it can be a little tough. I am still trying to persuade Desmond to try using US Angus karubi chips instead which I am sure will propel this dish to the 4.75 range!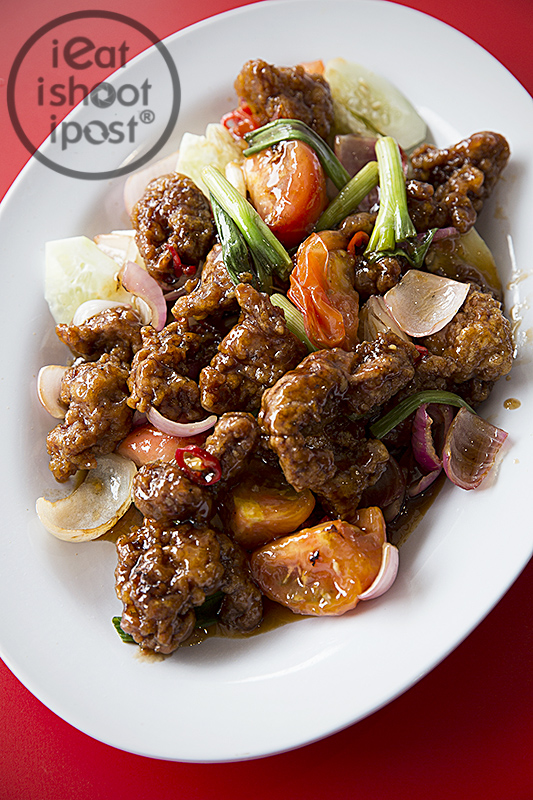 Sweet and sour pork has become such an ubiquitous dish that lots of Cze Char places serve it rather dispassionately. Indeed, this dish, which probably ranks as one of the top ten favourite dishes has been relegated to that of a commodity. I have eaten one at a famous cze char place recently that tasted as if it was just scooped out of the bain marie of an economic rice stall! While it is good that you can buy this at almost every economic rice stall in Singapore, it does mean that the status of the dish has been demoted to that of the hum drum.
Thankfully, Desmond still takes pride in this classic Cantonese dish and every plate is prepared ala minute. What results is a pork which is crunchy on the outside but still steaming hot and juicy on the inside. Desmond tells me that he has tweaked the sweet and sour sauce a little from the old place and so far the feedback has been good from the old customers, myself included. 4.25/5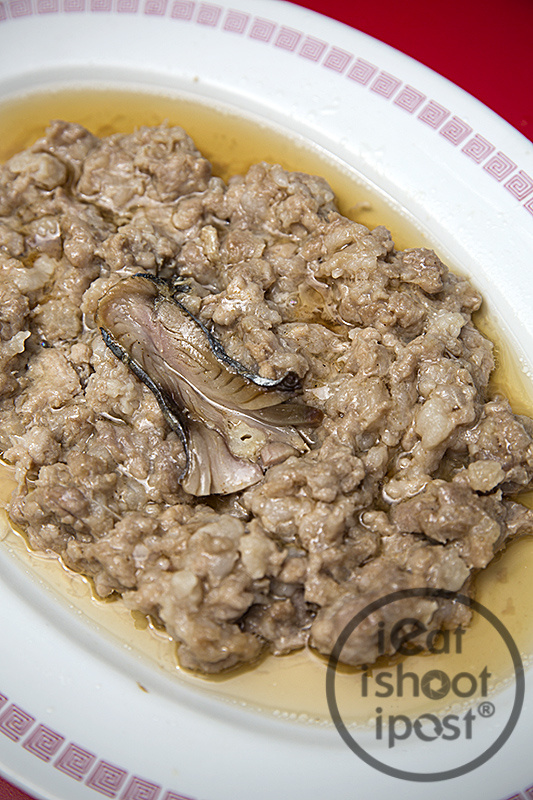 Opening his own place has meant that Desmond has to take charge of the steaming station which was previously the job of his older brother, Steve. He has hired and trained another cook to look after this, but it is still very much under his supervision.
The steamed pork is a good example of what I mean by food that is prepared with passion. The pork is still being chopped by hand such that it has a bouncy and firm texture which is very different from a lot of other places that serves this dish which uses ready ground pork tends to be mushy. The slice of salted mackerel is generous and is great with rice. 4.25/5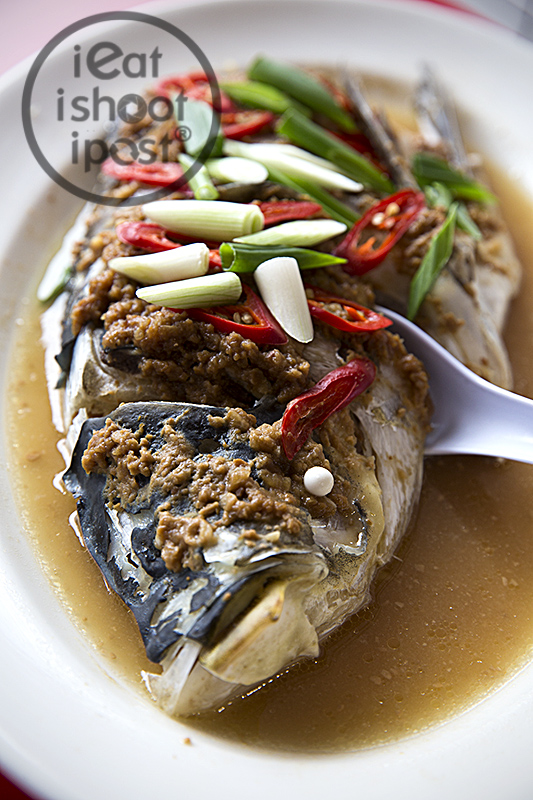 The other steamed dish which is famous here is the steamed song fish head (fresh water carp). This photo was taken earlier in the year when they just started and the new cook forgot to add the generous handful of pork lard. So the fish was fresh but the sauce lacked something. I didn't order it the second time I was there so I can't give you an update except to say that we saw all the other tables ordering it, so I expect that like all the rest of the dishes here, it should be like what it was in the old place.
Conclusion
Excellent old school Cantonese style dishes that is perfect to eat with rice. Unlike a lot of other Cze Char places, the Singaporean chef/owner actually cooks all the dishes himself! That does mean that the waiting time can be a little longer than usual but it also means that you can be assured that each dish is cooked with great care. If you have forgotten what a good Wok Hei smells like, the fried Kai Lan will surely jolt it out of your temporal lobes.