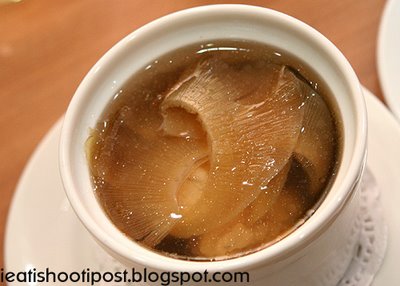 This is for all the makankakis who did not make it to the 10th makan session of the year! Don't regret, just sign up for the next one!
When you walk into a place like the Sha Tin Kitchen, one's expection automatically gets bumped up a few notches by the all the newspaper clippings of the be-moustached Hong Kong Chef as well as pictures of house specialties like Sturgeon Soup and interesting looking dishes called Wo Fu Chen Long (Crouching Tiger, Hidden Dragon).
Going to a makan session is quite an experience. The restaurant, which was at 7.45pm, a picture of serenity, with people quietly enjoying their food and minding their own business (Sounds like Singapore) is by 8pm suddenly transformed into the the NYSE trading floor (Sounds like NY). Phwa, the whole place is so noisy that you have to talk loud loud in order to be heard (Sounds like most of us self professed food critics)
The first dish was the Shark's Fin in Chicken Soup (All you Shark Lovers, I did not arrange the menu ok?) Now this is quite a treat because you normally don't nice pieces of Shark's fins like this and the chicken soup is robust and up to Cantonese Standards. 3.75/5
Most people liked the Special Poh Piah which is filled with a nice mushroom filling and the skin almost like a cross between Poh Piah and Wo Kok (Yam dumpling). 4/5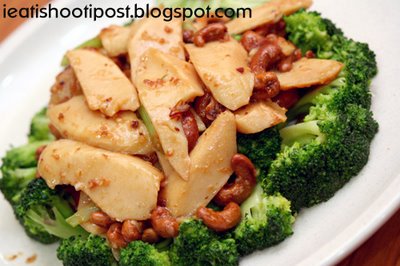 The topshell with XO sauce was quite nice. I actually quite like this one as it tastes quite meaty and not chewy like most shell fish. 3.5/5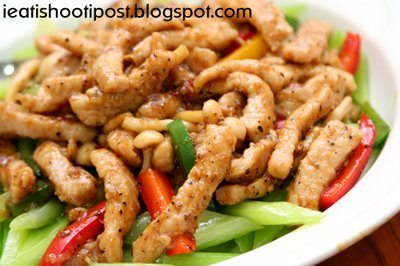 The black pepper pork strips was nice but not exceptional. Took the opportunity to eat more celery to balance my diet. Judging from the tenderness of the pork, their Jin Dou Pork Ribs (My yardstick for any chinese restaurant) should be quite good. 3.5/5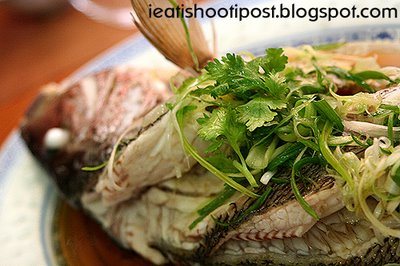 This unnamed Steam Fish was actually quite good. The sauce is classic Cantonese style and the fish was fresh and had no fishy odour. 4/5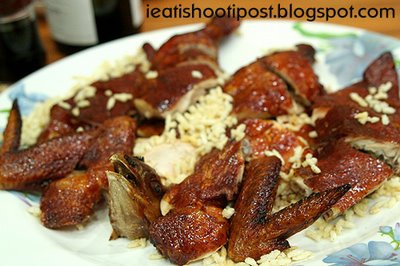 Can't go wrong with Crispy Skin Chicken. The flesh was tender and the skin crispy. Quite standard, but there are better ones elsewhere. 3.5/5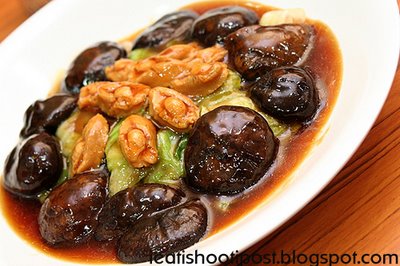 I actually liked the cabbages underneath all that "treasure". They were not overly cooked and had a nice "Wok Hei" flavour. I suspect that they was quickly wok fried rather then blanched. The juvenile abalones were more tender then their Mommas. Nice but tiny, know what I mean?
3.75/5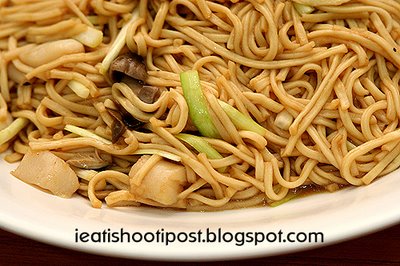 EeFoo noodles could have been better. 3/5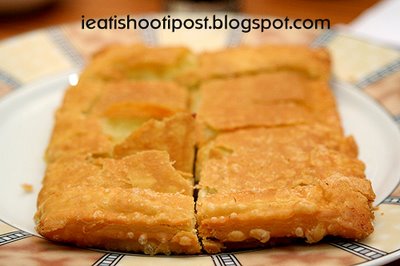 Ok have to give the chef some points for the pancakes which were beautifully done. The skin is crispy on the outside and fluffy on the inside which is very different from the usual red bean pancakes which have just that thin and crispy skin. 4/5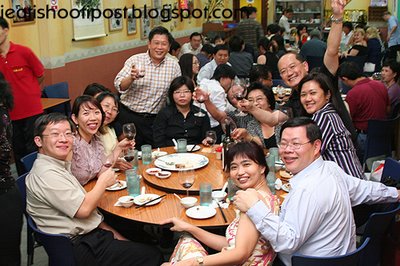 Conclusion
A makan session is about Fellowship and Friends. The food is really just an excuse to get together to make new friends, meet old ones and link a faces to their pen-names. Grognard looked nothing like the Evil Skull of his Avatar, Snow looked nothing like the enthusiastic, innocent young foodie he tries to portrayed himself to be. (He looked like a Towkay to me) On the other hand, Ninja HK and skinnyepicurean are "what you see is what you get". Also managed to meet the legendary Rojak whose health status was in question for a while. I am pleased to report that she is alive and well but has to Tui Chu Jiang Hu (Take a leave of absence) for awhile.
So, little dissappointed that we did not get to try their Sturgeon Soup and the Wo Fu Chen Long, but the standard of the food is definitely good enough for me to return with a smaller group to try their signature dishes.
7/10 (T2.5+V2.5+S1.5+E0.5) Confident that they will score better when I return.
Update: 19 Sep 2009
The chef who created these dishes has left to open his own restaurant.