Dedicated to ieatMrs. My best friend for 20 years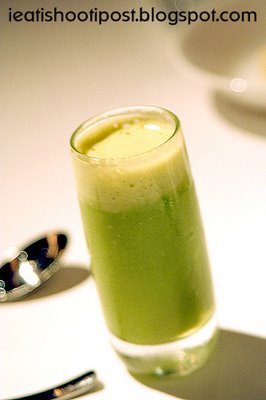 Green Pea Soup
Dining in a restaurant like Iggy's is something you wait for an occasion to do. Spending $150+++ per head for a meal is not something I do every day (month/year) especially when that money has to come out from my own pocket! Now, if you are entertaining an important guest and you have a company account, then that's a different story. Just in case you are, would you please let me know what kind of business you are in and how I can become one of your important guest?
So, the big occasion just happens to be our 20th "going out" anniversary. Yep, it was 20 years ago, on that fateful day, when an anxious young student asked to hold the hand of a lovely young college mate. And the rest as they say, is history.
You don't pay such an amount of money simply to fill your tummy you know. No, you are buying memories. If I were to ask you to recount the best dining experiences you've had, you'd probably be able to vividly recall a few outstanding ones. Thanks to the marvel of technology, I can now blog it for posterity. So, when we celebrate our 40th anniversary, we can look up this blog and remember what $150 could buy back in 2006.
Although this is an 8 course degustation menu, it actually worked out to be 11 courses because of 2 bonus "Palate Fresheners" and an extra anniversay special that Iggy prepared for us. First out was one of these bonus items. The Green Pea Soup is reminiscent of that famous dish created by Ferran Adria and I was keen to taste it. The waiter came by and instructed us to take it all at one go so that you can taste the hot foam on top, the cold pea soup at the bottom and the hint of mint at the end. So begins our Iggy's experience.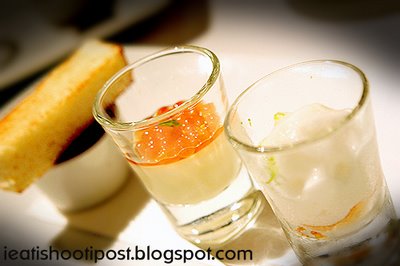 Canapes
Queensland spanner crabmeat with ponzu jelly and tomato foam, egg royale with ikura and foie gras brulee with toasted brioche
Next up are the Canapes. We were to start from right to left. The tomato foam was interesting in that you taste the tomatoes but don't see the red color (Albino Tomato!). Mixed with the salty, tangy ponzu jelly and spanner crab, this is what I would imagine the arctic ocean would taste like. Could hardly make out the sashimi spanner crabmeat which was sandwiched between the foam and the jelly, though.
The Ikura and egg pudding was quite interesting. I never really ate Ikura before, so the feeling of the salty roe bursting in my mouth was quite an interesting experience which was mellowed by the creamy egg pudding.
The Foie Gras Brulee was to die for. Savoury taste of Foie Gras with the texture of creme brulee and topped with that sweet caramel crust…… Sir…… please can I have some more?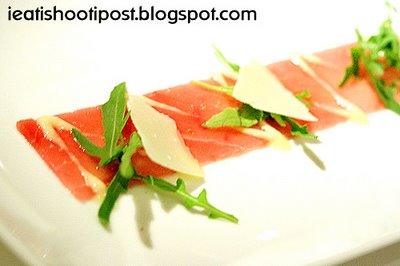 Carpaccio
Carpaccio of Maguro with rocket salad, truffle mayonnaise and Reggioano Parmiggiano
We've always like Rocket Salad, but Iggy has added a delectable slice of Tuna belly and garnished it with an amazingly yummy truffle mayo. Wonderful combination of fresh tasting rocket, savoury cheese and rich flavor of Tuna Belly.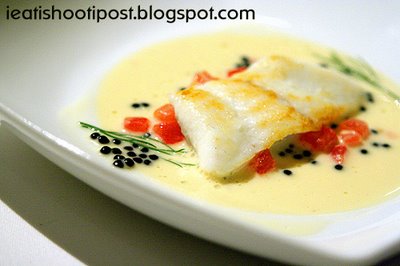 Turbot
Pan-fried turbot with Champagne nage, tomato concasse and avruga caviar
I have fallen in love with the Turbot. It's a flat fish much like the sole and it has the most incredible creamy, delicate flavour. The richness of the champagne nage (A nage is simply a broth made from crustaceans) is contrasted with the tangy tomato concassee (nice way of saying roughly chopped) and peppered with what was presumed to be cavier. It is in fact not cavier but imitation cavier made from the common Herring and coloured with Squid Ink. It tastes smoky and lemony and is actually quite good (Well, I have never tasted the really good cavier so I am not the best judge). Very nice, but eh, Iggy, we are paying quite a bit of money for this meal, surely you can put in some of the real stuff? Avruga Caviar is less then a tenth the price of the cheapest caviar. Maybe Iggy's out to save the sturgeons eh?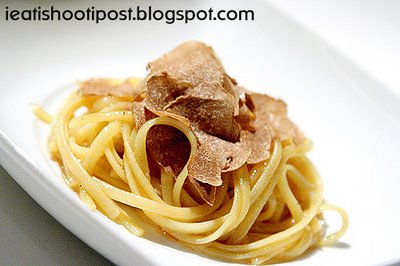 Alba White Truffle
Linguine with sahved Alba white truffle (2g)
Truffle lovers rejoice! You get a good few slices of the prized white truffles found mainly in Alba, Italy. These truffles can cost up to $8000 per kilogram, which is why the menu specifically tells us that there are 2g here. Ie these little slivers cost $16! Only real cavier costs more. I like them, but frankly I could buy quite a lot of shiokadoo stuff for that amount of money, know what I mean? The linguine is tossed in a chicken based sauce and complimented beautifully by the aromatic truffles.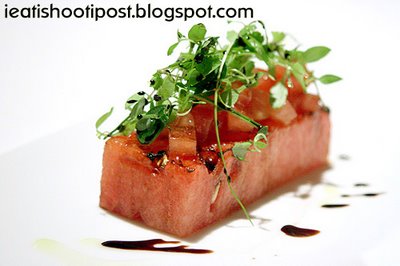 Watermelon
Charcoal grilled watermelon with micro greens
This one I am quite frankly dissppointed. Up to this stage, everything was fantastic. But hey, charcoal grilling a watermelon does nothing to it and I felt the balsalmic dressing did not go well with the water melon. Now, if it were a piece of rock melon or Japanese musk melon it might have worked better… I think. Watermelons really lack in any special taste and is in my opinion best served cold.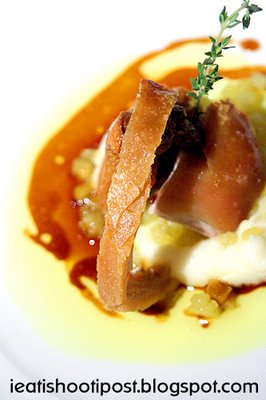 Suckling Pig
Crispy roasted suckling pib with apple puree and tumeric oil
After the dissapointing watermelon, we were treated to this really darn shiok suckling pig. Wow, talk about hitting the spot. The pangness (umami, savoury taste) of the suckling pig, with the equally pang (savoury) creamy mashed potato, balanced by the sweetness of the apple puree and that the shiok shiok veal jus (sauce made from pan juices of roasting meat) and incredible tumeric oil. Pow!!! Please Sir…… I want some more!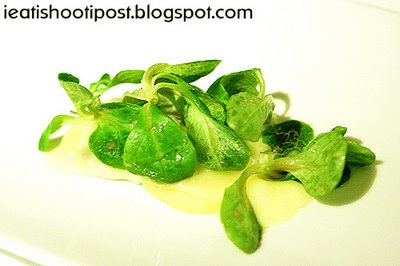 Vacherin Fribourgeois
Melted Vacherin with black truffle salsa, Kipfler potatoes and mache salad
Vacherin, I am told, is a cheese made from cow's milk and often served as a fondue. This dish is served hot because they have to first melt the cheese on the plate in the oven, then put the mache (lamb's lettuce on top) The cheese is rich, chewy and creamy and very nice with the Kipfler (German finger potatoes). Gimme a pot, let me melt this cheese and dip some brioche in it! I would die happy.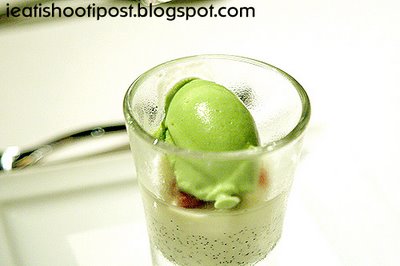 Basil Ice cream with candied tomatoes and panacotta
After all that, it was time for the 2nd bonus "Palate Freshener". Hmm I especially liked the candied tomatoes! Very nice.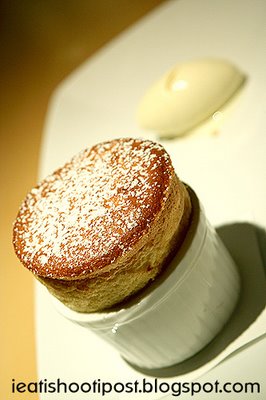 Souffle
Pina Colada souffle with home-made coconut ice-cream
The Souffle was nice but compared to the other items, this one lacked the knock out punch for me. As far as Souffles go, this was well executed, but I would have prefered something less coconutty.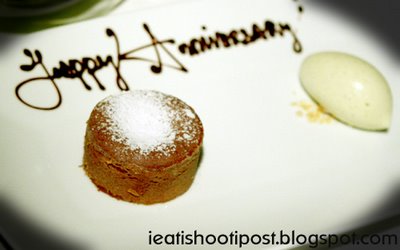 Our Anniversary Special
Conclusion
We had a great and memorable dining experience. Iggy's as you may already know is the only Singaporean Restaurant to be listing in the top 100 restaurants in the world, and it is ranked 4th in Asia. So if you are trying to impress that special someone, this is the place to go!
9/10 (T4+V2+S2+E1) Some may disagree with me on the Value component because you can argue that we really got our money's worth. Then again, a place like Iggy's does not and should not position itself as value for money. Then you would attract the wrong crowd and spoil the whole dining experience. I will give you one simple example. I ordered a cup of tea to accompany my dessert and that cost me $8 +++. It wasn't in a teapot or anything, just a plain cup with freshly brewed tea in it. If this whole meal had cost $100 per head including tea and coffee, THAT would have been value for money.