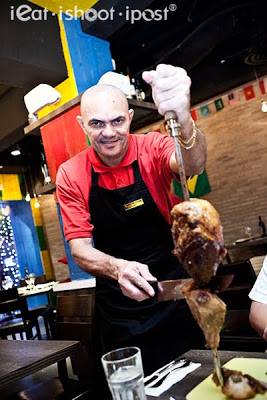 Review by Holydrummer
This post is dedicated especially to all Brazil fans – which is really half of our entire population!
I think that some of you are probably wishing that Felipe Melo would retire (early) as a professional footballer to be a passador. He would be happier.
Just look at his elder brother: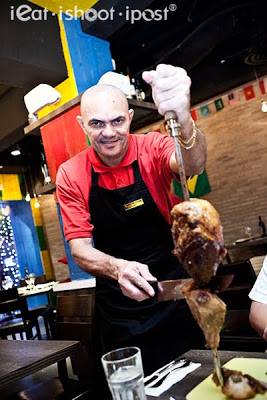 Senor Santos is situated right smack in the middle of Clarke Quay, promising a hip and fun dining atmosphere. The restaurant's interior is very spacious – perfect for that huge group outing or family gathering – yet it also provides a cosy and intimate ambience, with chic and stylish decor themed after the national colours of Brazil.


In the middle of the restaurant, the open grill is strategically located in a glass room so that diners can savour and start salivating at the visual spectacle of their specialty cuts being grilled right in front of their very own eyes!
A sidenote to our German fans – No, Paul is not served here, though you might soon enjoy an octopwurst in a German Brauhaus near you.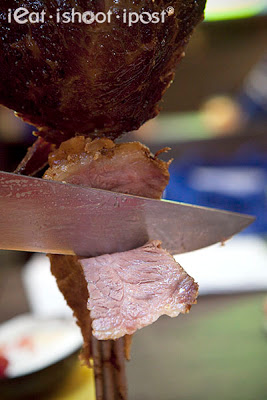 Meltingly tender Beef Hump
Out of the dozen variety of meats served here, the highlight has to be the beef hump, which is unique to the Brazilian breed. Absolutely melt-in-the-mouth tender!
4.7/5
Essentially, the key to excellent churrasco all boils down to two very simple but important factors.
1. The control of the fire; temperature.
2. Timing is also everything.
If these two elements are not skilfully grasped while grilling, you end up with skewers of meats that are too dry, crusty, flaky & even hard.
As it was that evening, the butterfish is faultless. Its smooth, moist texture & rich buttery flavour – hence its namesake – left us craving for seconds. 4.5/5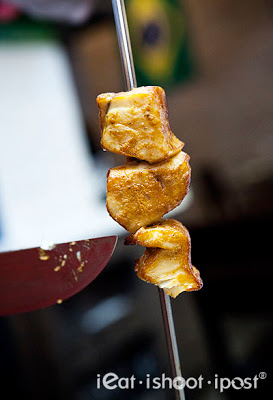 Butterfish
In between all that carnivorous feasting, I always look forward to the ubiquitous pineapple. If done properly, its juices & mild acidity permeates through the greasiness as a timely intermezzo to re-balance the palate. The pineapple was indeed sweet enough, though I would have preferred it to be caramalized a tad longer so that it would be more soft & tender to the bite. They could afford to be more liberal with the cinnamon as well. 4/5
Conclusion
The all-you-can-eat concept still holds wide appeal to Singaporeans. So if you're looking for a lively and vibrant Brazilian Churrascaria to indulge – Rodizio Style – in top quality imported meats from Brazil, USA, New Zealand and Australia, this is it.
If you're not that big on buffets, Senor Santos also offers a selection of tapas and those on a diet can choose to enjoy only the salad bar as well. It can be very greasy with all that meat and the salad bar is the perfect accompaniment to the churrasco experience by offering a myriad selection of greens, pasta, beans & uniquely Brazilian dishes to add variety to your meal.
Finally, to the Brazil fans, if it's any consolation, you may douse your sorrows with a Caipirinha or two and chillax with live Latin music to drive away your brazilian blues all the way till the World Cup is ready to samba again in 2014…
Postscript by ieat
As far as churrascarias go, this is as good as the best ones I have had in Singapore. The hump was indeed very good as is the butterfish. They use South American beef here so the beef is grass fed and tastes a little different to the American and Australian beef we are used to. All in all if you are a carnivore, this is a great place to satisfy your need for meat.
Special for ieatishootipost Readers.

For every 4 diners one dines for free! Just call the restaurant and make your reservations through Radin, the restaurant manager. This offer is valid till 19 August 2010.
Monday to Thursday
12 noon – 2:30pm; 4 pm – 12 midnight
Friday, Saturday, Sunday and Public Holiday
12 noon – 3 pm; 4 pm – 2 am
Adults $39.80
Children (up to 12 years old) $18
Salad Bar Buffet $25
Tapas is served from 4pm – 6pm and after 10:30pm
This review was done as part of a media invitation