With damien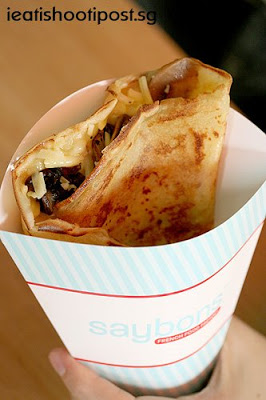 Mushroom and Cheese Crepe $4.50
It is good that the younger generation of "hawkers" are venturing out into more international cuisines. It means that we get to eat stuff that we would otherwise find in fancy restaurants at cheaper prices.
Crepes are by no means new to Singapore. They had their day years ago when the famous Crepes Suzette were selling their crepes like, well, hotcakes. And like mosaic tiles, these tasty French fast food may be making a comeback soon.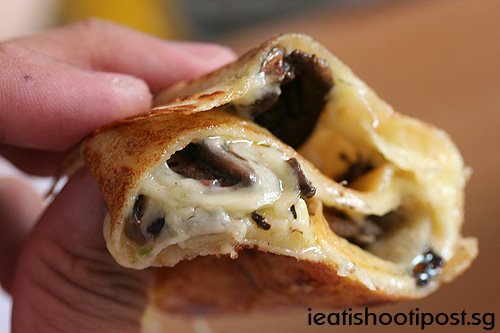 OK, personally I like these very much. Maybe it is because my mother used to make them with ham and cheese when I was a kid. The outstanding thing about the crepe here is the quality of cheese they use and of course the tasty buttery crepes itself. I really like the chewiness of the cheddar cheese. Both Damien and I initially thought that it was Mozarella at first, but the owner confirmed that it was a special brand of Cheddar. The combination of the savoury, chewy cheese with the crisp (at the edges) buttery crepe and deliciously sauteed mushrooms has hit that "really want to go back to eat again" button for me. 4.5/5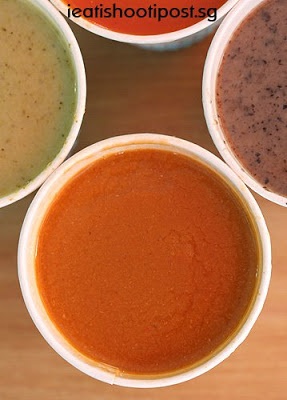 Apart from the crepes, they also sell a variety of French soups and bread with flavored butter. The soup I would recommend is the seafood bisque. This is probably one of the few places in Singapore where you can get a seafood (lobster) bisque for less than $4 without sitting in a restaurant. The soup is made fresh everyday from prawns and crabs and was quite good except that I felt it could do with more of that burnt crustacean taste. The soups are served in cups with covers and you are supposed to sip them like you do coffee. I still prefer to slurp rather than sip my soups. 4/5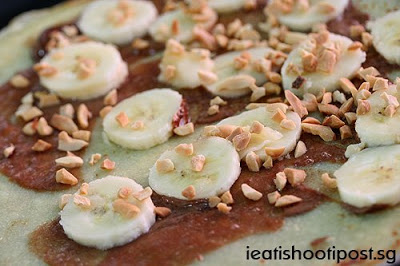 Apart from the savoury crepes, they also have a number of dessert crepes. Owner and executive Chef, Daphane, who trained at the world reknown Le Cordon Bleu insists on doing everything as French as she is commercially viable. So she uses Valhorna Chocolates here for the dessert crepes. The one I would recommend is the strawberry with white chocolate. Strawberry and chocolates always work very well together! 4.25/5
Conclusion
The crepes are certainly very good and definitely worth trying. I think the ladies would be happy with the soups as they are made with your waistline in mind, and that means less than 5% cream in the soup. It's got the Singapore Heart Foundation's approval.
As I alluded to in my previous post, soon half of all our food courts will be selling this type of international cuisine! It would be interesting to see if crepes will emerge as the next fad after Doughnuts!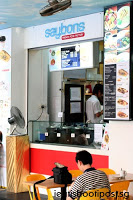 Disclosure: This was an invited review