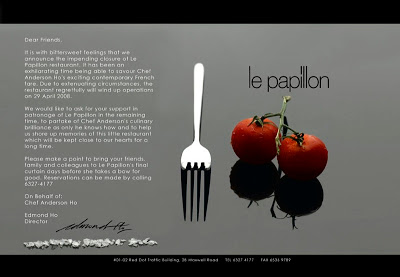 Now when it comes to fancy restaurants, I must say that aside from the nice ambience and fancy cutlery, it is only the very few that actually have that shiok factor that keeps me thinking about the food months after I have eaten it.
One of those dishes that I remember is the Rigatoni Pasta from Le Papillon. Unfortunately, I just found out that Le Papillon will be closing it's doors permanently on 29 April which is really disappointing. If the restaurant business in Singapore is based solely on the raw talent, passion and creativity of the chef, then Le Papillon and Chef Anderson will be in the business for quite a long time. Unfortunately, our business environment is too rigorous to be conducive for the fostering of artistic talent. As a result some other well known names also had to go overseas to make it big.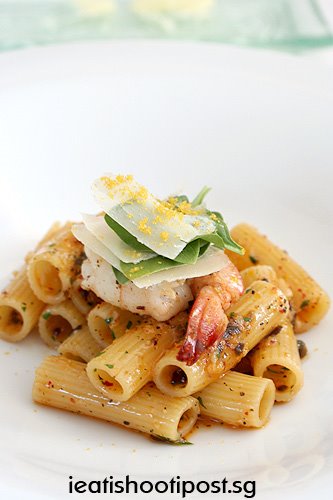 Rigatoni Pasta Tossed in Crustacean Oil, Shaved Bottarga,
Tiger Prawns, Konbu and Baby Spinach Salad – Degustation portion
Anyway enough ranting.
If you have not yet had the chance to taste the Rigatoni, you only have just over a week left to head down to Le Papillon for a meal!
Read my previous post on Le Papillon here
PS: Just spoken with Chef Anderson, he will be there for dinners from Thurs till Tues (Except Sat).
Le Papillon
28 Maxwell Road #01-02
Reddot Traffic Building
www.le-papillon.com.sg
63274177
Closed on Sundays