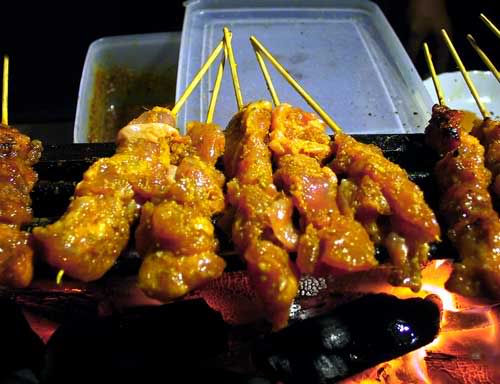 Latest: Zsa Zsa has closed its doors as of 17 Oct 2006. It will be making a comeback to Jalan Kayu soon. Stay tune!! ieatishootipost will be the first to let you know!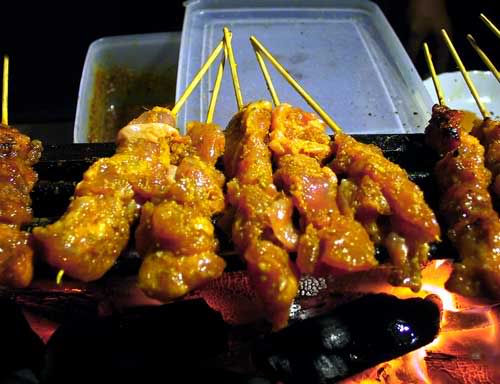 The banner says: Satay Power. Big in Size, Bigger in Quality, Power in Taste.
I can't argue with that.
Unlike many other "hawkers", Sha is a fine example of the 21st century food seller who strives to beat the competition through innovation and excellent service. Afterall, he should know about service standards as he was until 2 years ago working for SIA as a flight steward.
He differentiates his satay by making it extra big and full of chuncky chicken pieces. I was already quite happy with his satay, but this time round he decided that the ultimate chicken satay should also contain pieces of chicken skin to ensure that this is the most juicy and flavoursome satay. And the result is incredible. See for yourself!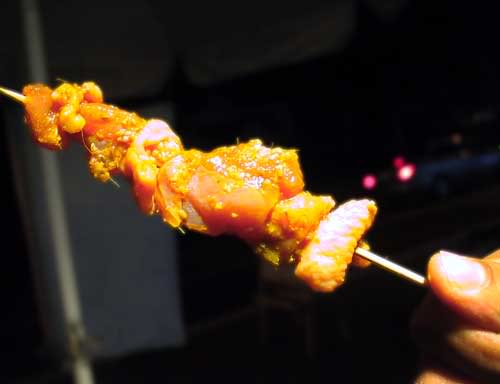 Chunky Chicken Pieces with Chicken Skin for Oomph

Juicy and Meaty with bits of burnt caramelised skin – Phwaa Sayah!!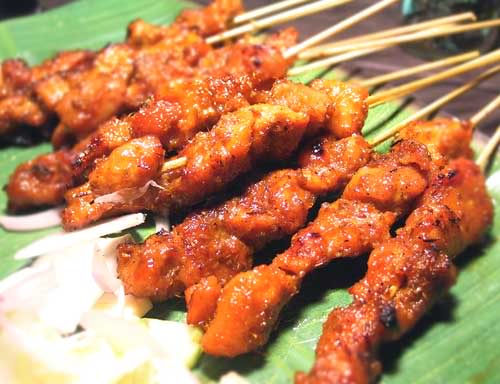 Can you believe this costs 50 cents a stick?
Sha has also been busy improving on his Super Power Beef Satay. The Super Power Beef is specially catered for the beefeater who needs his weekly dose of bovine protein. Gone are the days of pathetic pieces of grisle on a stick, instead, Super Power Beef puts a slab of sirloin steak on a stick.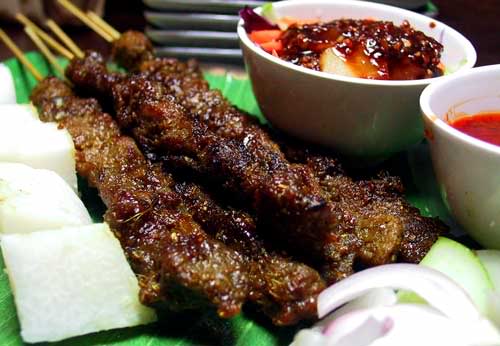 Sirloin Beef Set $12.50
Any beef lover would be happy to see the size of the Super Power Beef. However, I still found that the beef was a little too chewy for me and there wasn't enough fat to keep the meat juicy. I think it could be further improved if a different cut of beef was used. But then again people always complain that I am fussy. Undetered, Sha is looking at how to improve on the Super Beef Satay… stay tuned, the best is yet to come.
The Super Power Beef and special chicken satay can only be found at Zsa Zsa's Warong located in Jln Kayu, just next to the Thesevi's Roti Prata stall. For those who would complain about chicken skin, all I can say is that there is still less skin on a stick of satay then on a chicken wing. And at any rate you can always remove the skin. Aside from the fantastic satays, the restaurant also serves Indonesian cuisine. Must try the fried chicken wings with sambal dip. Hmmmm…
Those of you who enjoy satay goreng, ie satay that is fried in a wok instead of BBQed, will be happy to know that you can also purchase this from Sza Sza Warong raw and cook it for your dinner party. Chicken $12, Beef $13, Mutton $16.
Conclusion
My pick as the best Chicken Satay in Singapore (so far) and, at 50 cents a stick, definitely best value as well.
4.5/5 for the Chicken Satay
3.5/5 for the Super Power Beef