With iwatch_ueat and SCS Butter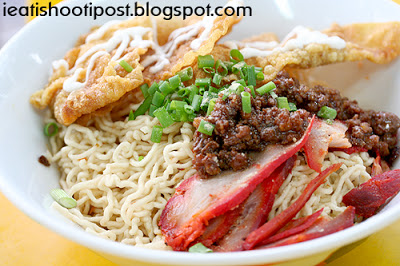 Sarawak Kolo Mee $3 (Big)
What I really enjoy about Sarawak Kolo Mee is the noodles itself and the savoury minced meat sauce that goes with it. In fact, I like these frizzy QQ noodles so much that I wonder why there aren't many more hawkers selling them?
Anyway, the last time I blogged about Sarawak Kolo Mee was the Yummy Wonton Mee stall at the Tampines Round Market. However, that one was a Singaporeanised version of the Kolo Mee and lacked the meat sauce. This time round I found a true blue (I am told) Sarawak Kolo Mee run by a couple that are real Sarawakeans. I found out that they actually make their own noodles at the factory! It's funny, when I asked them about how they knew how to make the noodles, the answer they gave made it look as if EVERY Sarawakean actually knows how to make their own kolo mee! It's like saying every Hainanese knows how to make chicken rice and every Hokkien can cook Hokkien Mee!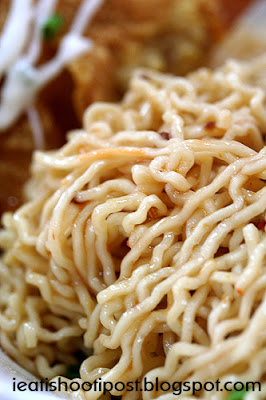 Whatever it is, the noodles were excellent and the combination of the Minced Meat Sauce with the noodles was even better. It would have been perfect if they had better char siew and the fried dumplings had more stuffing. 4.25/5
Conclusion
Authentic Sarawak Kolo Mee at hawker prices! Well worth a trip. Usually sold out by 2pm, so make sure you get there early. The shop is right at the back of the coffeeshop itself and easily missed.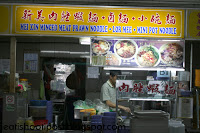 Recommended by SCS Butter