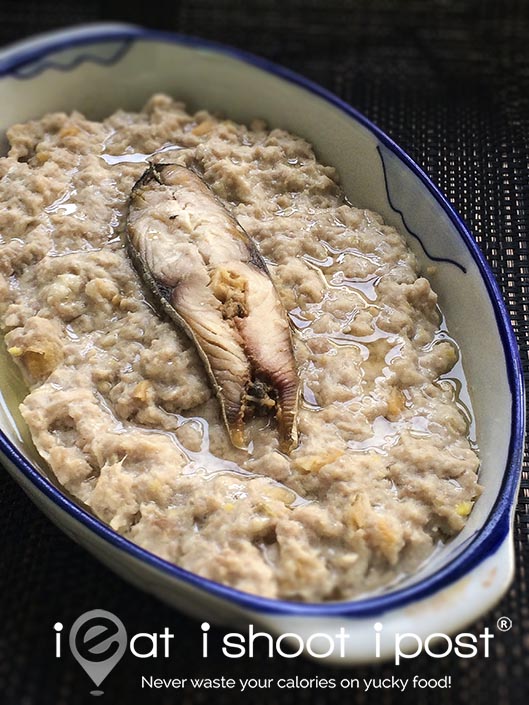 This is a very popular home cook dish in Singapore because it is so easy to make and extremely tasty.  Most Singaporeans will probably remember grandma or mum making it.   But as with everything, the difference between a good dish and a great dish is the attention to details.  Sure, anyone who has a few basic ingredients will be able to make a tasty dish to eat with rice, but what I am trying to do is to share with you a few tips which I picked up from a hotel chef so that you elevate an ordinary homecooked dish to a restaurant quality dish!
The two key ingredients are the salted fish and the minced meat.  The best salted fish for this dish comes from Kuantan, a town in the East Coast of Malaysia.  Many of us will be familar with the dry type of salted fish which is used for claypot rice.  However, the salted fish that is used for this dish is called Mui Heong and it is a very high quality salted fish which is made from fish that is fresh off the boat.  The salted fish is soft and easily turns into a paste with the slightest pressure.  So when you place it on top of the minced meat, it is easy to pick up with a pair of chopsticks to mix with the meat.  You can try looking for this at the wet market provision shops.
The other ingredient is minced pork. This needs to have a bit of a bite. So you need to either hand chop yourself or buy from wet market where you specifically tell them to coarse grind it for you. The minced pork will also need to be seasoned and treated in a way to produce a nice springy, bouncy texture.  This technique, which is a common technique amongst Chinese chefs is what will bring the dish to the next level.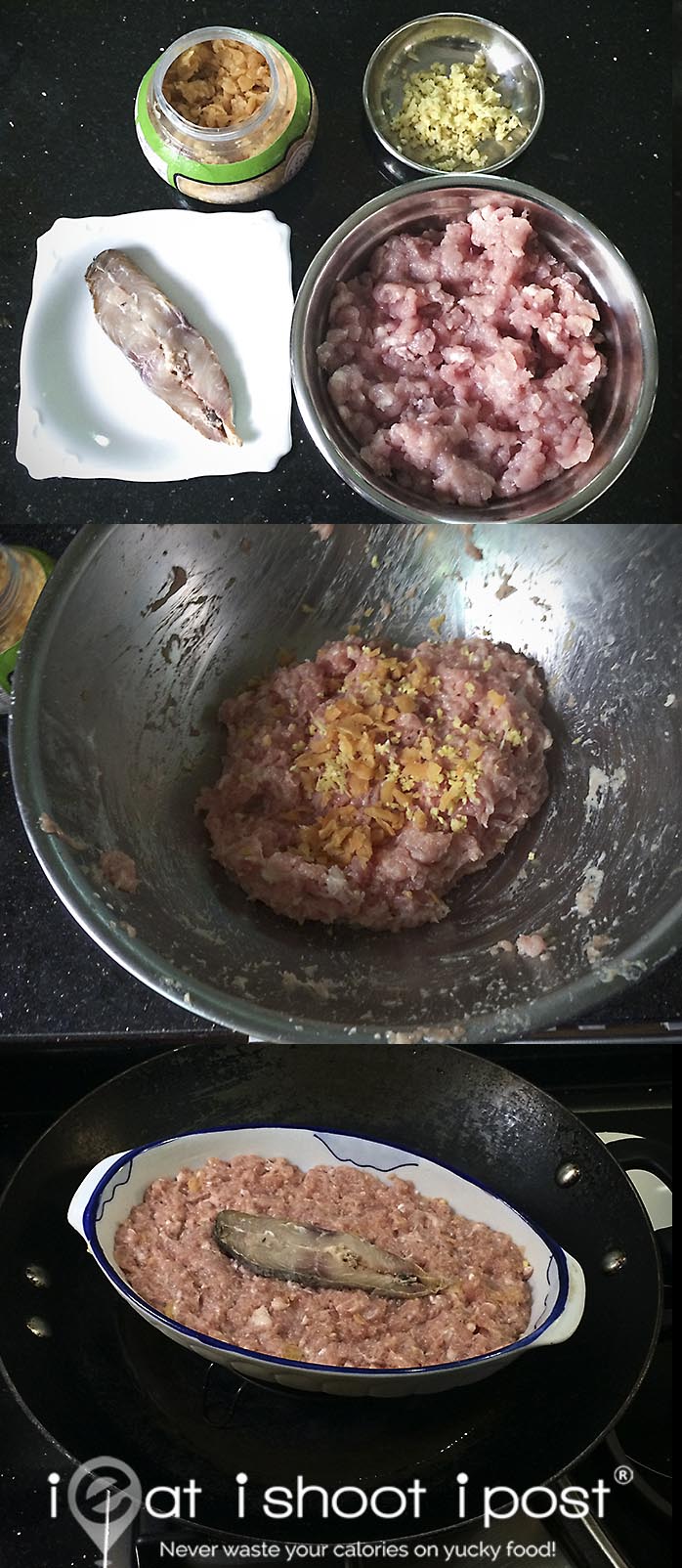 Ingredients:
Part A (treatment)
Salt 1 tsp
Sugar 1 Tbsp
Water 2 Tbsp
Tapioca starch 2 Tbsp
Minced pork 300g
Part B (marinade)
Sesame Oil 2 tsp
Chinese wine 1 Tbsp
Soy sauce 1 tsp (adjust to taste)
Chicken Powder 3 tsp (adjust to taste)
Part C (Toppings)
Mui Hiong
Ginger (chopped)
Tang Chye (optional)
Water chestnut (optional)
Procedure
Add salt, sugar and chicken powder to the minced pork.  Once mixed, pick it up and throw it onto a steel bowl (or heavy chopping board) several times (10-20) until it becomes springy and clumps together.  This action causes the protein to unravel and realign to produce springiness in the meat.
Next add 2 Tbsp of water to the meat and mix thoroughly. You will find that the meat will relax and spread easily. Now add 2 Tbsp tapioca starch and then start throwing again a few times till the mince returns to its springy state.  Now marinade with sesame oil 2 tsp, Chinese wine 1 Tbsp, soy sauce 1 tsp, chicken powder 1 tsp. This forms the minced meat base from which you can do many other dishes like Siew Mai and other dim sum dishes.
For salted fish minced pork, I add chopped ginger and tang chye to the mix, then lay the piece of salted fish on top and steam for 8 mins.  For a stronger salted fish flavour, you can also mix the salted fish into the minced pork first.  The Mui Hiong turns easily into a paste when you press it with the side of the knife.   For salted egg version, simply replace the salted fish with salted egg yolk and leave out the ginger.
Happy Cooking!
Disclosure: Some links above are affiliate links, meaning, at no additional cost to you, we will earn a small commission if you click through and make a purchase.