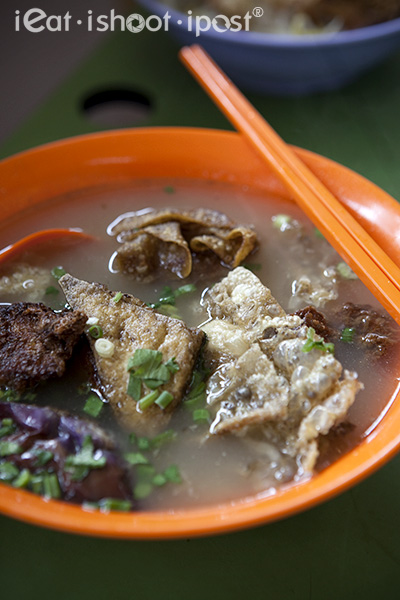 Yong Tau Foo Soup: Younger Sister
If you love Yong Tau Foo and work around the Tanjong Pagar area, you would probably have visited Rong Xing Yong Tau Foo. I first blogged about them back in 2007 and at that time you need to line up take a queue number and wait for your hot piping bowl of soya bean goodness.
If you head there nowadays, the queuing system is gone and the queue is noticeably shorter. No, the standard hasn't dropped, the stall has just simply undergone mitosis and spawn a 2nd stall, three stalls down the row. This newer stall is called Rong Xing Yong Tau Foo (Younger sister). Yep, you guessed it, this is another case of a family feud resulting in two different stalls selling much the same thing.
Older Sister/Younger Sister
So you want to know the truth? Well you can't have the truth, cos I can't get real story out of the two sisters. Both sisters tell me their own version of how they are the ones who have been working so hard while the other simply loaf around collecting money. What I think is true though is the fact that it is the older sister who started the stall almost 30 years ago and that she started it because she loves to eat Yong Tau Foo.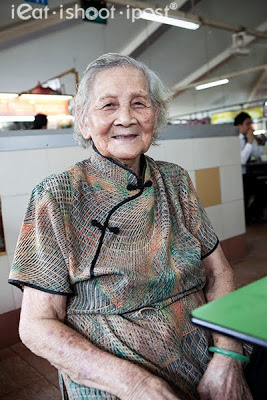 You might look at the two ladies and think to yourself that they look pretty different to be sisters. If you think that way, then you are right, they are actually half sisters. Both have the same mother but different fathers and there is a 7 year gap between the sisters. When the 2nd stall was set up, the mother can be seen helping at both stalls. I pulled her aside and asked her which of the two stalls served better Yong Tau Foo to which she said that both were the same. Its so sad to think that after working together for more than 20 years, the two sisters are hardly on talking terms, and poor mom is still trying to divide her love equally between the two of them.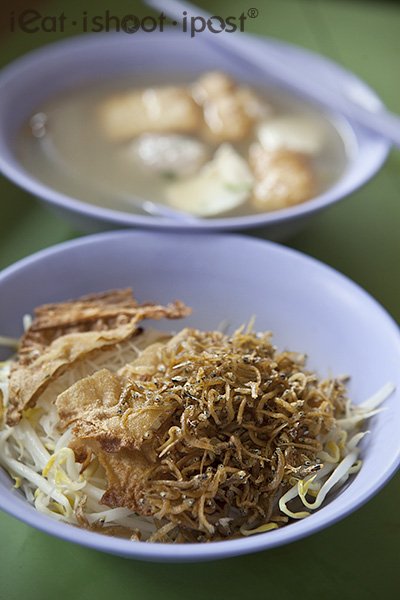 Yong Tau Foo Dry: Older Sister
So, which of the stall sells the better Yong Tau Foo, I hear you ask. Well, I am going to tell you.
The Yong Tau Foo at both stalls are almost the same. The soup at the younger sister's stall has the wonderful umami while the older sister's seem lacking. However, the older sister's sweet sauce is much better than the younger sister's which still has that raw Hoi Sin sauce taste. Both chilli were comparable. 4.25/5 for both
Conclusion
This almost sounds like it could be something out of a book of Aesop's Fable where the two sisters eventually get back together when they figure out that together they would serve a better bowl of Yong Tau Foo. But until that day comes, you now have a choice and enjoy a shorter queue. Since they stagger their opening times, you can still have a bowl of Yong Tau Foo on weekends and public holidays! Maybe competition is good after all.
So, which stall do you prefer? Let us know!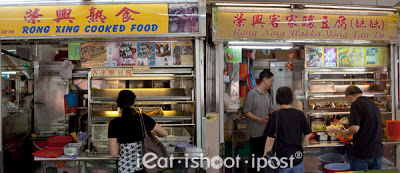 Rong Xing Yong Tau Foo
Tanjong Pagar Food Centre
Older Sister
Stall #02-04
7am to 2.30pm
Closed Sun and PH
Younger Sister
Stall #02-01
8.30am to 2.30pm
Closed Sat
Update 27 Oct 2014
The stall has moved to
3 Yung Sheng Road, #03-120 Taman Jurong Market & Hawker Centre, Singapore 618499
OPENING HOURS:
Mon to Thurs and Sun: 8.30am – 2pm
Closed on Friday & Saturday