What is your favourite way of eating Xiao Long Bao?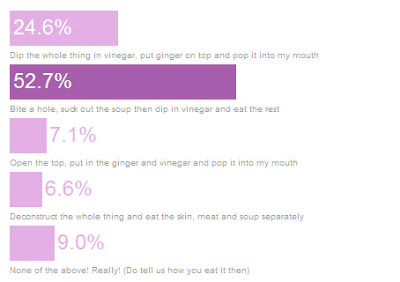 A total of 465 people took part in the poll and the results are shown above.
The majority like to suck out the soup first then eat the XLB. I was part of the 24.6% of people who like to pop the whole thing into the mouth (I thought I was part of the majority at first!) What is more amazing is the 7.1% (33 people) out there who actually open the top, put the ginger in and eat it. I thought iwatch_ueat was the only one who did that. Also there were 31 people who eat their XLB as a 3 course meal! I thought only my son did that! The rest of the people had exotic ways of eating the XLB, like draining the soup into a spoon first. Some put none of the above because they do several methods depending on the situation.
Each poll goes for a week. So the next one will start tonight and end at 12 noon next Wednesday.
Thanks to everyone who took part in the polls!! Hope you have fun with the next poll on 3D pics! Akan Datang…