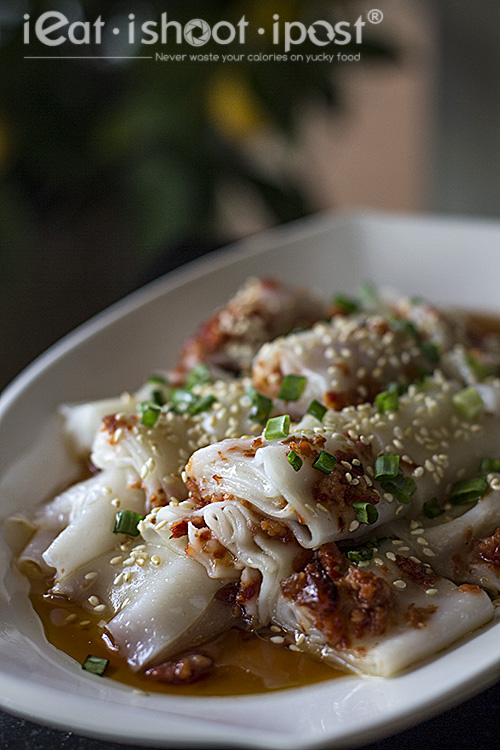 There are, broadly speaking, two types of Chee Cheong Fun. The first is the type you buy at the hawker centre where it is taken out of the steamer and to which sweet sauce, chilli sauce and sesame seeds are added. The other type is filled with char siew, prawns, you tiao or beef and doused with a thin and sweet soy sauce. This is the Hong Kong style Chee Cheong Fun that you order when you are eating Dim Sum. There are, of course a few variations in between, like the one at Smith Street food centre which Gastronaut tells me is served with dried prawns and chopped green onions. According to him, this version has been around for a long time and can be considered the traditional form of Chee Cheong Fun which isn't seen so much anymore nowadays.
What has emerged in our hawker centres is a number of stalls selling the Hong Kong Style Chee Cheong fun that is freshly made on the spot. Back in 2007, I wrote about one in Old Airport Road which we have been visiting regularly since I wrote about them. Then in 2008, I found another shop selling Zha Leong in Changi Village Food Cenre. There was another which I spotted at the coffeeshop along Upper Serangoon Road which houses Punggol Nasi Lemak. I hear that there are a handful of others around.
The appearance of these Chee Cheong Fun stalls are a welcome development because they allow you to just have your fix of Char Siew Cheong Fun without having to go the Dim Sum restaurant. But more than that, it allows you to have Chee Cheong Fun which is freshly steamed rather than one which has already been made and reheated. The texture of a freshly steamed Chee Cheong Fun is softer and more silky than those which have been and then reheated. This has something to do with a process called retrogradation which is the same reason why you only use overnight rice to make fried rice.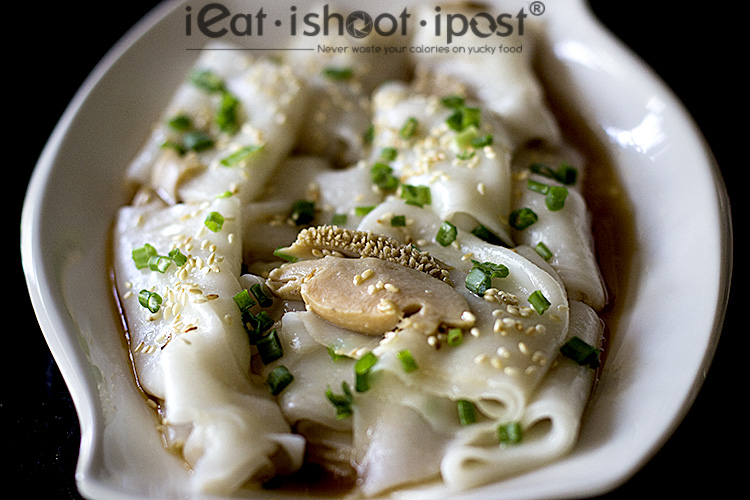 When a starch is cooked, it absorbs water and turns into a gel. When this is left to cool, the starch crystals undergo retrogradation and become crystallized. In the process, excess water is pushed out of the cells and so the starch becomes more firm, chewy and drier. That is essentially the difference between Hor Fun and Chee Cheong Fun as the Hor Fun is also basically steamed rice paste. The difference is that the Hor Fun is left to rest so that it is more firm and you can stir fry it without it breaking. Chee Cheong Fun on the other hand is softer and is not meant to be fried like Hor Fun. There is of course some slight variation in the recipe, but by understanding the cooking process, we can better appreciate what to look for in a good Chee Cheong Fun.
Since it is eaten freshly steamed, Chee Cheong Fun should be soft, silky and slippery rather than having too much of a chew. It should also be resilient enough such that it doesn't break apart when it is rolled. Another advantage of eating it when it is freshly steamed is that you also get to appreciate the aroma of the rice which quickly dissipates once the rice is cooked. A nice sweet soy sauce will of course complement the chee cheong fun. The fillings of char siew, scallops, prawns and even abalone is secondary and a matter of preference, really.
The Chee Cheong Fun at Pin Wei is very well made. It is very similar to the ones you would find at the Dim Sum restaurants. Like the ones in the restaurants, they are slightly thicker than the ones at Old Airport Road and holds its cylindrical shape very well while still being very soft and smooth. We tried the Char Siew version and it was very good. They use Char Siew that is made by another stall in the food centre, so it is very fresh. They do have prawns and scallop versions which we did not try. Lao Ban Niang insisted that I should try her Abalone version. They use a South African brand called Abagold which she tells me costs $100 a can! The soup in the can is mixed with the soy sauce to give it extra flavour. I am not a big fan of abalone, so its not something I would order, but it should appeal to abalone lovers. 4.25/5
Running the stall is a family who has been making Chwee Kueh for more than 50 years before deciding to switch to Chee Cheong Fun in the last two. They tell me that Chee Cheong Fun is easier to than Chwee Kueh as they don't need as much space to prepare the chye poh (pickled turnips). They spent 6 months researching and perfecting their Chee Cheong Fun recipe which is, like Chwee Kueh is made with a rice flour slurry. They even had to design and custom build the Chee Cheong Fund steamer to their specifications. Their passion and attention to details is evident in the final product.
Conclusion
Great way to get your Chee Cheong Fun fix without having to pay big bucks at the restaurants! And, I would go so far to say that theirs is better some of the restaurant Chee Cheong Fun that I have come across.