This Stall is Closed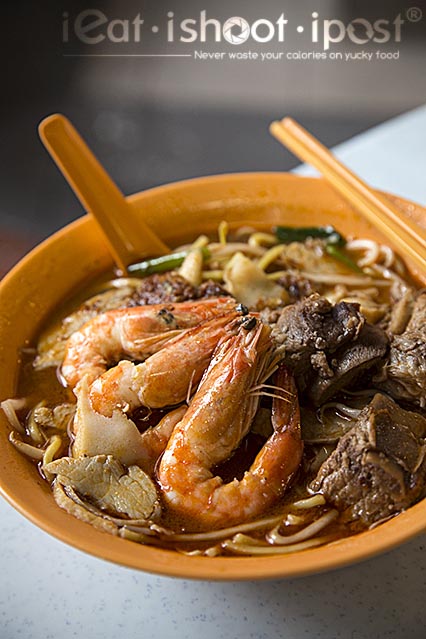 When I was in Penang recently, my wife got hooked on Green House prawn mee along Burma Road and we ended up eating there twice. The first time was an eye opening experience for her and the second time was AFTER we went round Penang tasting several prawn mee stalls on the same day but she was still not satisfied. So, we ended up back at Green House for a last bowl of Prawn mee before we left Penang.
The essential thing that makes Penang prawn mee different from the Singapore version is that the soup base for Penang prawn mee is spicy. The version at Green House looks deceptively benign as the soup is clear with just a tinge of brown and a few pools of red chilli oil on top. But one sip and you will be greeted with a spicy umami bomb. The other difference between Penang vs Singapore prawn mee is that the emphasis is not so much on having big prawns. In fact the prawns in Penang Prawn Mee are tiny. However, they provide a host of other toppings like pig skin, braised eggs, Sio Bak (roast pork), fish cakes etc and a bowl with several of these items would easily come up to RM $15 (Sgp $6). I heard that Green House had opened a branch in Singapore but so far no one has been raving about it. According to them, it is hard to make the same bowl of Prawn Mee in Singapore as they can't get hold of the same quality prawns (at the same price) in Singapore. As such, the branch in Singapore has not been as stellar as it is back home.
Now, I don't want to get your hopes too high with that preamble because this stall's Penang Prawn Mee is no where close to the Green House version. That is not to say that it is no good. It is good, but it seems to be a version that is the offspring of both Penang and Singapore versions. The spiciness in the soup is characteristic of the Penang version while the pork ribs and sliced pork is from Singapore. Having said that, the soup base is pretty robust and if you have a need for an umami kick, this would certainly do the job for you. Unlike the Green House version where the soup is deceptively clear, the broth here is not so modest. The murkiness in the soup is quite telling of the amount of muscle that it is pulling. It's certainly packs more punch than you average Singapore prawn noodles and is definitely worth a try if you are a prawn mee lover. 4.25/5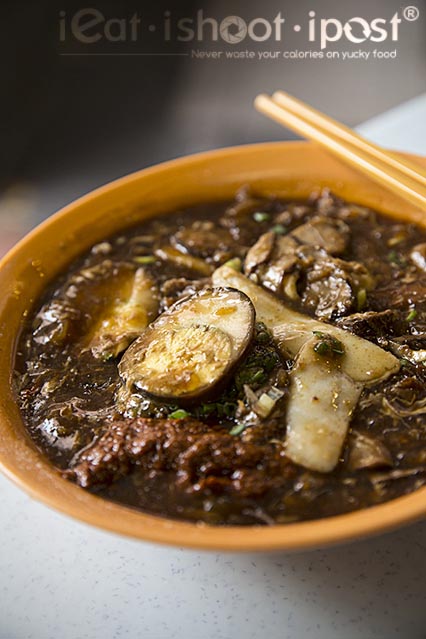 The lady at the stall tells me that her lor mee is also Penang style. I am not familiar with Penang Lor Mee so I don't have a gold standard to compare. However, if you want a bowl of Lor Mee with a difference, then this is certainly something you can try. The essential difference is that the Lor is made with the prawn stock that she uses for the prawn mee. So it has a nice savoury crustacean flavour that is different from the typical Singapore style lor mee. The braised eggs are done very well with the braising sauce penetrating all the way into the yolk. 4/5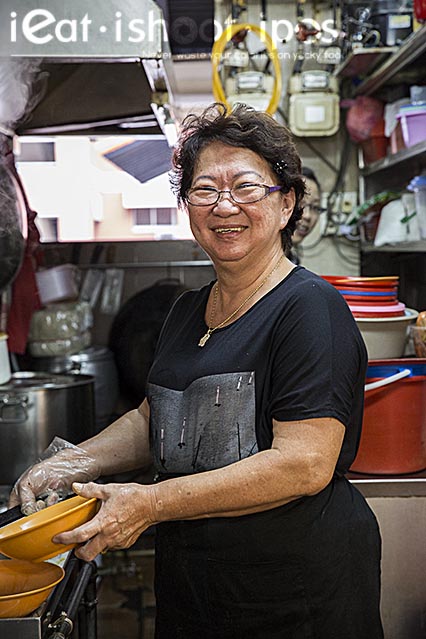 Conclusion
Not quite what I thought Penang Prawn Mee should be but this is a bowl of prawn noodles with enough oomph to justify a trip to Bishan to try. The Lor Mee is also worth trying while you are there.