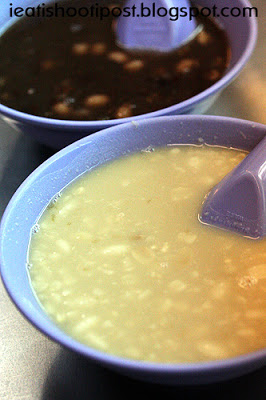 Yes, in this day and age where dessert stalls are offering a wide variety of desserts, it takes a really special stall to offer just 3 flavours of soup. In fact the stall only has 3 troughs in the display cabinet offering Peanut soup, Red Bean with Brown Rice soup and Tau Suan. You can also add glutinous rice balls if you like.
I tried both the Peanut Soup and the Red Bean Soup and they were both excellent. The Peanuts were fantastically soft and the soup was smooth and full of nutty aroma. One of the best I have tasted. 4.5/5 According to Damien, the Tau Suan also one of the best around. It was too bad they sold out that day.
Conclusion
Got to be really good if you only sold 3 flavours of soup!