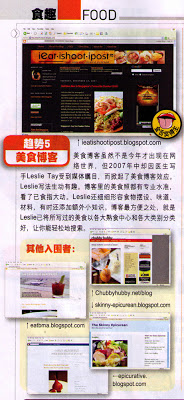 One of my friends alerted me to the fact that ieatishootipost has been featured in the current issue of i weekly magazine. Unfortunately, my mandarin is not good enough to do an interpretation of the text. So perhaps someone can help do the translation for me?
Thanks again to all readers for your support!
OK here's the translation courtesy of Vale Ng. Also thanks to Khim for providing another version of the translation in the comments!
Trend 5: Food Blogs
Winner of Golden Tongue Award: ieatishootipost.blogspot.com
While flogs did not just emerge in the virtual world this year, in 2007 doctor-blogger Leslie Tay captured the attention of the media, which sparked off a flog phenomenon.
Leslie鈥檚 writing style is lively and engaging. The food photographs on the blog are all of professional standards, and just looking at them is enough to whet one鈥檚 appetite. Leslie describes in detail the presentation of the dish, the taste, the ingredients, and even includes some additional trivia sometimes.
The greatest convenience provided by this blog is that Leslie categorises all his food reviews according to the various hawker centres and various food/dish types, for the reader鈥檚 easy navigation.