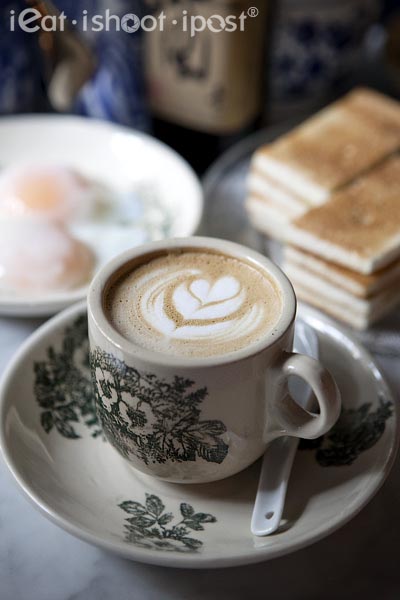 It really is too bad that my friend Keith couldn't make it for our Ultimate Hawker Fest. His rendition of the local Kopi using freshly pulled Expresso and a secret blend of corn and butter would have been a fitting salute to the humble Kopi!
But for those of you would want to experience what an Ultimate version of a typical Singapore breakfast is like, you can pop down to Oriole Coffee Roasters at the edge of Chinatown and order their Straits Seven Set. It comes with a cup of Kopi made with quality Expresso in a traditional cup complete with latte art, a pair of 62 degree Sous Vide eggs using farm fresh, hormone and antiobiotic free eggs and handmade kaya on traditional lohti. Yes, it is more expensive than your usual Kopi and Kaya Toast but as they say, the devil is in the details and if you are a coffee connoiseur, you will really appreciate the quality beans that go into this cup!
Keith, who has represented Singapore on many occasions in the World Barista Championships tell me that each year, baristas from all round the world come together the present a coffee that is reflective of their country's heritage. So he deconstructed our local Kopi into its primary ingredients and reconstructed it into the Straits Seven. In the old days, our Hainanese forefathers could only afford the cheaper beans and so had to invent ways of adding flavour to it by roasting it with butter, sugar and corn. Based on this, he formulated a secret blend of corn, butter and sugar and reconstructed the Kopi using Arabica beans.
Would you pay the premium for a cup of coffee like this? Why pay more to enjoy something that is made to taste like that which already tastes good but costs a lot less? You be the judge!