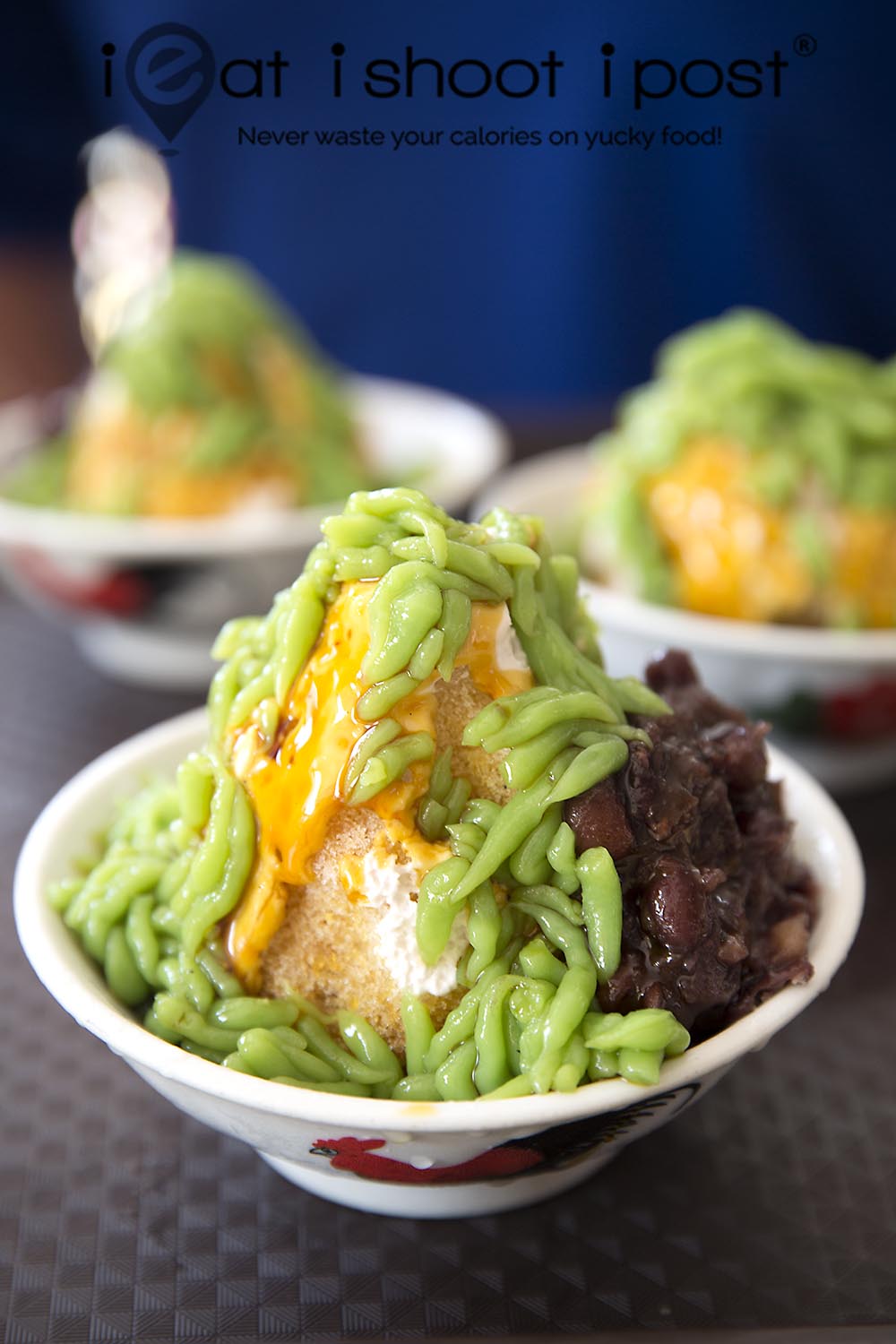 If I asked you what is the quintessential Singaporean dessert, would you have picked chendol?
Probably not.
In fact, when I did a poll in 2008 to pick Singapore's favourite dessert, bean curd come up tops, followed by cheng tng and orh nee.  Ice kachang, which used to be the posterboy for Singaporean desserts only managed to come in 4th and chendol only made it into the top 8!
But in recent years, chendol seems to have been able to break away from the pack to emerge as a serious contender for the iconic Singaporean dessert.
For many years, chendol had been just one of many dessert offerings at hawker centre dessert stalls.  But around five years ago, Cendol Melaka started a trend of stalls which specialize in this one dessert. It was soon followed by Four Seasons Chendol, Nyonya Chendol and our protagonist today, Old Amoy Chendol.
CNN must have picked up on this trend when it listed chendol as the world's top fifty desserts. The problem is that they attributed the dessert to Singapore, much to the chagrin of our neighbours!  I don't blame them (our neighbours), as I never really thought of chendol as a quintessential Singaporean dessert either.  But, it could well turn out to be a self fulfilling prophesy even as more and more specialized cendol stalls appear on our food scene!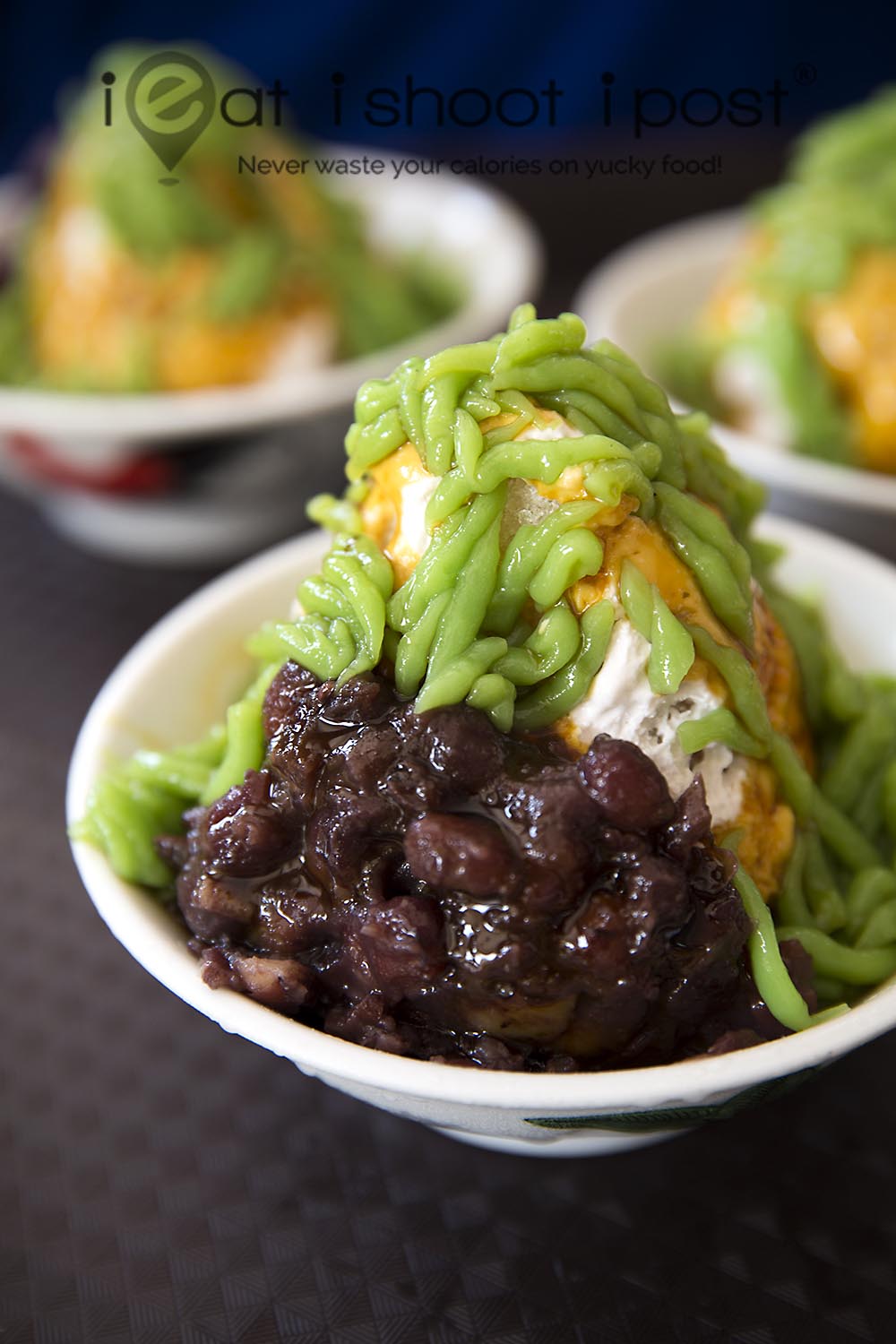 Old Amoy Chendol is the most artisan of all the new chendol stalls that I have come across so far with the exception of perhaps the Coconut Club who have gone to the extent of procuring their own coconuts direct from a plantation in Malaysia.
Every single ingredient that comprise the bowl of chendol is thoughtfully sourced and laboriously executed by hand.  The chendol itself is made fresh everyday and requires 45 mins of constant stirring over the heat before being pressed through an antique chendol press that has been down from grandpa.  The gula melaka comes from Sarawak and has to be brought over to Singapore by hand.  They tell me that they use a gula melaka which is pure and has not been adulterated with sugar.  They also cold press their own coconut milk daily!  But what I am most impressed by were the red beans!  They actually use Japanese adzuki beans and cook it over a charcoal  fire till it is a thick paste with the beans just broken but still keeping its shape!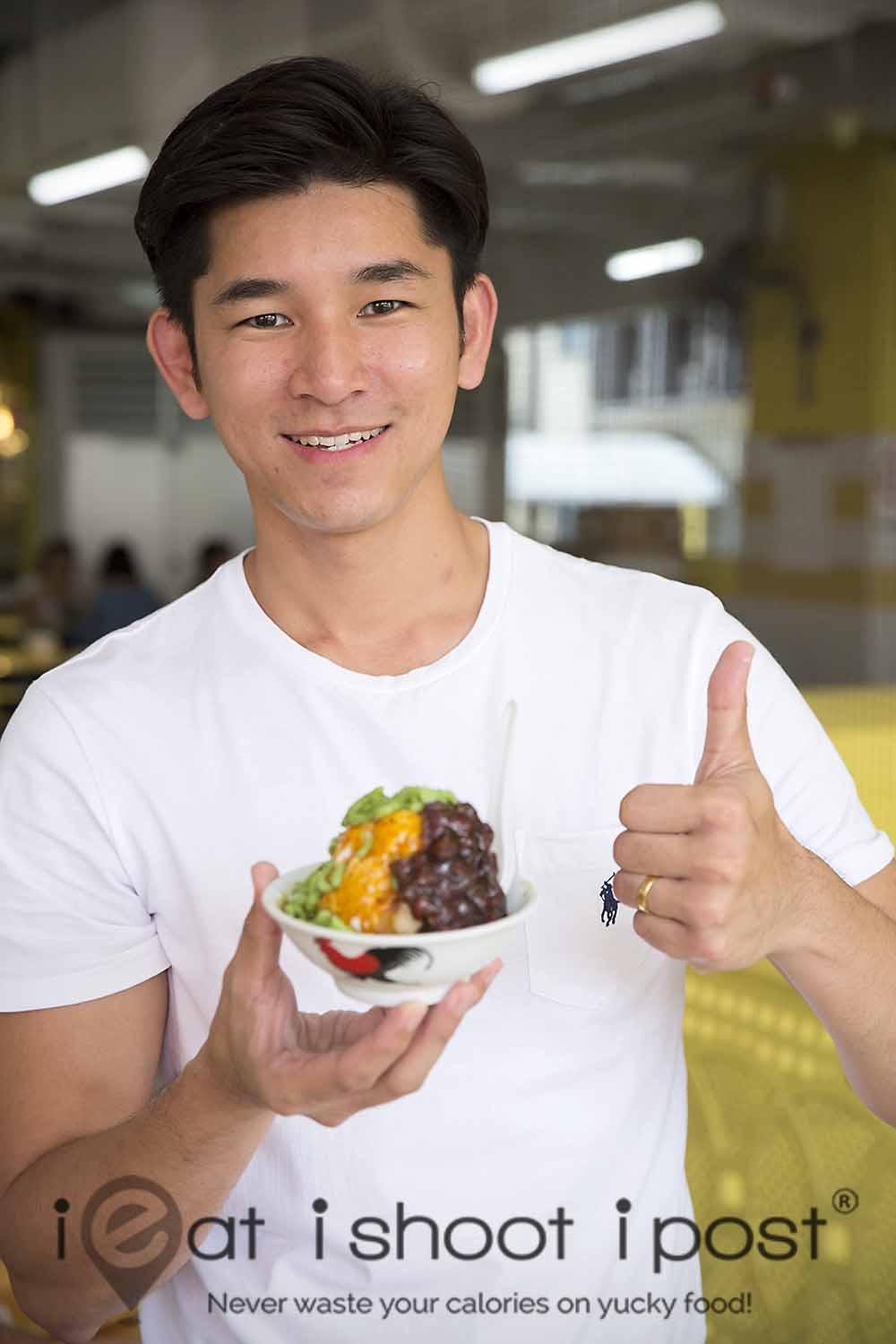 The brainchild behind the whole venture is 33 year old Zhao You Ning who was running a business in China before returning to Singapore with a burning desire to re-create the chendol his grandfather use to make when he was a kid.  In those days, grandad used to sell chendol off a pushcart along Amoy street – hence the name – Old Amoy Chendol.
The young hawkerpreneur is very dedicated to his craft.  He is at the stall at 2am in the morning to prepare the ingredients for the day.   The preparation takes about 4 hours, after which he heads home, takes a shower and is back at the stall to help out during the lunch crowd.  I think he might be a little obsessive compulsive as the young man really goes into the details of how long to cook the chendol, how hard and fast he needs to stir it and the speed that he needs to push it out of the cendol press and he insists on doing it all by himself!  He was once approached by a Japanese company who offered him a machine which can do all that, but he turned it down as it didn't produce the chendol exactly the way he wanted!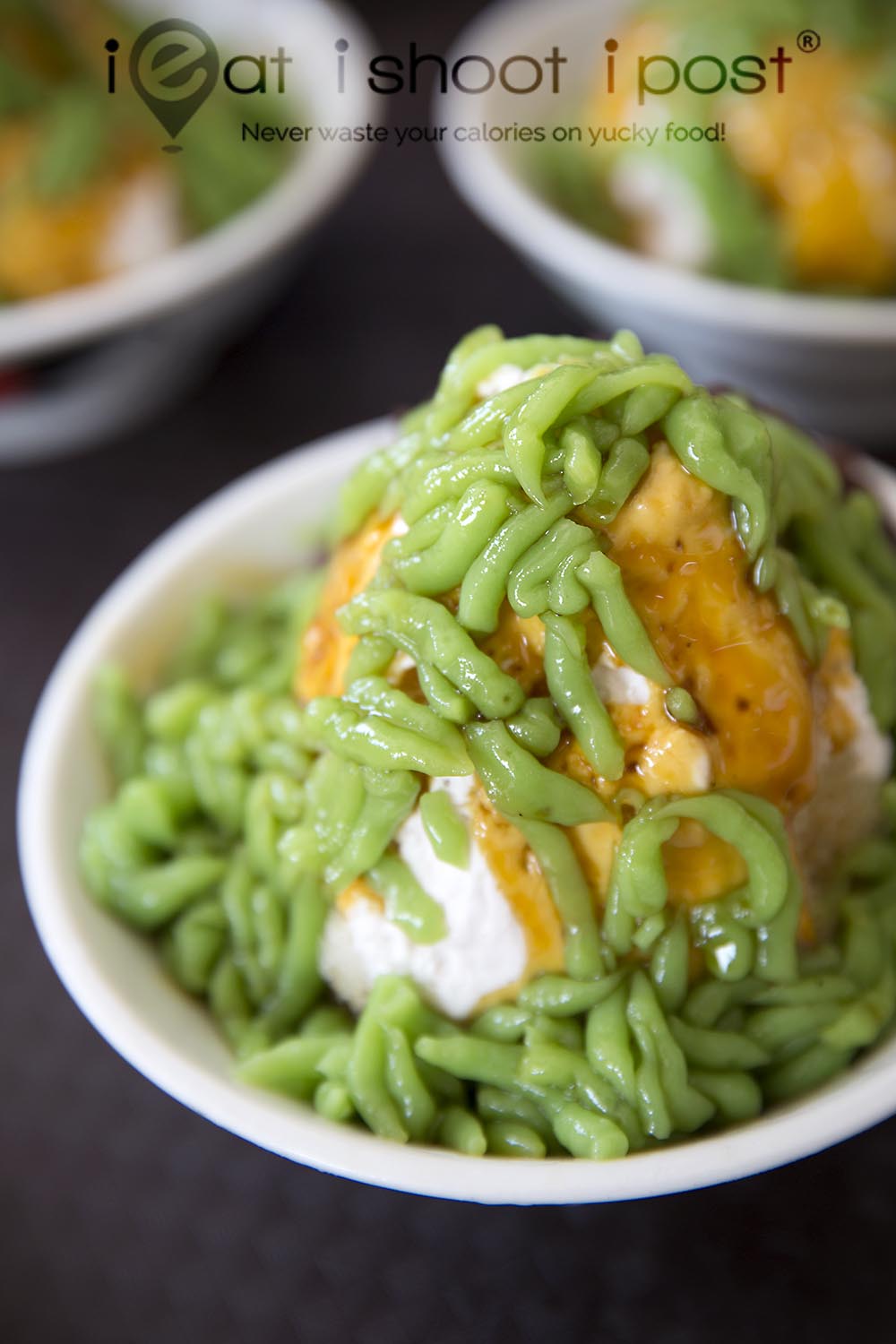 After all that, the real question that I am sure is on everyone's mind is:
"Is this really the BEST chendol on the Planet?"
I wish I could say yes, but it is still shy of a chendol epiphany.  The red beans are excellent and the texture of the chendol is perfect — it's got that pastey texture when you press it between your tongue and the roof of your mouth, yet it has that slippery jelliness that makes it slurpable.  The pandan fragrance is good but could be more pronounced. My main bugbear is with the gula melaka/coconut combination.  It just doesn't have that ooomph that I get from the typical Malaysian roadside stalls which has a smooth and lingering mouthfeel. Urban legend has it that earthworms are added to coconut milk to keep it from going rancid.  I wonder if that is what is missing? 4.4/5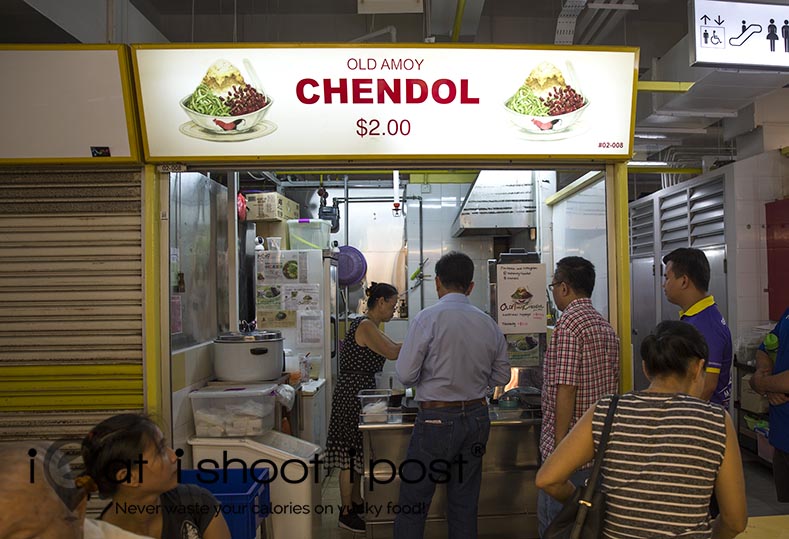 Conclusion
A bowl of chendol that truly embodies the Singaporean hawker spirit!  There is still room for improvement which our young obsessive compulsive hawkerpreneur is well aware of.  That said, this is the most artisanal bowl of chendol that's not made by your grandma and it behooves any self-professed chendol lover to at least get down to Chinatown Complex and give it a try!