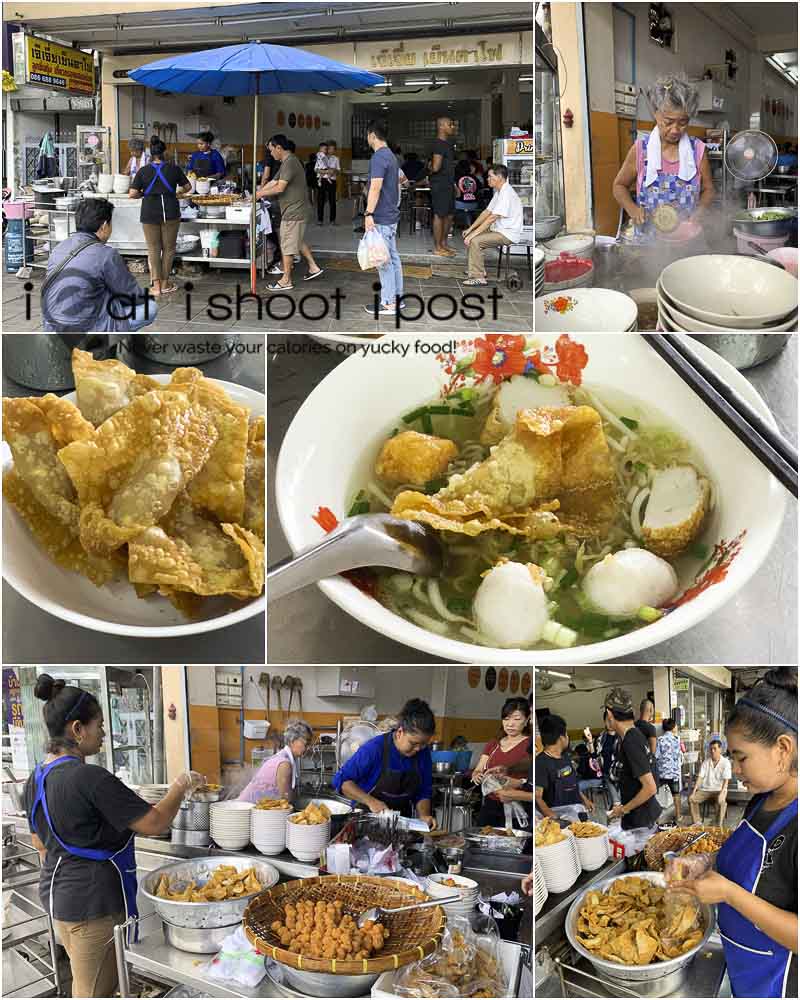 We made a short family trip to Bangkok this year and being a family trip, the kids get to choose some of the things they want to eat.  So, this is just a short list of the eateries that I picked.
We lived in Bangkok for 2 years almost 20 years ago and the one place that I always remembered is this place for fried giao! I've always remembered it to be one of the most addictive things on the planet!
I haven't been back since then, so memories of the place is a little vague but thankfully, we managed to track it down!  They were located a little closer to the end of saphan leung (yellow bridge) in the past and if my memory serves me well, the amount of meat in the giao was less than what it is now!  The giao is still very shiok but somehow I thought they were even more addictive in the past!  But then again, everything seems to taste better in the past!
Jae Jia Yentofu
595 Rama IV, (Saphan leung)
Map and details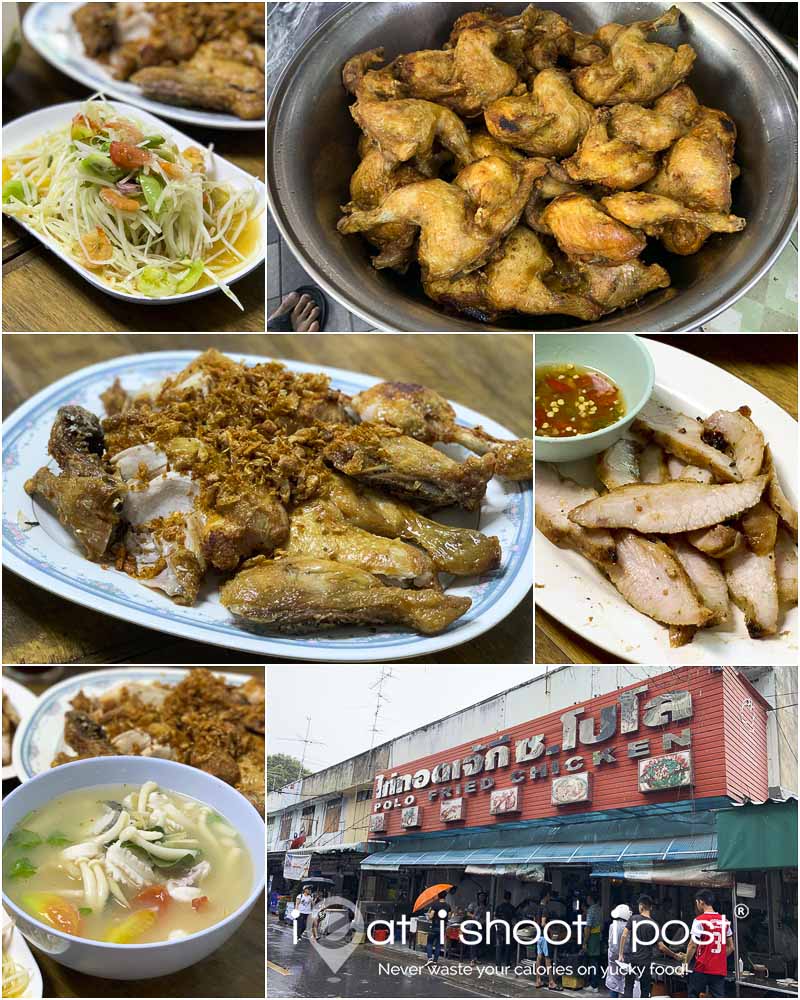 One of my favourite things to eat in Thailand is kao niao gai thot !(sticky rice with fried chicken)  I don't know why sticky rice isn't so readily available in Singapore?  I find the combination of fried chicken, papaya salad and sticky rice to be one of the best food combinations ever!  Although their signboard says fried chicken, I found that the real star is actually the grilled pork jowl which has a perfectly bouncy texture and a wonderful smoky flavour!  It was so good, we repeated our order ….. thrice!
Polo Fried Chicken
137/1-3,9 10 Sanam Khli Alley, (Opp Lumphini Park Gate)
Map and Details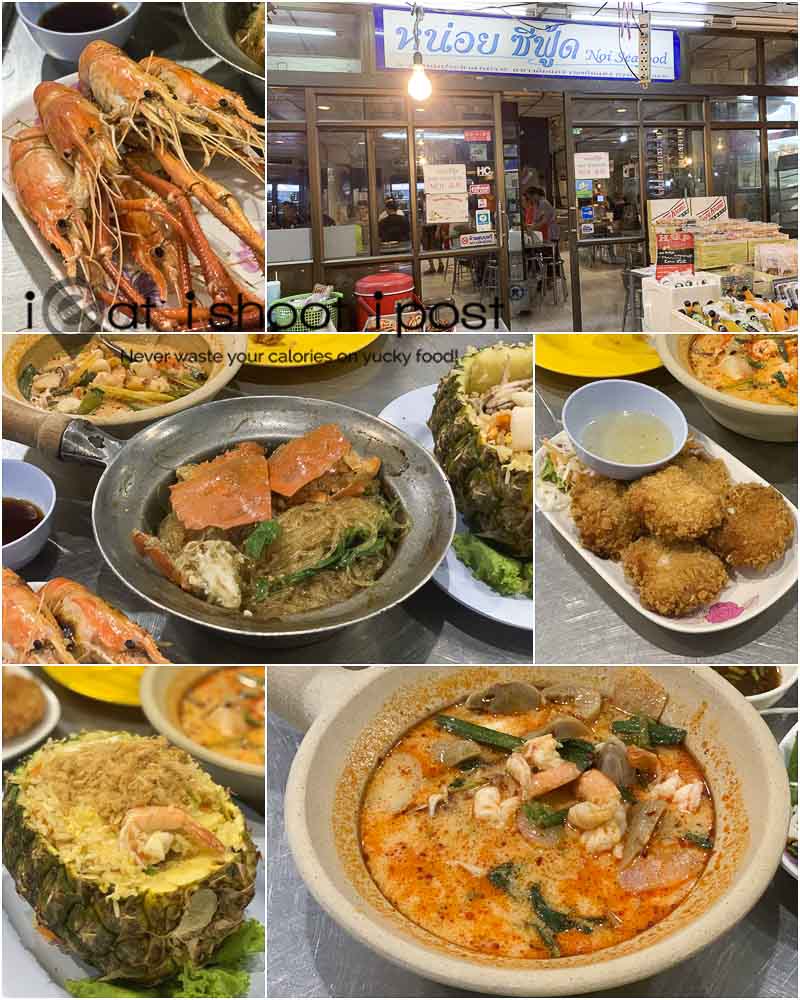 This seafood restaurant is quite a favourite amongst Singaporeans and whom we met a couple of while we were there.  Our friend, Roy from Jok Jok Mor  had recommended their crab tang hoon !  It was good but it wasn't the best I have tasted.   Their tom yum seafood soup though was excellent!  Also very popular are their grilled river prawns which are expertly grilled such that they are still juicy and went very well with their nam jim (chilli dip) which was one of the better ones I have come across.  The grilled pork jowl and chicken are quite ordinary so just focus on the seafood!
Noi
2005/99 Prachasit Road Khwaeng Din Daeng,
Map and Details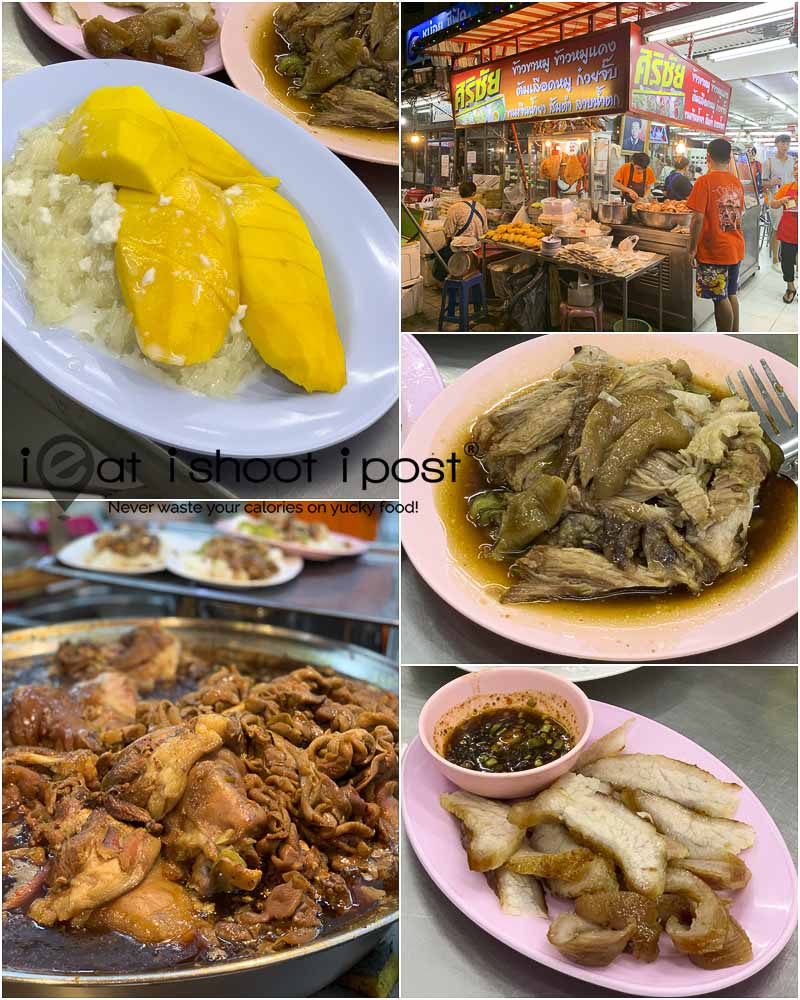 Right next to Noi seafood is a restaurant where you can find Thai style braised pork trotters.  The mango sticky rice here is very good… and generous!  Their pork trotters are good but it was the preserved veggies that stole the show!
Next to Noi (see above)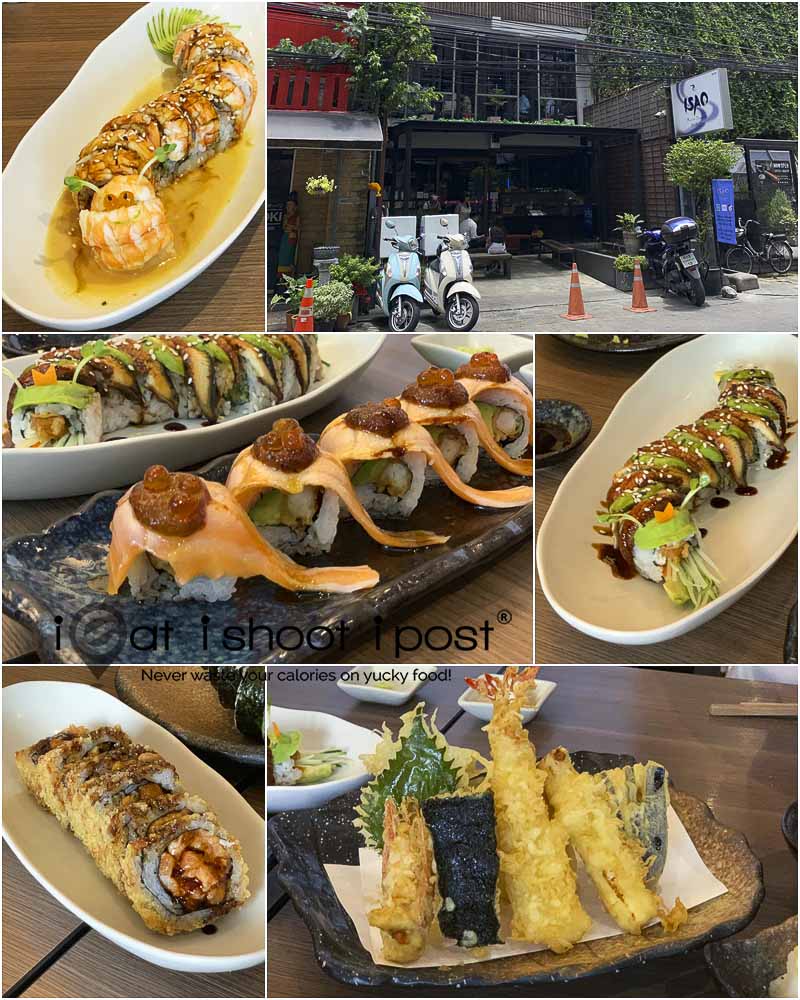 While in Bangkok, don't forget to try some of their international restaurants as you often get to enjoy the same quality food at a fraction of the price!
We had a wonderful meal at Isao which is a Japanese restaurant  from Chicago which specializes in fusion Japanese cuisine.   They specialize in creative rolls which are tasty and easy on the palate.  The kids loved it!  I don't mind it but it was something that I'd experience once but probably wouldn't make a special effort to go back again.  The rolls cost around 200+ to 400 + baht.
ISAO
5 ถนน สุขุมวิท Soi Sukhumvit 31,
Map and Details
Here are some of the other recommended restaurants that I shortlisted but didn't get to go to!

  
(Thanks to Ray from Jok Jok Mor for the recommendations)
Lung Cheay Egg Noodles
Good for late night egg noodles (open till 4am)
Ekkamai Rd, Khwaeng Khlong Tan Nuea, Khet Watthana, Krung Thep Maha Nakhon 10110, ThailandTrave
+66 89 925 3256
Map and Details
Cafe Chilli
Good for papaya salad and fried chicken
693 695 Sukhumvit Road แขวงคลองตันเหนือ Khet Watthana, Krung Thep Maha Nakhon 10110, Thailand
Map and Details
Somsak Claypot Crab (Ladya Branch)
Great for crab tang hoon!
234 Lat Ya Road, Khwaeng Khlong San, Khet Khlong San, Krung Thep Maha Nakhon 10600, Thailand
+66 89 494 1000
Map and Details

Patisserie Rosie
Lovely cakes!
113/2 Soi Thong Lo 10, Khwaeng Khlong Tan Nuea, Khet Watthana, Krung Thep Maha Nakhon 10110, Thailand
+66 92 542 9900
Map and Details

Buritara
Romantic place for Thai food next to the river
762/2 Rama 3 Rd, Khwaeng Bang Phong Phang, Khet Yan Nawa, Krung Thep Maha Nakhon 10120, Thailand
+66 2 682 9457
Map and Details