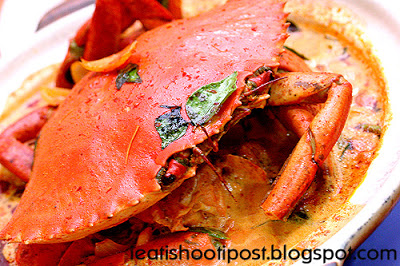 If you are tired of the Samo Samo Chilli Crab and Pepper Crabs, maybe its about time to make a trip down to No. 3 Crab Delicacy to try their Curry Crabs, Crab Beehoon and Butter Crabs.
No. 3 started out first as a retailer of quality crabs at the market before the owner decided to start a small stall in a coffeeshop selling their huge Sri Lankan Crabs. They were the 3rd stall in the coffeeshop, hence the name.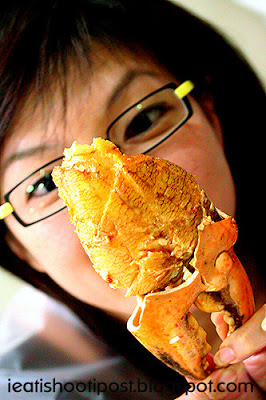 Needless to say, we were all quite impressed with the size of the Sri Lankan Crabs! They reminded me of Bodybuilders on Hormones — You know, those guys with really huge biceps and really small ……….. How did they get so big? Did they get the crabs to lift weights or something? All the crabs there were at least 1 kg or above. They don't sell smaller ones. The one we had cost $66 @$35 per kg. It was worth paying the price just to look at the face of my wife and her mom.
The crabs were very good quality and everyone loved the curry. This is not Chilli Crab sauce. It is also not laksa as one of the journalist so flagrantly proclaim in his article pasted on the wall. It is the owner's very own receipe which uses both carnation and coconut milk with Indian spices and is more akin to an Indian style curry. Good enough for my mother-in-law to tar pau the left over curry to enjoy with rice the next day! 4.5/5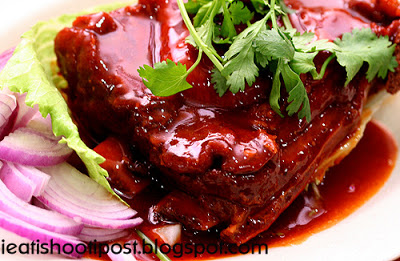 The Pork Ribs were unique in that they were braised rather then the usual Jin Tou Pai Kuat style. It was good, though I felt that $12 for 3 ribs was a bit expensive. 3.75/5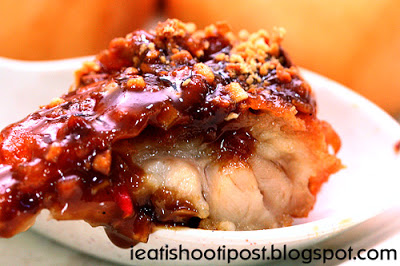 Another unusual dish was the rojak Chicken. The chicken was first deep fried, then (literally) rojak was poured over it. It appealed to my sweet tooth, though I felt the prawn paste could be better. $12 3.75/5


The Tofu was a house specialty which we found to be quite ordinary. $10 3/5 I also ordered a stir fried baby kailan which cost $10. I found the dishes, apart from the crab, a bit on the expensive side.
Conclusion
Come just for the crabs! The other dishes are expensive and though they were good, it was not worth it. I'd rather spend the money on another crab!
8/10 (T3+V2+S2+E1)