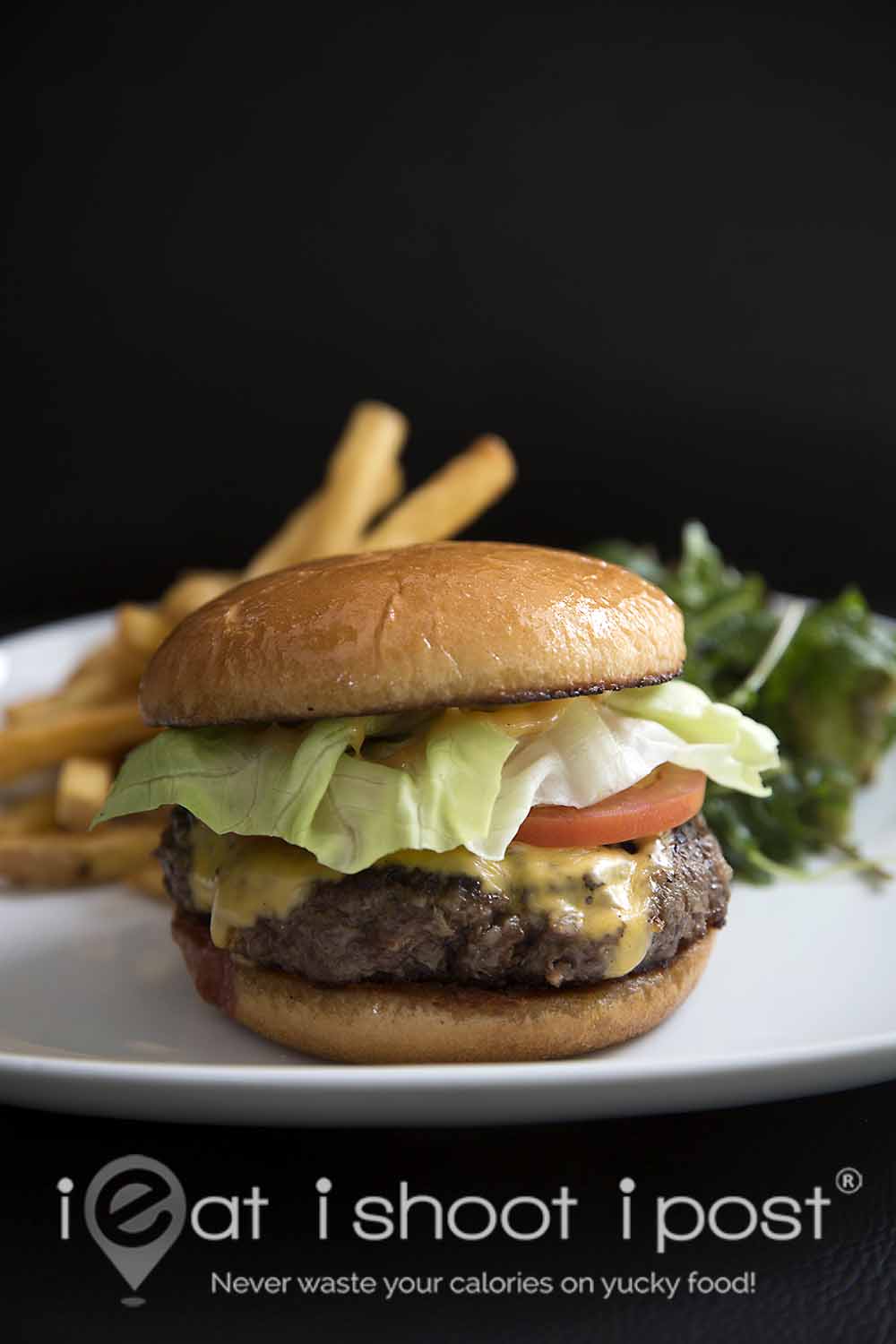 Naked Finn Farmer's Market 2016 – ieatishootipost
Naked Finn is celebrating its first year anniversary at their new restaurant by organizing a farmer's market where they are making available their range of specially sourced seafood and condiments to the public!   This should be good news for foodies looking for excellent quality ingredients!
Owner Ken Loon is one of the most meticulous people I know when it comes to sourcing for the best ingredients.  He actually sampled all the lobsters in the world in order to hand-pick the best one for his restaurant.  So, the seafood, beef and condiments on sale that day are really quite special as they have passed his intense scrutiny.
But before I go on, you need to know that they will be giving away 100 Nekkid Burgers for the first 100 patrons on the day!  
Don't say I never told you!
I have been working with Ken Loon on the ultimate cheeseburger for the last few months and it will be available that day.  The burger has gone through a few iterations and he has experimented with many different cuts of beef before settling on a 170g patty made from Australian grassfed beef neck and Japanese Wagyu chuck. The beef neck is something which no other burger joints in Singapore is using but Ken Loon feels that it gives the patty the most intense beefy aroma when mixed with Japanese wagyu.    The patty is presented in a simple burger bun which has been toasted with butter, cheese, tomatoes, lettuce and secret sauce.  It's one of the best cheeseburgers around and certainly the most artisanal I know.
In addition to the burger, you also get to sample 5 fuss-free recipes which they have created using  the ingredients which will be on sale that day, so you can taste the quality for yourself.  Recipes for each dish will be included, so you can re-create the exact same dish at home!
Here are the details:
Date:
Saturday, 2 April 2016
Time:
11am – 5pm
Venue: Naked Finn and Nekkid at Gillman Barracks
Recipes for sampling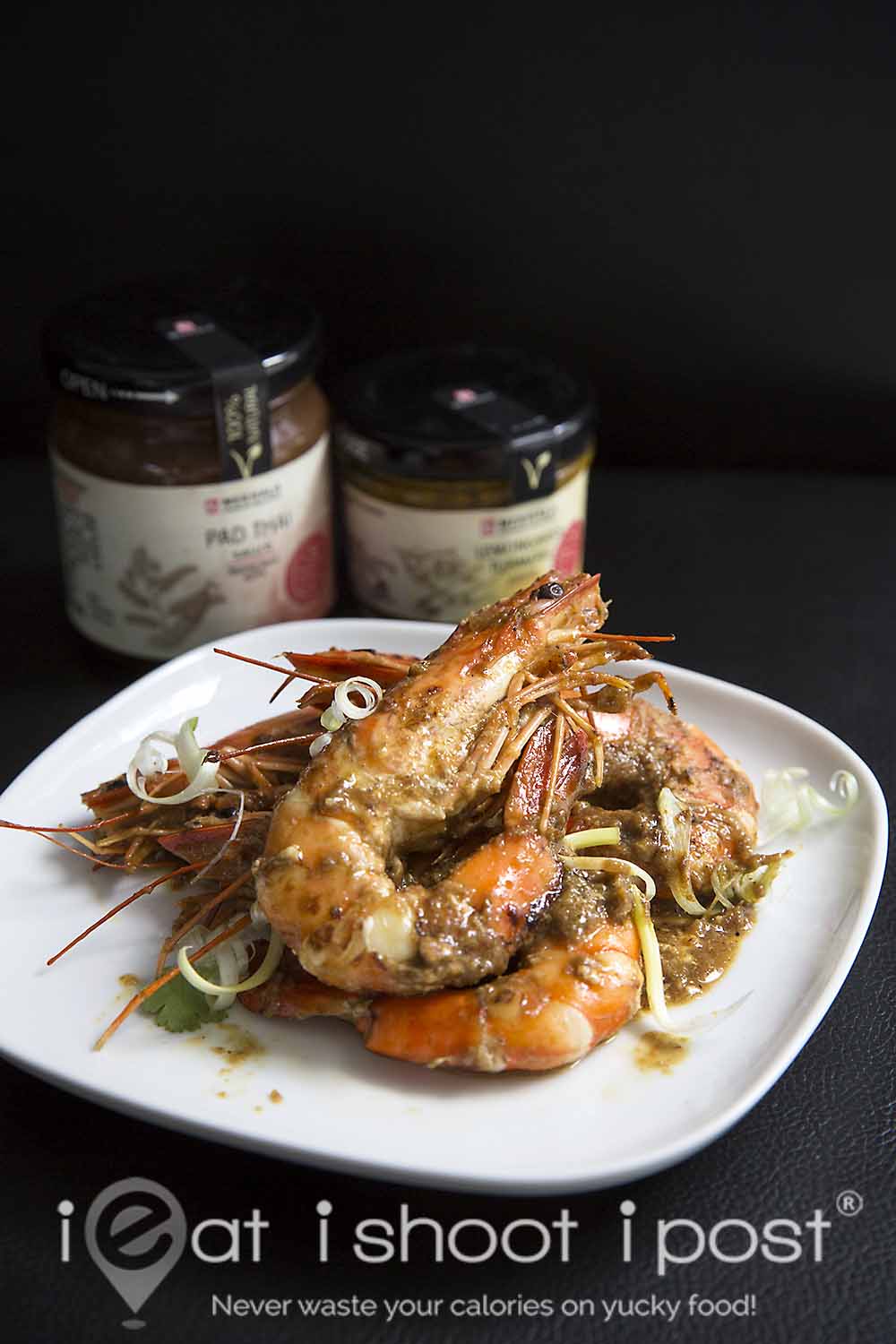 Tiger prawns with Lemongrass & Turmeric paste and Pad Thai sauce
Recipe notes:  
The wild-caught green tiger prawn are sourced from Sri Lanka. They have been blast frozen and imported directly by The Naked Finn.  To cook, simply saute the prawns with a combination of the pad thai and lemongrass and turmeric paste from Mekhala Living.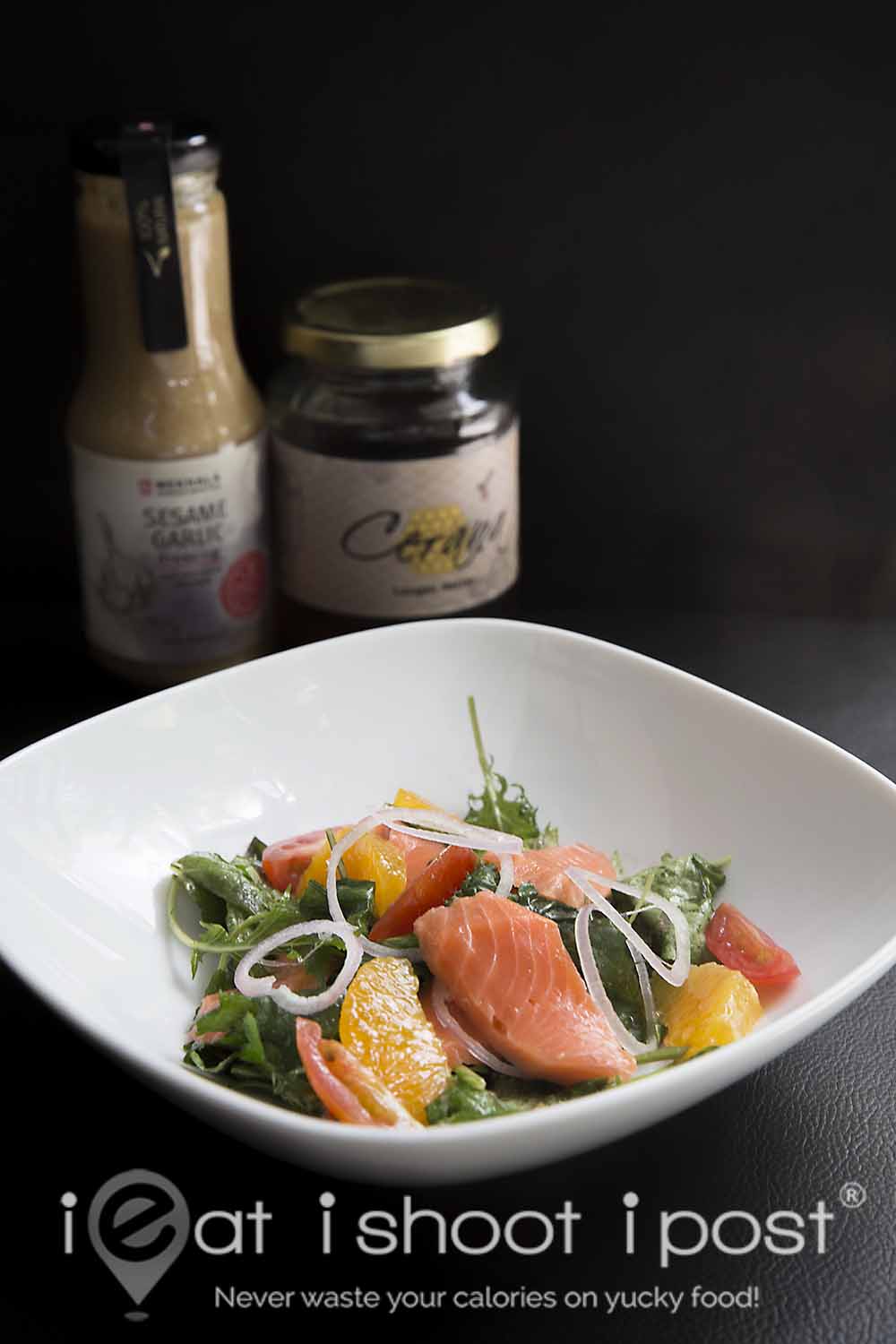 Coho salmon and mesclun salad with roasted sesame garlic dressing and Wild Longan Honey
Recipe Notes
Coho salmon and lingcod:  The Naked Finn
These are wild fish which have been caught by hook and line, individually cleaned, and frozen-at-sea.  When you thaw out our traceable frozen-at-sea coho salmon and lingcod, it is biologically only two hours old.
Mesclun Salad:  Farm deLight 
Farm deLight is an indoor farm in Singapore that produces vegetables that are pesticide free, safe and nutritious; emulating nature's growth environment by using soil, and organics fertilizers.  It is the only indoor farm in Singapore (and likely the only in ASIA too), to successfully use only organic fertilizers in an indoor environment.  We believe in feeding the soil to allow the plants to grow to their fullest potential; giving the consumers that best possible taste, smell, texture, nutrients and freshness.  The plants we grow are temperate weather vegetables, thus bringing the best of temperate countries to our tropical country.
Wild Longan Honey – Cerana Honey
Lovely artisanal honey from bees that collect nectar from Longan trees!  More info about Cerana Honey below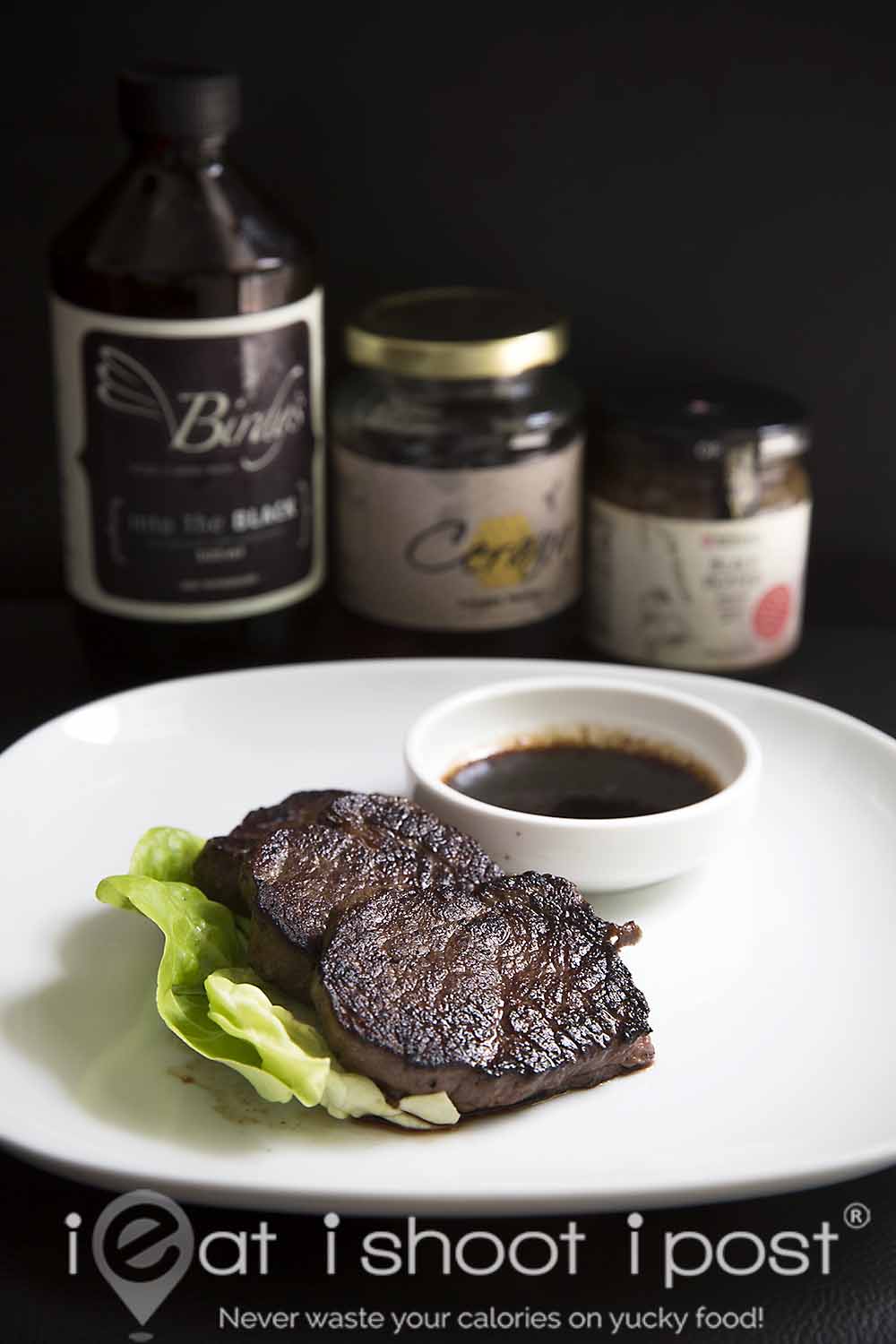 Wagyu with Black Pepper Sauce
Recipe Notes:
Simply grill or pan fry the Wagyu beef and serve with a black pepper sauce made from Birdy's Brew,  Mekhala Living's black pepper sauce and Cerana Honey's longan honey.  (see below for product details)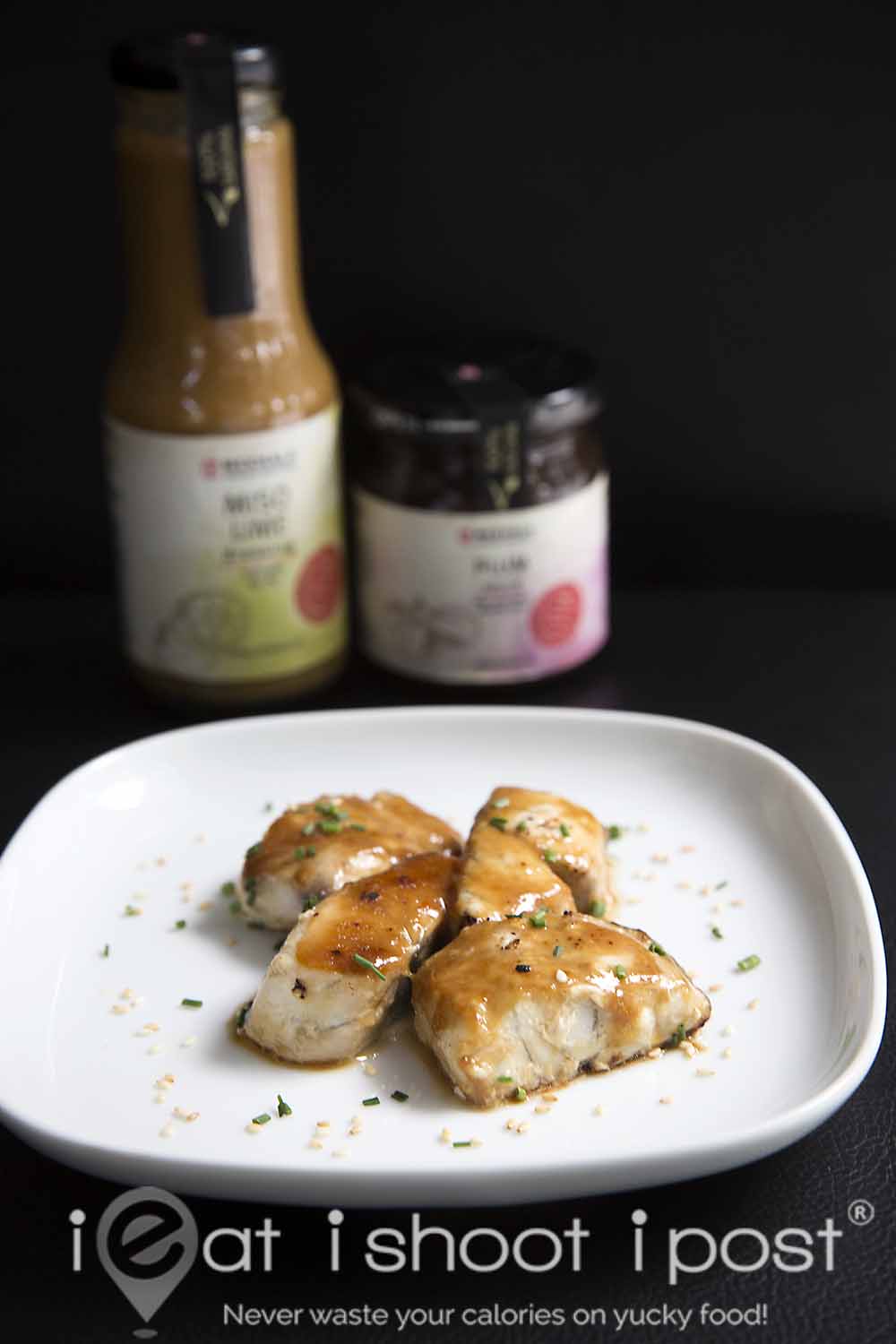 Baked barramundi or lingcod with Merkala Living's miso lime and plum sauce
Recipe notes
Kuhlbarra Barramundi are top quality fish that are bred in the clean waters in the Southern part of Singapore where there are strong currents.  As a result the fish tastes clean and pristine without the muddy taste that Asian Seabass can sometimes have.  I actually visited the farm personally and you can read about my farm visit here .  They also have an excellent cold chain which ensures that the fish are handled properly from the time they are harvested till it arrives at your doorstep!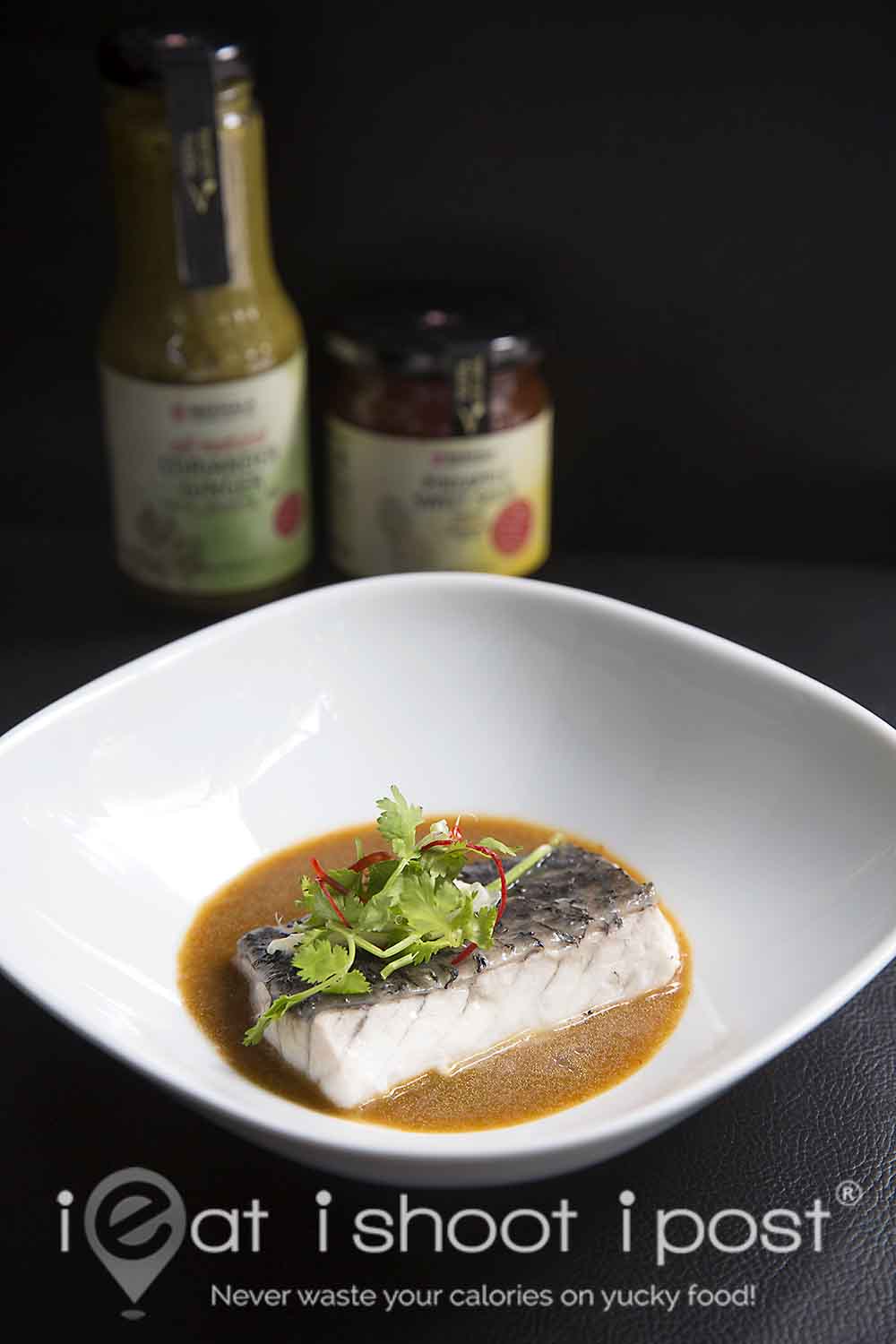 Steamed Kuhlbarra barramundi with Mekhala Living's Pineapple sweet sour sauce and coriander ginger dressing
Recipe notes
This tangy sauce made from pineapple, coriander and ginger brings out the delicate flavours of Kuhlbarra's excellent barramundi.  This dish is reminiscent of a Nonya steamed fish sauce and is easily put together by combining two different sauces from Mekhala Living.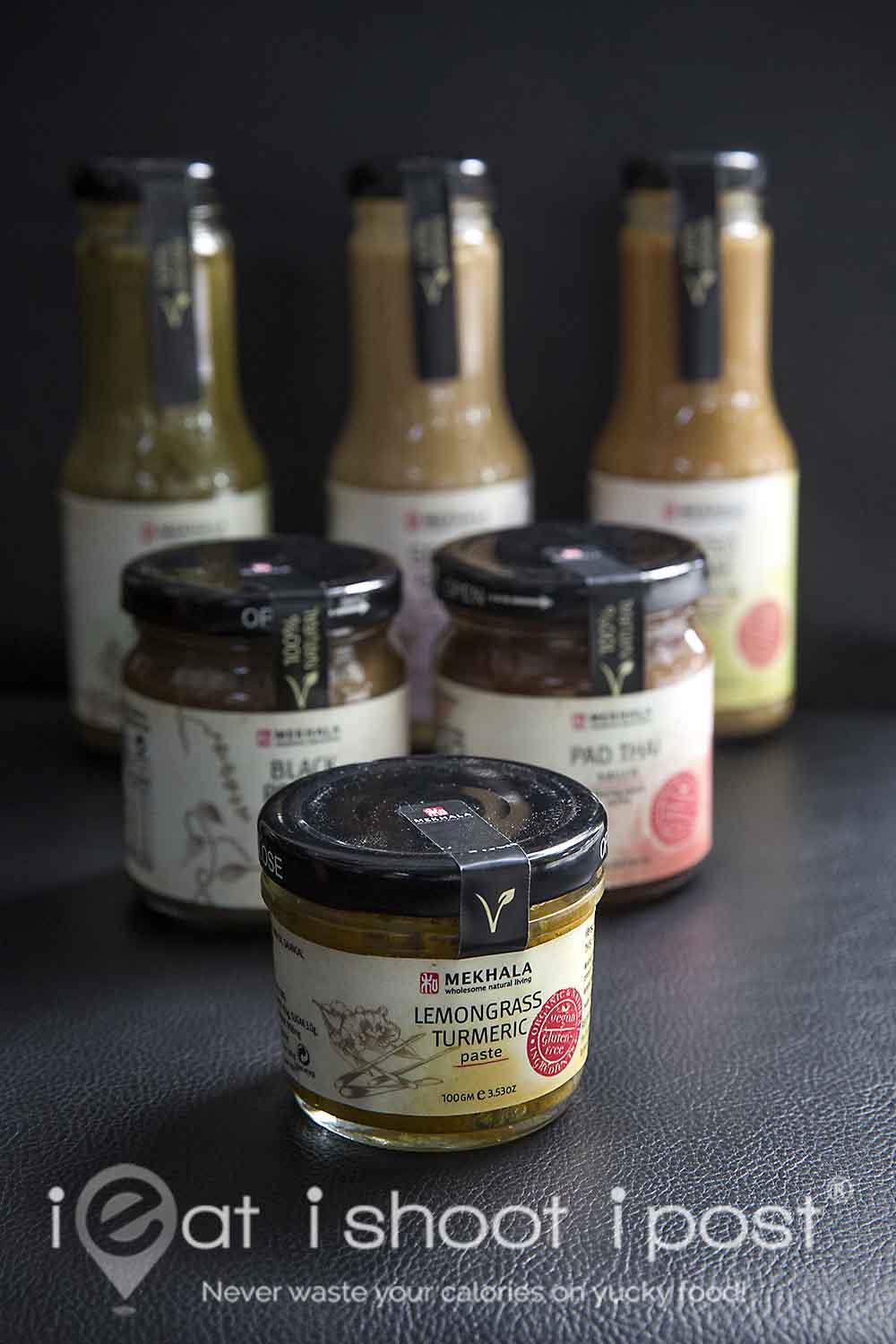 Originally founded at the Asian Leadership Institute in Chiang Mai, Thailand, Mekhala is dedicated to creating a better life with great, wholesome and sustainable Asian foods.  Their range of organic condiments, pastes and dressings aim to help customers prepare healthy, tasty meals.  All their products are vegan, and are made by hand in small batches and aims to be organic, natural, gluten-free, and free of artificial additives.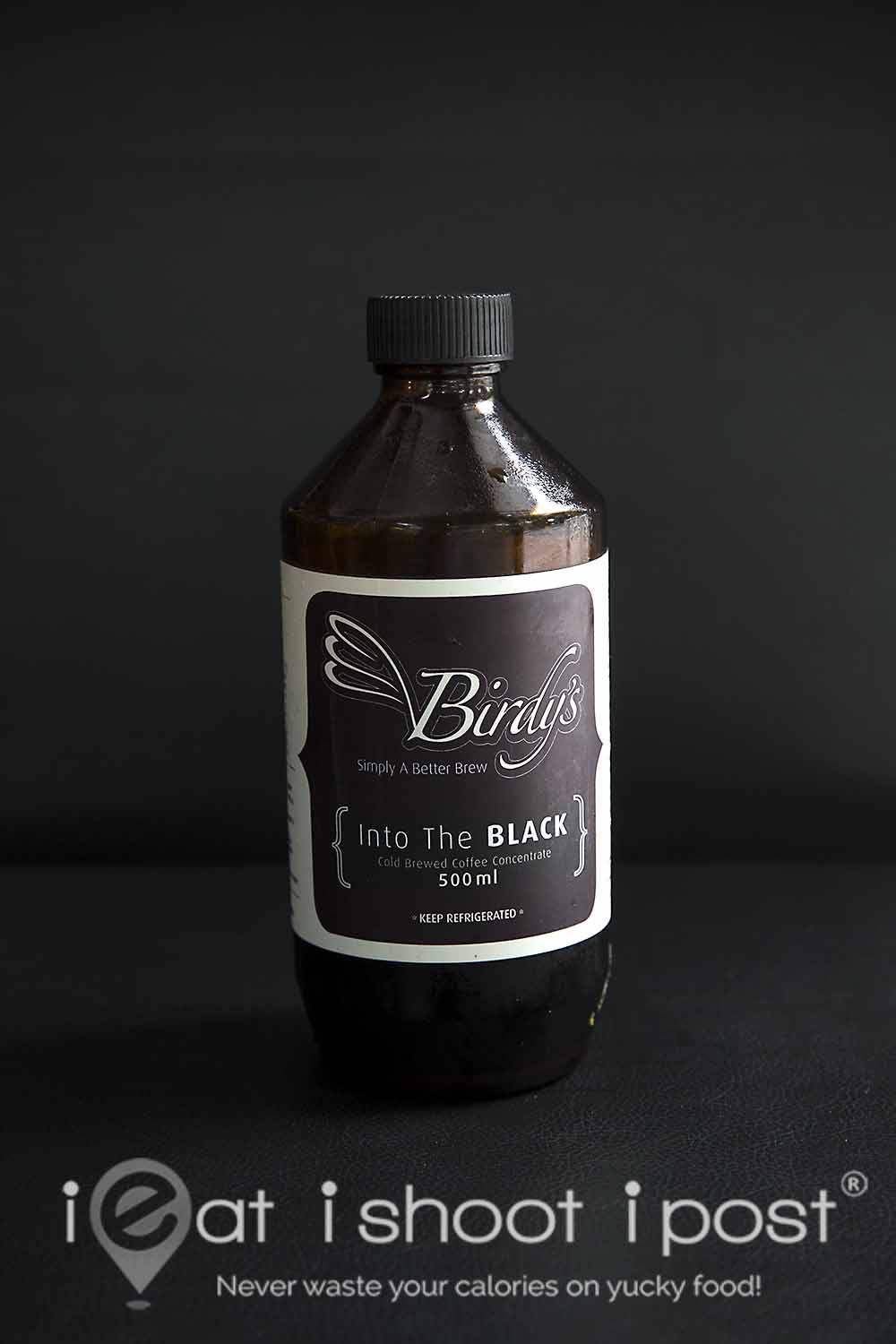 Birdy's handcrafted cold brewed coffee concentrate is made from 100% Arabica beans sourced direct from farms in Colombia and Sumatra. The grounds are cold brewed over 24 hours to extract the best the beans have to offer.
The grounds are fully immersed in filtered water to yield a coffee concentrate, "Into The Black", that is smooth, rich in flavour and aromatic, yet low in acidity. After 24 hours, the grounds are separated from the coffee concentrate, then filtered and bottled. The cold brewing method locks in the inherent flavours of the beans which remain constant whether the drink is prepared hot or cold. When refrigerated, "Into The Black", can be used as desired for up to two and a half weeks from the time it was bottled.
Into The Black does not contain additives or preservatives and has been certified pesticide-free.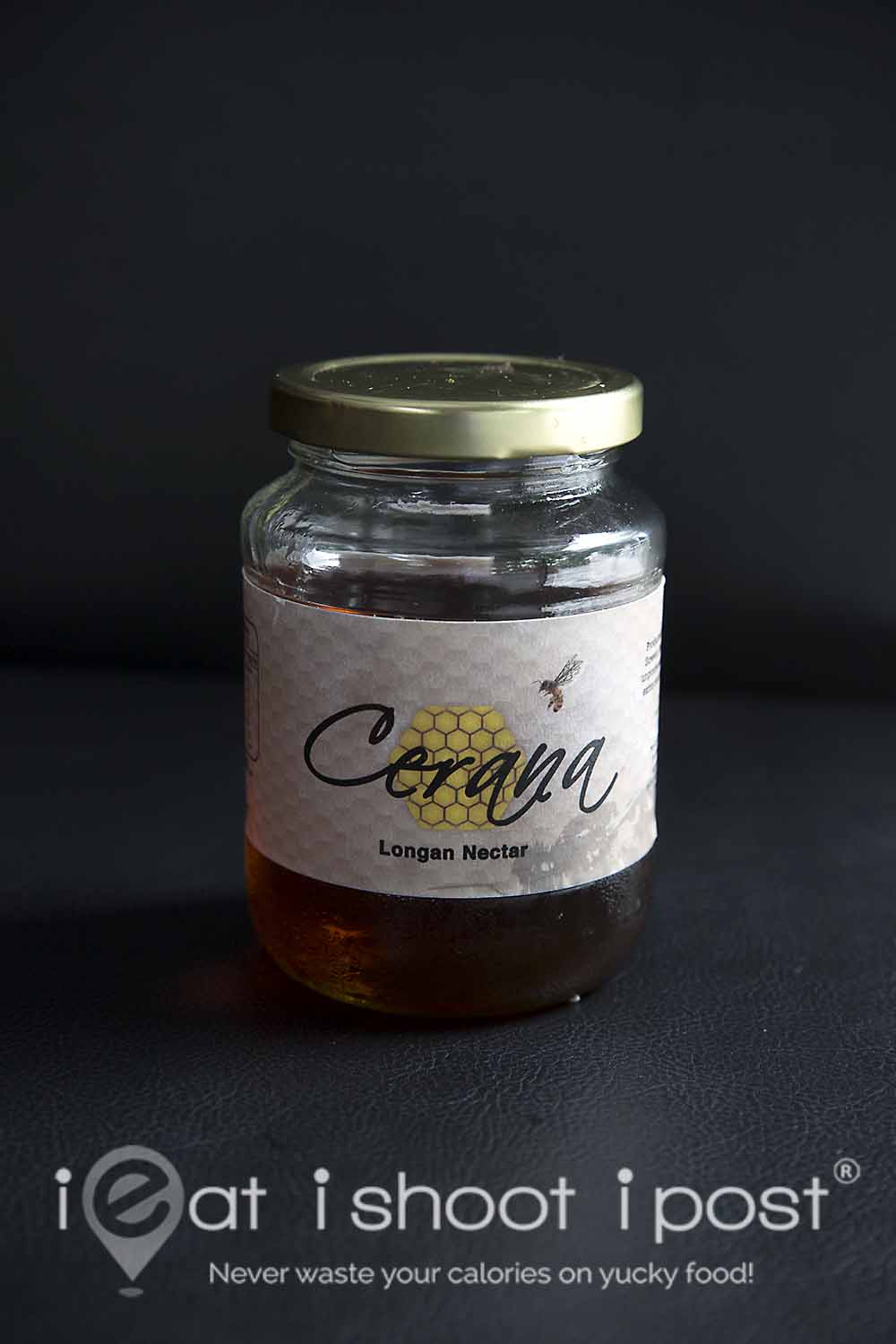 Unprocessed and obtained only by extraction without pasteurization, Cerana honey emphasises on quality assurance and integrity. We ensure our traditional beekeeping practices meet the expectations of consumers who value healthy attributes and benefits.
Other than honey sales, we also participate actively in education by sharing information about bees and their important roles in our ecosystem. Through social media, retail points, farmers' markets, culinary establishments and our partners in bee conservation, we hope the consumers will be able to understand how they can play a part in contributing towards a sustainable planet Earth.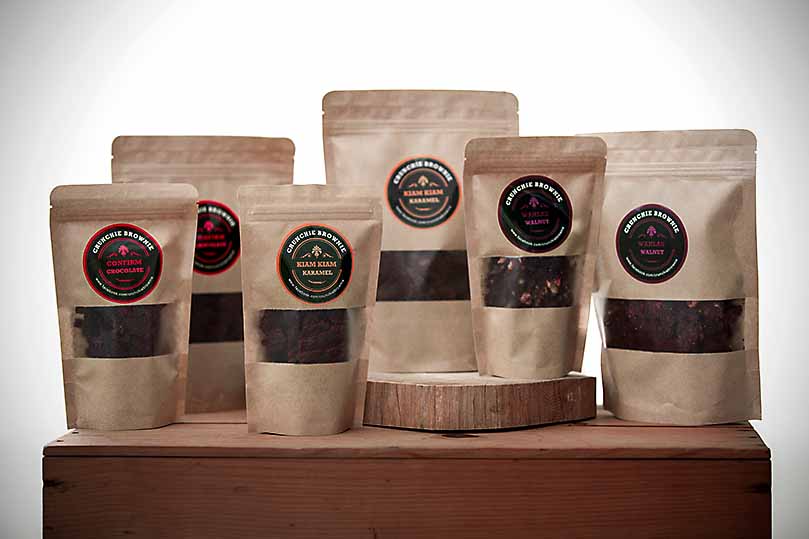 These brownies are proudly made in Singapore in collaboration with Score (the prison rehabilitation organisation). They are all hand-made, with all-natural ingredients and no preservatives.
Their slogan "Jialat! Cannot stop!" captures the excitement of anyone eating the brownies as they are so ridiculously addictive. Crunchie Brownies come in three different Singlish flavours: Confirm Chocolate, Kiam Kiam Karamel and Wahlau Walnut.
We are a leading Japanese tea brand known for our great tasting, high quality teas from around the world.
At LUPICIA, we sell over 400 carefully crafted and beautifully packaged teas for everyday drinking and gift giving, as well as thoughtfully designed tea accessories and teawares. Our teas range from classic black, green and oolong teas, to healthful herbal teas and fun seasonal flavours.
Founded in Tokyo in 1994, LUPICIA now has over 140 stores around the world – in Japan, the U.S., Australia, Taiwan and France.
Our first Singapore store opened in Great World City in June 2013, to bring the joy of tea discovery to Southeast Asia.
We believe in a fresh approach to tea – that brings the modern individual on a delightful journey through seasons and around the world. Come discover the world of LUPICIA with us.
ACTIVITIES & SPECIALS:
At Nekkid (Block 41), Gillman Barracks
– Mini farmer's market.
– 100 Nekkid burgers giveaway.
– Orion beer (334ml bottle) at $5++ each.
At The Naked Finn (Block 39), Gillman Barracks:
– All day brunch from
11am – 5pm
(last order at
4:30pm
)
– Orion beer (334ml bottle) at $5++ each.
– Lobster roll with truffle fries at $30++.
– Burger with truffle fries at $20++.
List of Vendors
Raw ingredients:
3. Wild-caught green tiger prawn (Sri Lanka), coho salmon (Alaska) and lingcod (Alaska) imported by The Naked Finn.
4.  Toriyama Wagyu from Huber's.
Sauces, honey, coffee, tea and wines: