Update 7 Oct 2018
They have relocated to 300 Joo Chiat Road
The current stall is run by his ex-worker

It has been a while since I wrote about Roti Prata. It's not because I have started making my own Roti Prata at home, but just that I haven't come across any prata shop that excited me enough to write about. Sure, I have noticed a lot of Prata Cafes opening up in shopping centres and other places but every time I check out these joints, they invariably use commercial dough and the prata man is often a hired hand rather than an artisan. Good, artisanal prata is getting hard to come by these days which is why I got excited when my friend Colin told me about this Mom n Pop shop in an old Coffeeshop in Joo Chiat.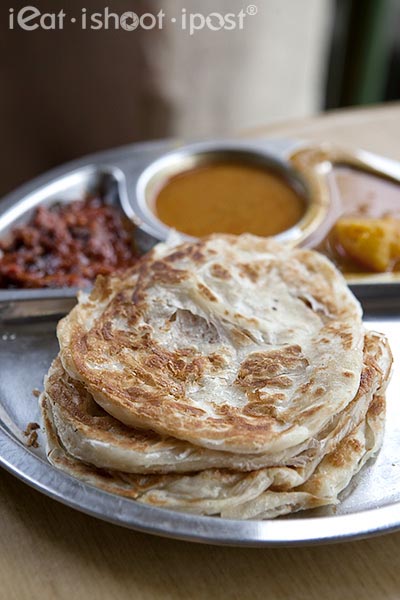 One of the promising signs that the prata is good is simply the fact that they don't open long hours. In fact, they only open about 7 hours a day. This tells me that it is most likely that the owner flips his own prata instead of hiring workers to work around the clock, a very promising sign!
When I finally got there on a Sunday morning, sure enough, the owner, Mr Mohgan and his wife were busy with the Sunday morning breakfast crowd. The dough is obviously homemade as it came out of a plastic container and not a cardboard box. Somehow, the rustic old coffeeshop environment and the stacks of Roti Prata being carried out by Mr Mohgan just adds to the anticipation of a prata feast.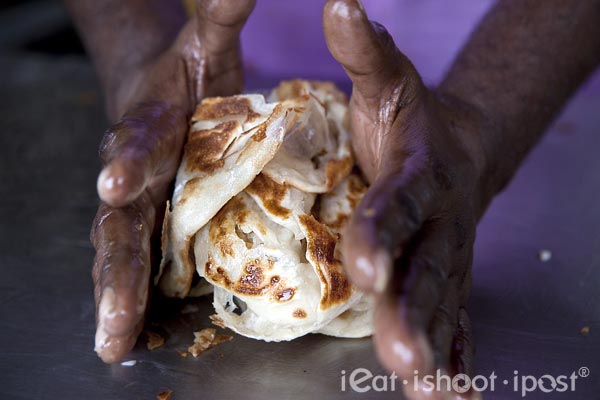 The pratas here are small and super crispy. I had discounted it at first because I noticed that Mr Mohgan did not really flip it wide before folding it up, so the prata doesn't have many layers. However, it was fresh and crispy and when eaten with the curry, it's manna from heaven. I initially ordered four kosong (plain) simply for the photography, telling myself that I shouldn't finish it all. But I couldn't stop eating until it was all gone!
To accompany the prata, the Mohgan's prepare three different types of curry, viz Dhal, Mutton and Fish, plus Sambal Ikan Bilis. If you don't specify which curry you want, you will be given Dhal by default. Having tasted all three, I find that the fish is the one to go for. That slight tang helps to cut through the fat and balances out the flavours. Add a bit of Sambal Ikan Bilis for sweetness and you really have the perfect Sunday breakfast! 4.5/5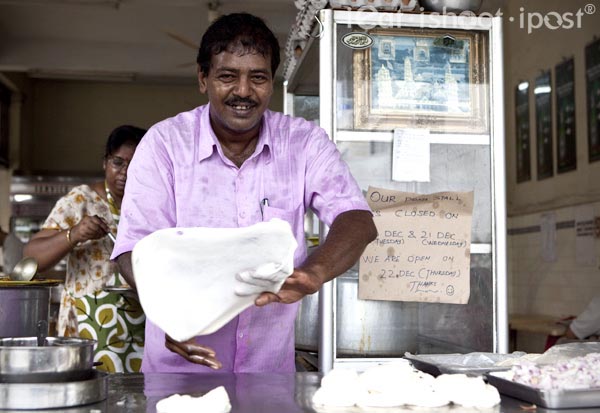 Mr Mohgan has been making prata for 30 years but only opened his own shop 3 years ago when he took over this particular stall from a friend. I asked him why he doesn't just hire someone from India so that he can open longer hours? After all, the dough and curry can be prepared beforehand, so it should be the same right? He told me that he did try it before, but somehow, the hired hand just cannot do the prata the same way he does it. So he rather just do it himself rather than compromise on the quality of the prata!
Now, isn't that what we all would like to hear?
Conclusion
This is how Roti Prata is supposed to be! Fresh, crispy, artisanal prata accompanied by a choice of curries in an old coffeeshop where you can watch the cars driving by. Cheap and good, super delicious and simply satisfying!