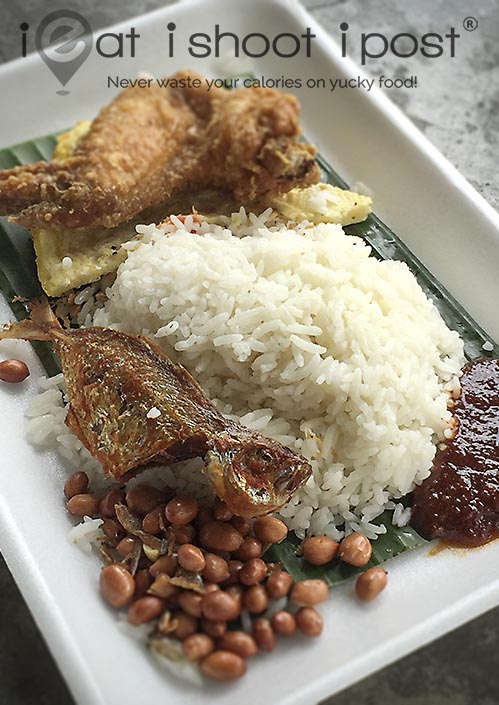 If you are wondering what the future of Nasi Lemak looks like, then head towards Upper Thomson and you might just catch a glimpse of its evolutionary path in Singapore. I don't know why it has taken so long for someone to do this, but eating Nasi Lemak in a laid back place with customer's scribblings on the wall and listening to hard rock seems to be quite logical. Nasi Lemak is, after all, one of the favourite supper foods of Singaporeans, but so far, Malay style Nasi Lemak hasn't quite developed beyond the hawker stall concept… that is, until now.
The whole atmosphere at Nasi Lemak Kukus is a welcome change from the usual, but they have done more than just create a nice environment to eat Nasi Lemak. The key to the place is the quality of the food which is driven by the passion of the Chef Reni and her family members who run the place. If you want to gauge the quality and passion, you don't really have to go far beyond the rice and the sambal tumis to get an impression of what the rest of the dishes are going to be like.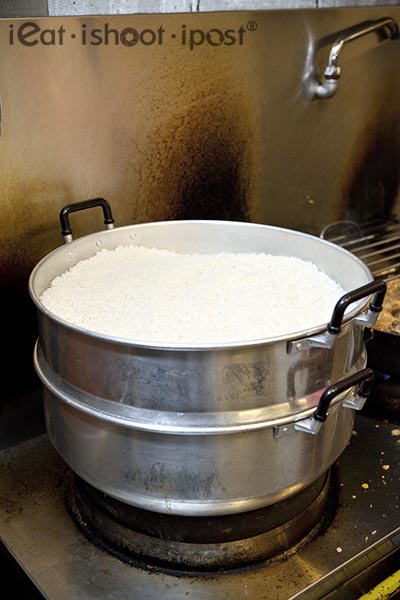 Now, there is Nasi Lemak and then there is Nasi Lemak Kukus. Nasi Lemak Kukus basically means that the rice has been steamed over water rather than being cooked in the water as is usually done with a rice cooker. This is the traditional way of cooking Nasi Lemak and results in a rice which has a bit of a grainy bite, much like pasta that has been cooked Al Dente. This method of cooking rice is much more laborious than simply cooking it in a rice cooker. First, the rice needs to be soaked, then steamed till it is just cooked before coconut milk is stirred into the rice and returned to the steamer. This results in a rice with a bright and fresh coconut aroma as the coconut milk is not overcooked. By the way, the rice here costs $1 and it is free flow. So, if you are really on a shoestring budget, you can potentially just order $1 rice and eat it with the sambal till you are full. That would make it one of the cheapest place get your stomach filled in Singapore!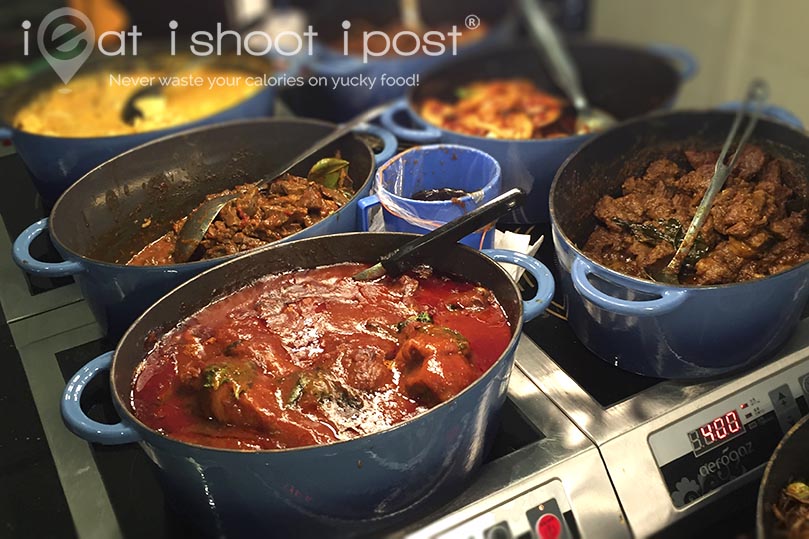 The sambal tumis here is also excellent. They have the spicy version and sweet version which you can choose from. Just having the rice and chilli is good enough for me to score a 4.5/5 for this Nasi Lemak. But of course, that is not going to satisfy most Singaporeans. So they have a whole series of different dishes which you can choose from to accompany your Nasi Lemak. If it is fried chicken you are after, they have 3 different types to choose from, viz wings, thigh and cutlet. They are all marinated differently. My favourite is the thigh which has the more traditional tumeric seasoning. Some of the other customers there liked the wings but I felt that fragrance of the chopped Kaffir Lime Leaves was a little too strong.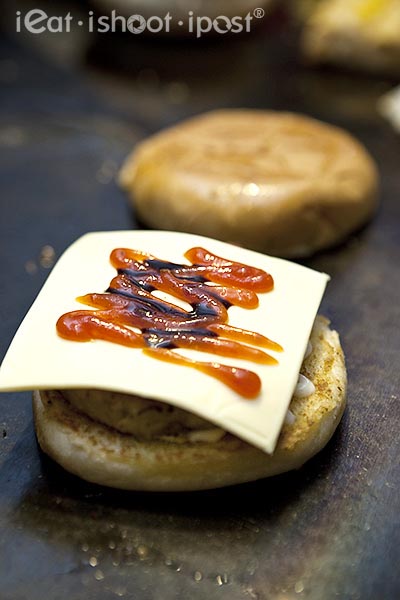 One of the new items that have just been introduced is the Power Burger. Again, this seems to be the next logical evolution for the familiar Malay style Ramly Burger. But don't ever mention Encik Ramly here because they take a lot of pride in saying that theirs is POWER Burger, not Ramly Burger. The difference lies in their homemade burger patty which is made from freshly ground beef and seasoned with their own secret blend of spices. The patties are also slathered with their homemade lemongrass flavoured sauce which gives the burger a bit of that satayish flavour.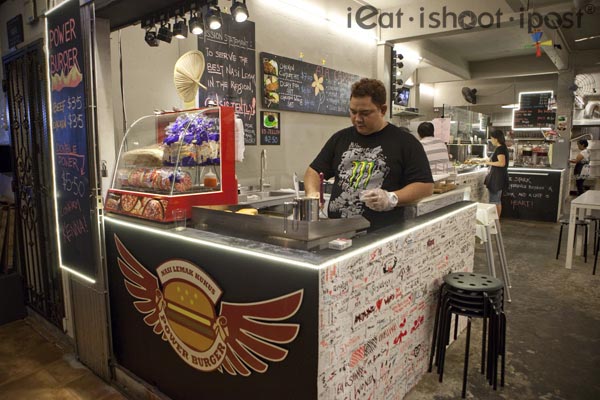 I think that the Power Burger is a great idea and the patties are certainly healthier than the Ramly patties which you can't import into Singapore due to AVA regulations. However, the patties do need a bit more tweaking to give it a better bite. What makes Ramly Burgers addictive is the seasoning that goes into the pattie that gives it that powerful shiok taste. This is of course lacking in the Power Burger which uses a homemade pattie. However, when I eat a Ramly in Malaysia, the initial joy is always followed by post prandial (after eating) guilt of not knowing what cow parts and chemicals have gone into the pattie which has been shallow fried in artery clogging, trans-fat laden margarine. So at least, the Power Burger is a healthier alternative to Ramly. A few more tweaks and it would be a Burger to look out for. 3.75/5
Conclusion
Remember Nasi Lemak Kukus the next time you have a hankering for Nasi Lemak for supper. The food is great, the place is funky, the rice is free flow and there is a Power Burger to boot!
Update: 12 Aug 2015
Nasi Lemak Kukus has shifted from Upper Thomson to its present location at Selegie.  Their new location is even better than the previous one and has a rustic kampung charm which adds to the whole experience of eating Nasi Lemak!  The food is still as good!