With iwatch_ueat and SCS Butter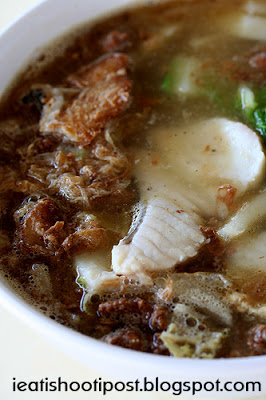 What do you look for in a Fish Soup? Some people go for Fish Soup that is very "Cheng" (clear). If you are the "Cheng" type, then you will be very disappointed with this soup. But if you are like me who like a bit of ooomph in the soup, then you would like this one.
The soup here is full of "bits" inside, bit cloudy but really tasty. Not sure if this is due to MSG or not, but it sure hits the spot. We ordered the "Black and White" which costs $6 for a big bowl. You get nice, thickly sliced fish and fried battered fish which is quite yummy (bit on the salty side). 4.5/5
This stall is a bit of a Food Nazi. They don't allow you to take away so if you really want to take it home, you'll have to bring your own box! Also note the weird opening times! However, when I spoke to the owner in the afternoon he seemed quite nice and did not quite appear like a Food Nazi. Maybe you have to get him when he is really busy!
Conclusion
Very shiok fish soup but not for those who like their fish soup to be "Cheng".