With iwatch_ueat and SCS Butter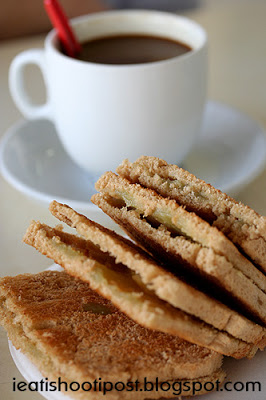 As we were eating the un-cheng Fish Soup, the aroma of coffee wafted through the air and caught the attention of iwatch_ueat who is usually not a coffee drinker. But the aroma of the coffee was so alluring that she decided to order a cup for herself and SCS Butter who is one of our Blog's Kopi Kings.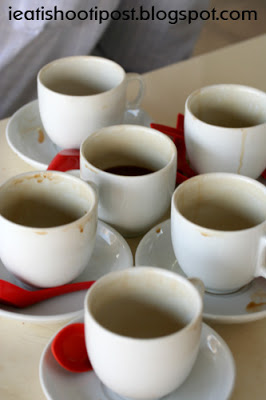 The first sip of the Kopi and SCS Butter was hooked. He said it is the best Kopi he has tasted around the area. There is that spiciness when the coffee first hits the palate followed by the full bodied taste of the Evaporated milk and coffee, finishing with a lingering aroma at the back of the throat after swallowing. It was so good that we ended up ordering around 6 cups of Kopi.
Well, the truth is that SCS downed the first two cups himself. But I was curious about just how good it was (I was taking Teh C) that I ordered another one to get a taste. I thought it was good but not that great, so SCS had a go and admitted that the first two were better. So we went onto cup number four. I am not sure if it was because we had one cup too many, but the later cups just did not have the oomph of the first two. Given the inconsistency of the Kopi I would rate it 4.25/5 at this stage. SCS Butter would have given the first two a 4.5/5.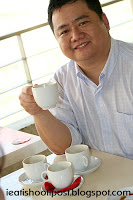 The toast was another story. It was delightfully light, crispy and crumbly on the outside but soft on the inside. The butter was the right consistency and not overly thick and the Kaya was fragrant but not sickly sweet. Roland related the fine art of toasting the bread to us. He said that he only uses fresh bread rather that bread which is one or two days old which is easier to handle as it is little stiffer. But the extra effort results in better tasting bread which is fluffy on the inside and crumbly on the outside. This Kaya Toast is definitely worth coming for. 4.5/5
Conclusion
Totally unexpected find. Kopi lovers should definitely check it out.