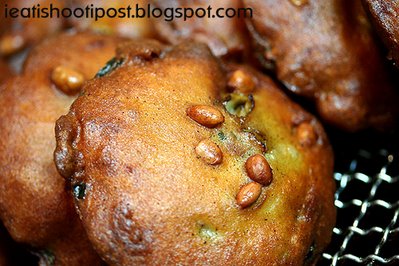 UFOs always appear when you least expect it and this one certainly did. It wasn't on our list of places to eat. We were just prowling along searching for our next makan quarry when it just came out of nowhere and immobilised us with its tractor beam. Oh my! There was a picture of Anthony Bourdain on the front of the stall!! Like mesmerized ruminating cows, we were slowly drawn to the light.
The last time I had Fuzhou Oyster Cake (Its proper name) must have been 20 years ago in Clementi when I still did not have to worry about my cholesterol levels. I remembered savouring every bit of the two UFOs which was all that I could afford at the time. (My parents gave me limited pocket money, which was good as I would be very much fatter if I had more money). But I can still remember how I would crave for it after Junior College.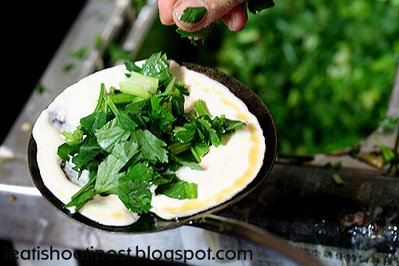 This is for those who are wondering how a UFO is made. Put half the batter in a ladle, add the coriander, minced pork, prawns and oysters and cover with some more batter. Throw a few peanuts on top and dunck it into a vat of hot oil. Voila!
Absolutely out of this world!! The outside is crispy, but just underneath that crunchy surface the batter is still moist and soft and so tasty, having absorbed that wonderful savoury flavour of the oyster, prawns and minced pork. It just shiokadoodledoooooolicious! 4.5/5
Conclusion
Save up your calories because Resistance is futile!