This Stall is Closed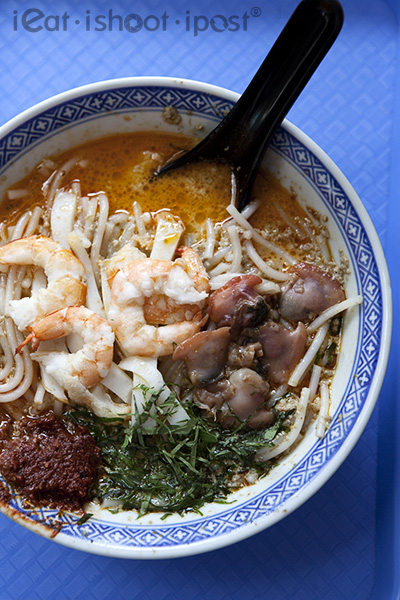 Original Katong Laksa $3
Here I go again about Marine Parade Laksa. Aiya, every time I mention Marine Parade Laksa, the same story will be rehashed. My story of my dating days with Rockett Girl at Marine Parade Laksa is one of those "Grandfather Story" which shows that I am indeed getting old. So, since I don't want to be called Lor Sor (long winded), I shan't repeat myself again, but in case you really do want to hear it again, you can read about it here.
Recently, I had the privilege of meeting with Mr Philip Chew, the great grandson of Mr Chew Joo Chiat, the tycoon who owned the big plot of land surrounding what is now known as Joo Chiat Road. Mr Chew writes a very interesting blog called mychewjoochiat where he recalls his memories of what Joo Chiat was like when most of it was still coconut plantation. Why did they grow so many coconuts in those days, you ask? Well, it wasn't just for making lots of laksa. In the past, coconut oil was exported to make commercial products such as soap and used as fuel as well.
Anyway, I wrote this entry because I just wanted to post the photo of the original signboard for Marine Parade Laksa. This was the signboard I remembered from long ago when they were still at the corner coffeeshop at the junction of Ceylon and East Coast Road. Janggut started selling Nonya Laksa along the five foot way of the shophouses along Joo Chiat Road. Then in the 70's he was forced off the streets as the government was clearing the streets of street hawkers. Janggut settled in the corner coffeeshop along Ceylon Road gave birth to the whole Katong Laksa craze.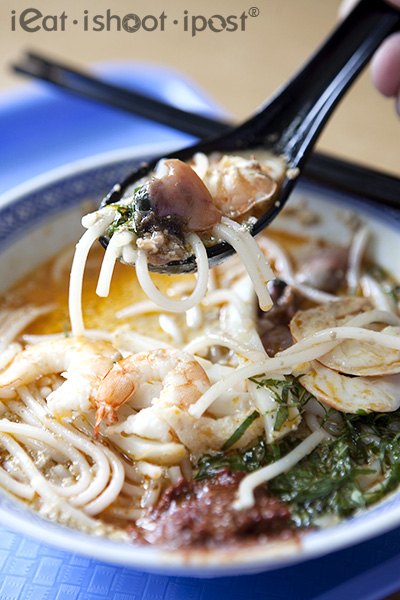 Another reason I am posting this is because of the upcoming iphone App. I realised that this particular branch in Bedok will not show up on the map unless I link it to a separate post! So now I have another red pin in the Bedok area!
Maybe it is because I grew up on this laksa, but its still my personal favourite. The business is still very much family run and they try their best to keep to Janggut's original recipe by making all the ingredients themselves. The coconut is just lemak (rick) enough to give you that oomph but not too much that you get jialak and they put enough dried prawns to give you that umami kick! 4.5/5
Conclusion
It really is too bad this stall could not relocate back to its original location. I would love to see that pot of laksa gravy over a charcoal stove with that iconic signboard over it. Somehow, I feel that eating it there in that old coffeeshop would make it even more enjoyable.
Read Part II of the Katong Laksa story here.