Report and Photos by Joao
Baked Bone Marrow with Persillade and Sourdough Toast $16
I recently had the pleasure of being hosted by chef Daniel Sia and his team at The Disgruntled Chef on Dempsey Hill. Situated in a cheerful little colonial era one-storey that used to house no more than four British junior officers, the restaurant seats 43 and is one third kitchen/bar.How the kitchen staff manage to peaceablycoexist in their tiny kitchen during the dinner rush is beyond me.It'sbe a bit of a stretch to call TDC a restaurant — I would instead describe TDC as a bar made good.

The food menu at TDC is separated into two categories, unassumingly (and aptly) named "Small Plates" and "Big Plates". As easy as it would be to equate these with "appetizer" and "main", I do not recommend merely ordering one Small Plate as an appetizer and one Big Plate as your main course — you'd miss out on the variety that's on offer here. The idea is for groups of diners to order many several small plates and big plates to share among themselves.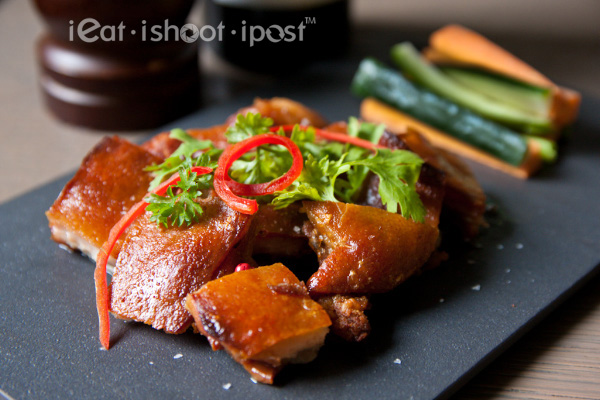 Crackling Suckling Pig — a tasting portion is pictured above, but this is usually served as a "Big Plate" $48
TakeTDC's signature Baked Bone Marrow with Persillade and Sourdough Toast for example. Chock full of good fats (ieat can vouch for me on this) this is bread and butter on speed. The rich oily bone marrow flavored by thyme and pink peppercorns is meant to be spread on the sourdough toast, and the quenelle of garlic and parsley persillade on the side cuts the fattiness perfectly, ensuring that you don't get bored of this dish after a couple of bites. 4.25/5 Could it have been served as an appetizer for one? Most definitely, but one would risk getting too full too quickly and we still have lots of ground to cover.
The Crackling Suckling Pig is another prime example of why the Big Plates aren't a perfect substitute for main courses. I must caveat that this version of suckling pigtastes better than any suckling pig I've ever had, but I would probably get tired of eating a full portion of this by myself.
Okay, I lied. I wouldn't get sick of this dish. It's awesome! Much care has gone into procuring the right breed of pig from China, braising the meat until flavorful and fork tender, and then broiling the skin to get it crisp and not at all chewy. 4.25/5I could eat a whole Big Plate of this and then some, but I might be missing out on dishes like…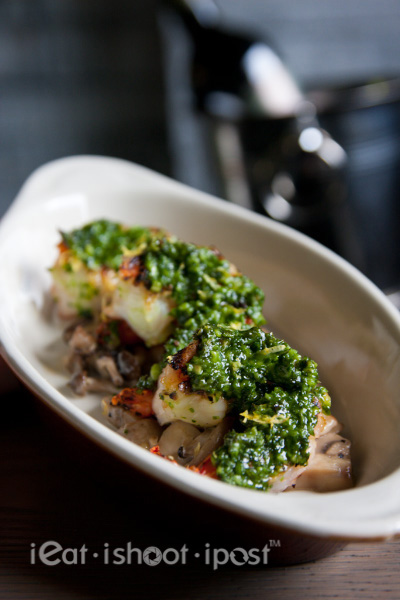 King Prawns A La Plancha with Mushroom Ragout, Parsley and Garlic $18
… King Prawns A La Plancha with Mushroom Ragout. Fresh king prawns are grilled and topped with a parsley and garlic persillade and served atop a bed of mushrooms. The flavors are bright and clean, and although the combination of prawns and mushrooms didn't really do it for me, this was still a decent dish. 4/5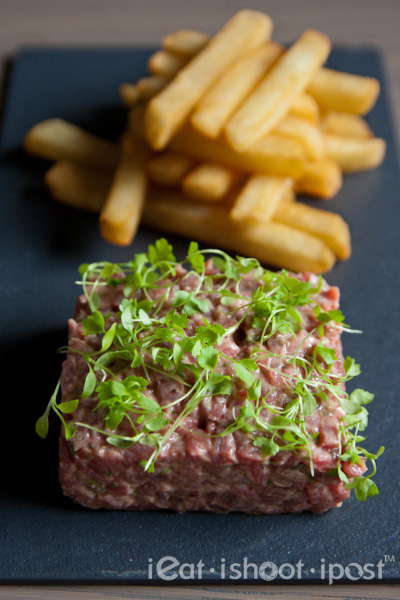 Steak Tartare with Soft Quail Eggs and Potato Chips $18
Trigger warning for raw meat apologism. The steak tartare arrived in a picturesque block of meat garnished with microgreens. After I was done with the photography a member of thewait staff mixed the meat with a teaspoon, breaking several hitherto hidden soft quail eggs that oozed a bright yellow yolk. The result was a gooey pink mess. Now my inexperienced palatecan't really tell you what went into flavoring this, but the net effect wasbothcreamy and umami with a very subtle spiciness. The raw beef melted in my mouth in a manner reminiscient of negitoro. Those of you who read the last sentence and recoiled in horror at the words RAW BEEEEEF would probably give this dish a 3.5 or even lower, but if you're like me and have no qualms about eating well-prepared raw meat you might give this dish a 4.5. In deference to both camps, I'll average the rating to 4/5, but your own mileage may vary.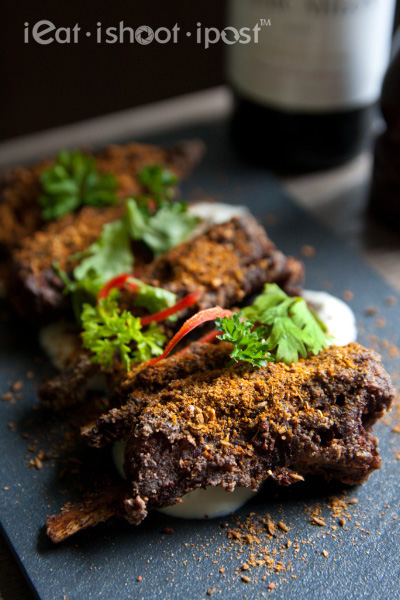 Crispy Lamb Shortribs with Chili and Cumin $15
The Small Plate Crispy Lamb Shortribs with Chili and Cumin is worthy of particular mention. A heady mix of cumin and coriander seedgives this dish a distinctly Moroccan feel, and these strong flavors are nicelybalanced by the mild yoghurt sauce. The meat itself is crispy on the outside, yet surprisingly succulent and moist on the inside. This dish is a masterstroke.4.5/5

I would be remiss if I didn't mention TDC's menu of original cocktail creations. I mentioned earlier that a third of TDC's premises was kitchen/bar, and half of that is bar. Now I know most people would be more prone to cocktails in the evening than in the day, which is a shame becausethese drinks are as much a joy to behold as they are to imbibe, and you really need daylight to fully appreciate what TDC has done to pretty up these beverages.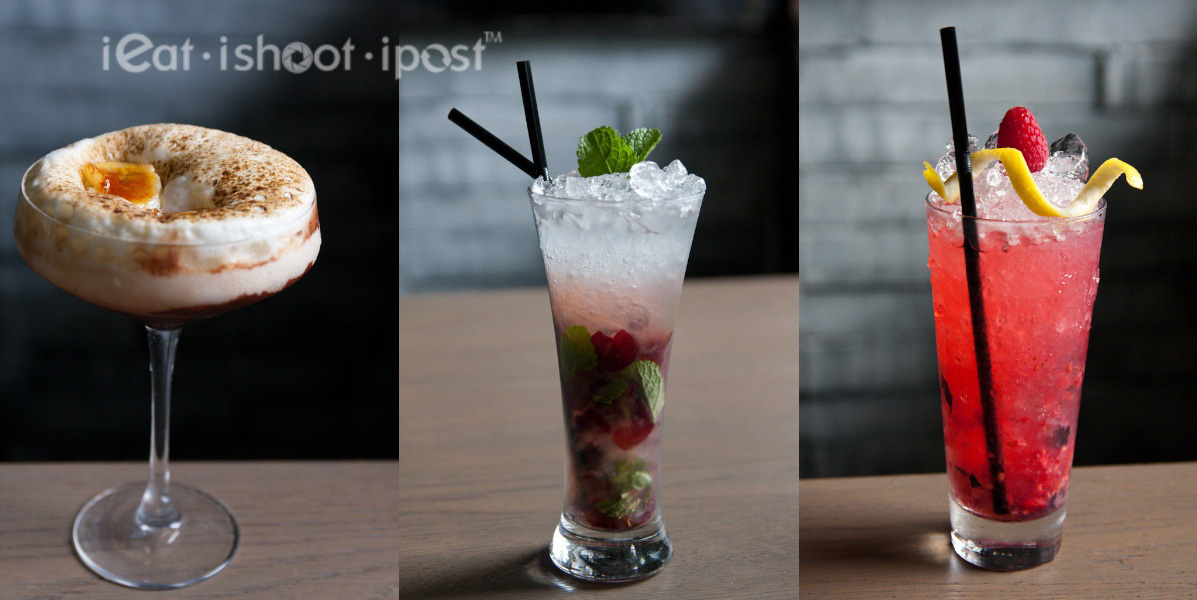 From left to right: Monkey Business $18, Mr. Murasaki $16, Wild Berry Bramble $16
In Mr. Murasaki, kyoho grapes and mint leaves are suspended in a tall cold glass of gin and crushed ice. (We ordered the mocktail version, so I can't rate this cocktail.) Wild Berry Bramble is a delightful raspberry and blueberry romp with a jigger-and-a-half of gin but with none of the harshness of the spirit.The tartness of the berriesand thecrunchyraspberry pits hint at an ice-cold beverage on a hot summer's day. 4.25/5 Monkey Business is a surefire crowd pleaser of vodka, chocolate, and banana. Banana puree coupled with a thick foam head gives this drink an almostmarhsmallow consistency. 4.5/5 I wish I could've sampled more of their cocktails, but I was driving on the day of this review so that's as far as I got.
Conclusion
Eschewing the traditional three course format for something a bit more casual, TDC has certainly got an interesting take on dining. Sharing platters really appeal to me because I get to taste (and photograph) more dishes, and it will take many visits (or several very drunken ones) to get through their tantalizing cocktail list. I can totally picture having dinner and drinks with close friends at this place without fear of being too loud or having too much fun. They're definitely on to something here — now all I have to do is resist the urge to not share…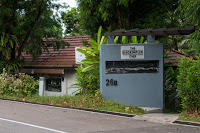 This was an invited review