The mere mention of Beef Laksa would surely get many a foodie's antennae buzzing. After all, when was the last time you ate Beef Laksa? Unless you know of Hong Heng, then probably the answer is "Never!".
That being the case, if you are a foodie, then you would want to make a beeline for Hong Heng to get a taste of Beef Laksa. However, I have to moderate your expectation a little here. This literally a bowl of laksa with all the different cow parts that you would get at the Beef Kway Teow stall added on top and it tastes, well, it tastes exactly like it.
Singapore version of Surf and Turf
It isn't hard to imagine how this dish came about. Hong Heng was selling both Beef Kway Teow and Laksa and some customers in the distant past requested they added the Beef ingredients to the Laksa. So how the dish came about is not a big mystery. The real mystery is why they would want to sell both Beef Kway Teow and Laksa at the same time? Honestly, if this were a stall just selling Laksa, you won't even give it a second look as the Laksa was pretty lack lustre. The only saving grace is the generous topping of tender beef tendons and succulent slices of beef knuckle. That at least elevated the dish to a 3.75/5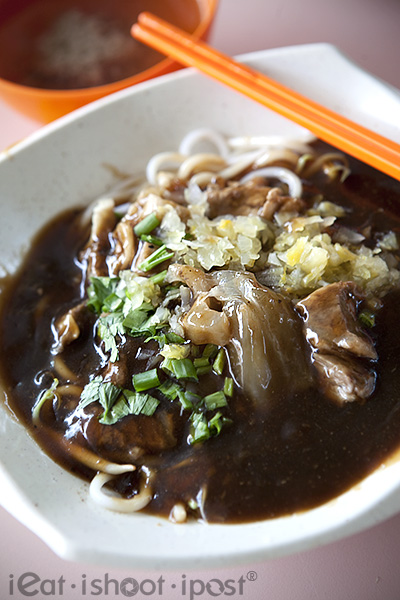 Beef Kway Teow $4
The Beef Kway Teow, however was very good. There is a good reason why our Hainanese forebears cook Beef Kway Teow with the thick black sauce instead of Laksa gravy. It simply tastes better! The sauce was robust and beefy (I did see some powdered beef stock on the shelf) and the tendons really were to die for. I also loved the generous topping of preserved vegetables whose tartness helps to brighten up the whole dish. 4.25/5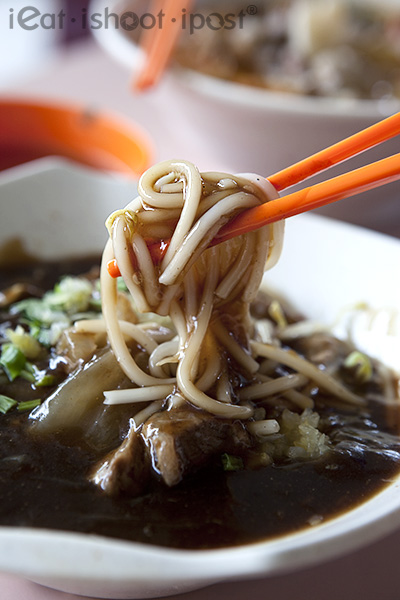 Conclusion
The Beef Kway Teow is excellent and I especially liked the generous portion of Beef tendons. The Beef Laksa… well, even if I told you to give it a miss, you would still want to try it to make up your own mind, right?