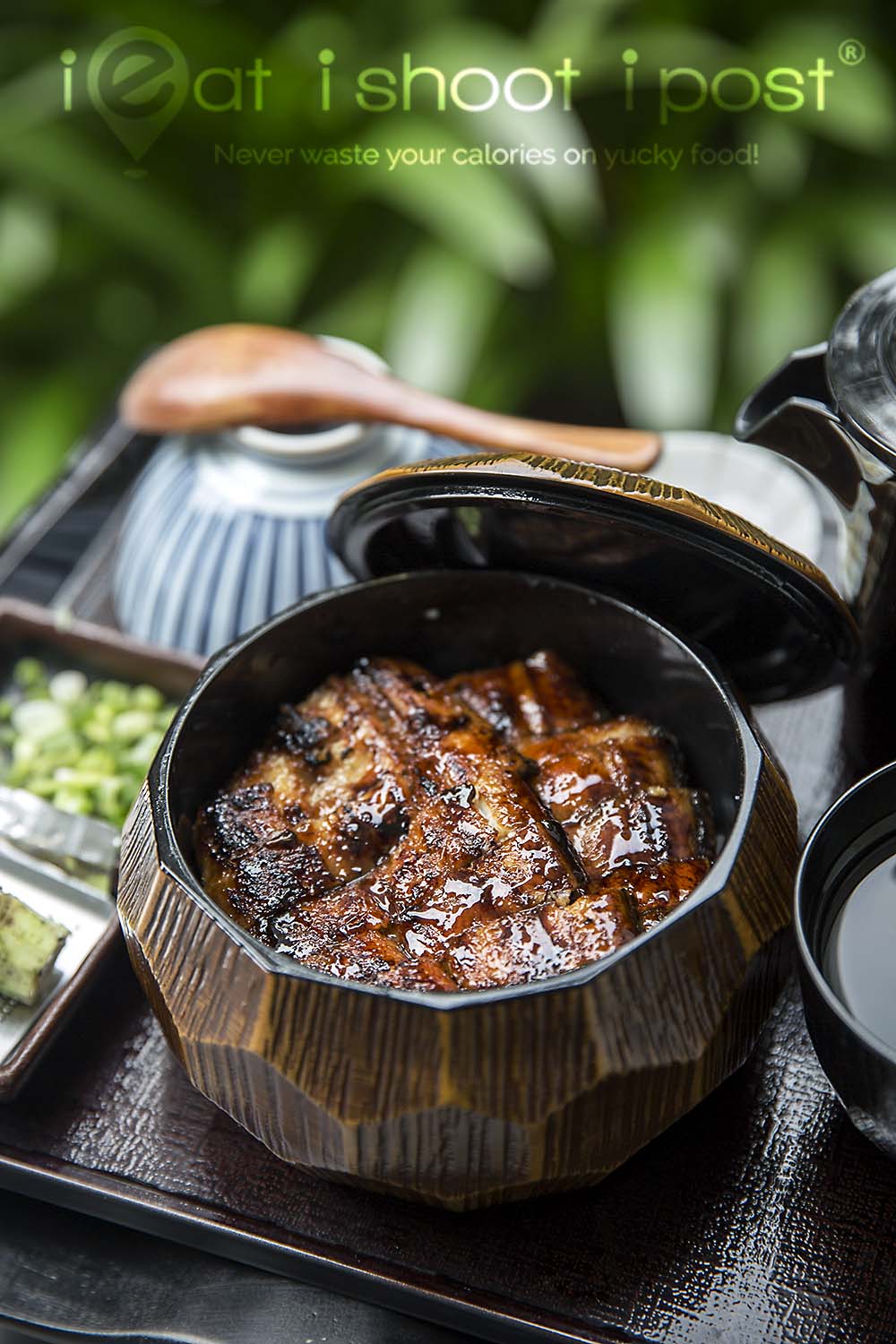 I never used to enjoy unagi (fresh water eels) until I came across one which was live-killed and freshly grilled over charcoal.   It was that moment of epiphany when I suddenly realized what the fuss was all about!
Most unagi which you find at mid ranged Japanese restaurants are shipped to Singapore already marinated and grilled.  The texture of the eels becomes tough if you don't cook it immediately, thus they don't ship fresh or frozen eels like they do with other fishes.  These prepacked unagi can come from Japan, China and Taiwan and their quality varies.  I have come across some which are downright awful.  Others, while edible, use the eel simply as a neutral vehicle for the sweet tare.   I have yet to come across one that is worth writing about, so far.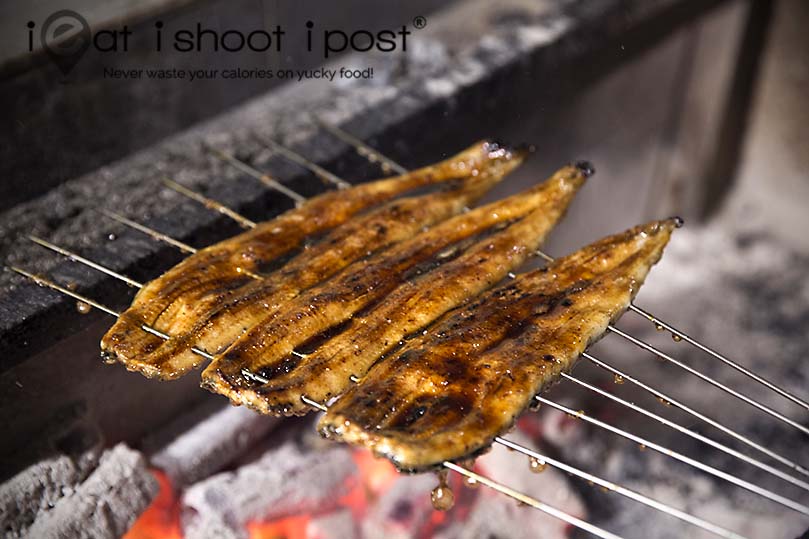 But now, thanks to Teppei-san of the eponymous restaurant, we have been able to taste unagi don made with live Japanese eels!  His first Man Man restaurant at Keong Saik road has been attracting long queues since their opening and has even been listed as a Bib Gourmand eatery in this year's Michelin Guide.  This comes as no surprise as he is serving live eels from Japan that is grilled over charcoal together with rice from the Yamagata prefecture and fresh wasabi from Shizuoka which you grate yourself for an unbelievable price of $28.90++!  When you consider that the cost of each eel is $40 and a whole wasabi is $15, you will understand why there is a two hour queue outside the restaurant!  Singaporeans are exceptionally good at sniffing out good value!
You might be wondering, "Where's the catch?". How are they able to serve live Japanese eels and fresh wasabi at prices lower than in Japan?
Teppei-san tells me that his strategy is to corner the market by sheer volume.  He buys eels by the tons every week so that he can get them at good prices and passes the savings to his customers.  This way, he tells me, no one else will be able to match his price and quality!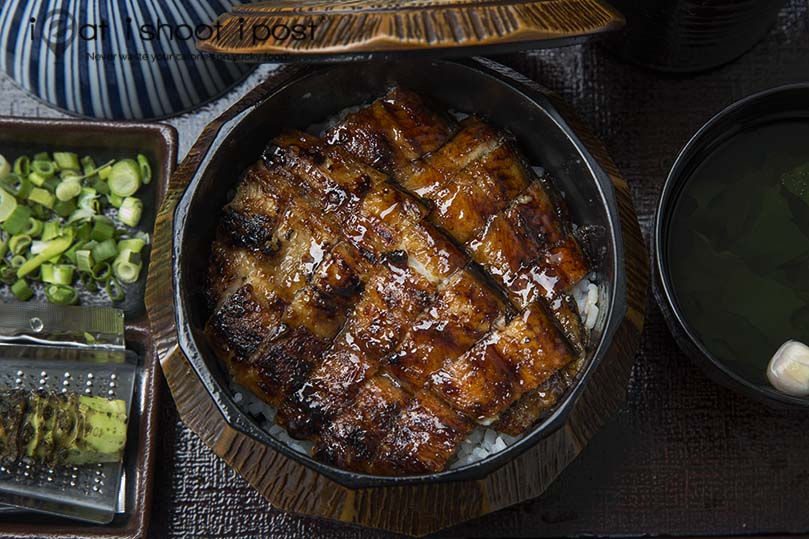 The unagi don set is served in the dining style made famous by the 140 year old Atsuta Houraiken in Nagoya.  The dining style, popularly known as hitsumabushi, is actually a registered trademark of Houraiken, so the set at Man Man cannot not called "hitsumabushi".  But it is, in essence, "hitsumabushi" right down to the type of bowl that it is served in!
You are supposed to eat it in four stages.  In the first stage, you eat it plain, then you add half of the spring onions, nori and wasabi and mix it together.  On the third round, you add the condiments again together with the soup stock and have it ochazuke style.  In the final stage, you decide which way you like best and eat it that way!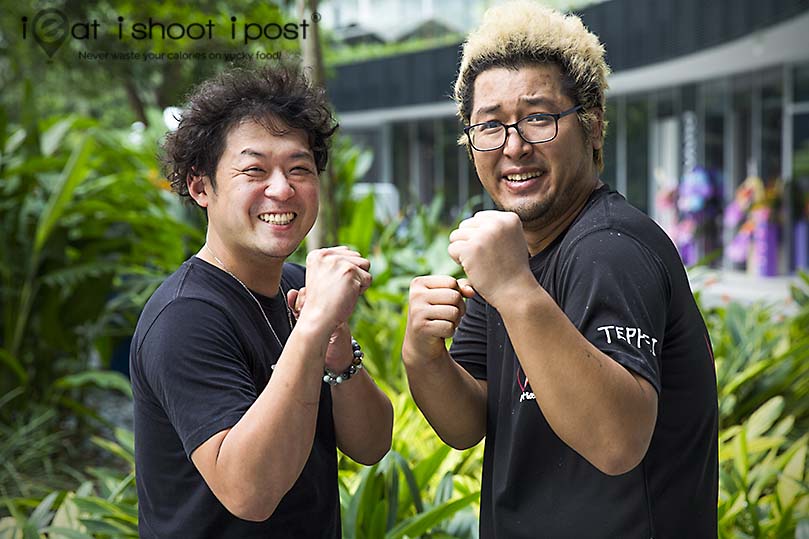 Teppei-san tells me that the response to Man Man is so good that he is planning to open a few more restaurants in order to meet the demand.  He also has plans to open a new udon restaurant where he sells authentic udon at "spoil market" prices!  Thanks Teppei-san, you know that Singaporeans really love "cheap and good!"
Conclusion
My friend Jeff who has eaten hitsumabushi in Nagoya summed it up like this:  "It might not be as good as what you get in Nagoya, but it's close enough especially when you consider the price!" 4.5/5